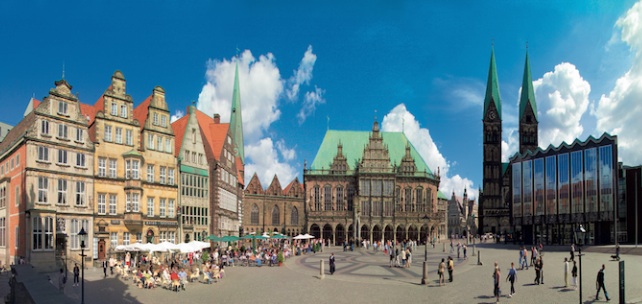 Credit BTZ
The German Department offers a number of on-campus opportunities to promote the study and interest in German language and culture. Whether students are seeking to be proficient in the German language, or simply want to learn more about the traditions and background of the culture, Dickinson College has plenty of ways to become involved!
Click here to see photos from our previous German events!
German Club
The German Club was founded to foster an appreciation of the language and culture of German-speaking countries amongst interested students. Activities sponsored by the club include film showings, field trips, and events. Knowledge of German is not required for membership.
German House
Dickinson students studying German may choose to live in the German House, affording them the opportunity to speak German in a relaxed, residential environment, and to live with other students of German and with international students on campus for the year.
German Language Table
The German Department holds a German speaking only Language Table each week. Students bring their dinner to a designated HUB side room and enjoy the opportunity to use their language skills with fellow students, faculty, and guests.
Multilingual Writing Center
The Multilingual Writing Center supports the mission of the foreign language departments to develop students' critical thinking skills and fluency in writing. The MWC assists writers of all levels and abilities who are working on essays written in Arabic, Chinese, French, German, Hebrew, Italian, Japanese, Portuguese, Russian, or Spanish. Trained tutors and Overseas Assistants will work one-on-one with writers on a variety of concerns, including developing ideas; understanding genres; organizing material; crafting sentences; analyzing and correcting patterns of error; and building vocabulary.
The Multilingual Writing Center is located on the main level of Waidner-Spahr Library. Hours of operation are: Sunday 12:30pm - 10:30pm and Monday, Tuesday, Wednesday, Thursday 2:30pm - 10:30pm. MWC is closed on Friday and Saturday. More information about scheduling appointments can be found here.
Peer Tutoring
Peer Tutors are available to assist students experiencing difficulty in selected courses. The tutoring relationship offers a unique opportunity to meet the individual needs of the student. This is particularly helpful when a course requires knowledge of material from previous courses.
The goal of tutoring is to teach the student how to learn in the discipline. Students receiving tutoring can expect to expand their knowledge of ways to review and practice what they are learning using their particular learning style. The tutor is meant to supplement what is being taught in the classroom, not replace the professor. Tutors are required to collaborate with the class instructor.
Applications to request a tutor must be made on the Request for a Peer Tutor form, which is available from the Administrative Assistant for Advising in Biddle House, from the language offices on the first floor of Bosler Hall, and from the Registrar's Office in Biddle House. For information concerning tutoring, contact Academic Advising, ext. 1080 or tutoring@dickinson.edu.