German Department - Prizes, Fellowships, and Awards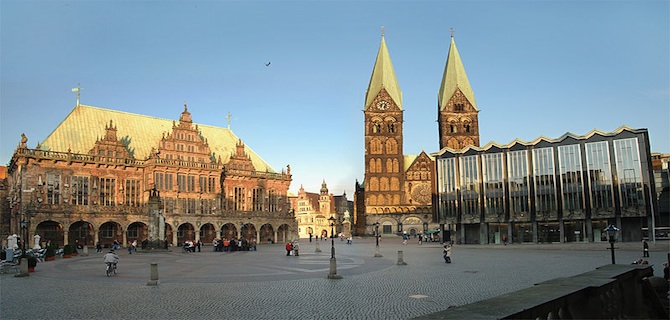 Rathaus Dom Bürgerschaft
Delta Phi Alpha
"The National German Honor Society, Delta Phi Alpha, seeks to recognize excellence in the study of German and to provide an incentive for higher scholarship. The Society aims to promote the study of the German language, literature and civilization and endeavors to emphasize those aspects of German life and culture which are of universal value and which contribute to man's eternal search for peace and truth."
To become a member of Delta Phi Alpha, one must meet the following requirements:
A minimum of two years college or university German or their equivalent.
A minimum avergage of B+ (3.3 GPA or higher) in its equivalent in German courses.
A minimum cumulative average of B (2.7 GPA) or its equivalent.
Indication of continued interest in the study of German language and literature.
Thanks to the generosity of friends and alumnae of the German Department, we are able to recognize our outstanding students for their academic work, independent research, and internships.
Liselotte von Usedom Beach Prize
Awarded to an outstanding sophomore student majoring in German, generally based on merit within financial need.
Heinrich Böll Prize
Awarded to a senior student majoring in German for excellence in the study of German Literature.
Marion Dexter Learned Prize
Awarded to a senior student majoring in German for highest achievement in the study of German language and culture.
Wieland Endowed Prize
Awarded to the senior student majoring in German who has demonstrated the most excellent achievements in the field of German overall.
The Müller-Peterson-Hach Fellowship
Awarded to support a student or students who seek to further their education through a meaningful summer or academic break immersion experience in a German-speaking country. The program must last for a period of eight weeks or more, and involve working at a private non-profit or governmental entity in the area of human rights, environmental protection, or human services.
The Kurth - Voigt Student Research Award in German
Awarded at the discretion of the faculty in the German Department to an outstanding rising junior or rising senior German major who presents the best proposal for a research experience. The award is intended to support an undergraduate student research experience, either as an independent project or in collaboration with a faculty mentor, on a German or German-related cross-disciplinary subject.
Urkunde Certificate
Recognition of one student in each German class for outstanding achievement.
photo: Klaus Grüberg