Keck Archaeology Lab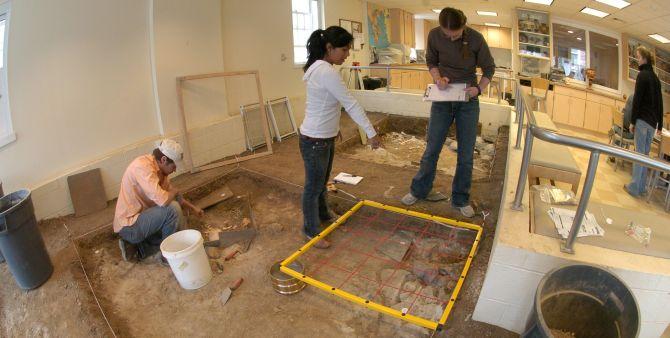 "The resources available for teaching students in Carlisle, especially the SEF, are extraordinary, and the latter is, to our knowledge, unique...This tool enables students to be conversant with both archaeological methodology and actual technique well in advance of their arrival at excavations in Greece or elsewhere." (excerpt from the External Reviewers' report, April 2007)
Keck Archaeology Lab director: Prof. Christofilis Maggidis
Lab Assistant (2013/14): Cynthia Maggidis and Catheryn Broady (past assistants 2001-13: K. Heacock, M. Haines, M. Staudter, E. Pitcairn, K. Wroth, D. Evitts, A. Cuneo, B. Clifton, A. Goencz, S. Peterson, K. Lantzas, J. Danis, A. Standifer).
View the lab gallery.
Simulated Excavation Field (Dig Simulator)
An original, model program of practical field training (part of the course Fundamentals of Archaeology: Theory and Field Archaeology ) in the controlled environment of a simulated excavation field which features reconstructed ruins, physical remains and finds, and reproduced actual stratigraphy of diagnostic archaeological contexts.
Thanks to a generous grant from the W.M. Keck Foundation (lab equipment) and the Ferris Foundation (facilities), the archaeology lab is now housed in a brand new facility of almost 2,000 sq.ft. offering abundant student work space, office and lab space, storage and display units, cutting-edge technology and electronic equipment, and a space of 400 sq.f., sunken 3 feet beneath the floor level, specially designed for a unique indoor dig simulator of unprecedented proportions and complexity (Simulated Excavation Field).
The indoor dig simulator (S.E.F.) features four successive archaeological layers (Neolithic, Mycenaean, Classical Greek, and Roman) and includes reconstructed ancient ruins and diagnostic archaeological contexts (huts, houses, and cist graves), plotted portable finds and spatial distribution of material remains (pottery, figurines, jewelry, coins, tools and weapons, organic and skeletal remains), and reproduced actual stratigraphy (occupation layers, destruction layers, floor levels) filled with different types of sediment.
The S.E.F. training program exemplifies a direct, 'hands-on education' format which combines theory and practice, education and practical training, and interdisciplinary methodologies, and comprises the following:
careful excavation (grid), including shifting and floating;
full and precise recording and documentation of finds and contexts (including field notes, excavation records, labeling, drawing, plans/sections, photos);
conservation of material remains and portable finds and storage procedures;
discussion and interpretation of stratigraphic sequence, spatial distribution of finds, spatial function of rooms/areas, character of archaeological contexts, patterns of uniformity and variation, study of portable finds (typological/stylistic development, dating);
application of digital technology and use of equipment in archaeological excavation/survey (GPR, Magnetometer, Total Station, Theodolite, GPS, GIS) final excavation report and drawing reconstruction of site (to be published on the web-site);
the excavation is recorded by a fixed, ceiling-mounted web-cam for training purposes, in-depth analysis and evaluation in class.
Databases
ICON: Digital Image Library: Web search engine/database of ca.10,000 digital photographs of artifacts, monuments, and archaeological sites of Prehistoric Aegean, Greek, Roman, Egyptian, and Near Eastern art and archaeology (access restricted to Dickinson faculty, students, and alumni).
ATREUS Treasury of Mycenaean Bibliography: Web search engine of books and articles on Mycenaean art and archaeology, classified by author, subject, chronology, and region, with full index on the site of Mycenae (free on-line access).
KERAMOS: Mycenae Pottery Database: Web database of Mycenaean pottery from Mycenae, including pottery from our own excavations in the citadel and at the Lower Town (access restricted to Mycenae senior staff and research assistants).
D.E.P.A.S. of MYCENAE Database: Web database of finds from the excavations at the Lower Town (access restricted to Mycenae senior staff and research assistants).
Mycenae Website: D.E.P.A.S. Fieldwork Program, Excavations, Geophysical Survey, Research Projects & Publications, Databases & Web Links, G.I.S./3-D Model, News, Staff, Institutions, Photo-Gallery, History of the Site
Glas Website: D.E.P.A.S. Fieldwork Program, Excavations, Geophysical Survey, Research Projects & Publications, Databases & Web Links, News, Staff, Institutions, Photo-Gallery, History of the Site