TO ORDER please email your files and print request form to printctr@dickinson.edu. PDF files are preferred. FOR A QUOTE, please email printctr@dickinson.edu with your specifications and quantity. Questions? Contact us.
Print request forms and additional options for submitting your files are listed below. Please include file name, dimensions, quantity, banner account number and delivery destination with your order for fastest service.
File too large for email? You can send your files via DropBox or Hightail. You will need to alert staff about your order and submit a print request form for the order. If you're a Dickinson staff member you can also place your files on a campus server (File path: P drive/Mac Drop/for Print Center).
Want to walk? Drop off your files at the Print Center on a cd or USB drive.
Print Request Form (PDF)
SENIORS! Thesis Request Form (PDF)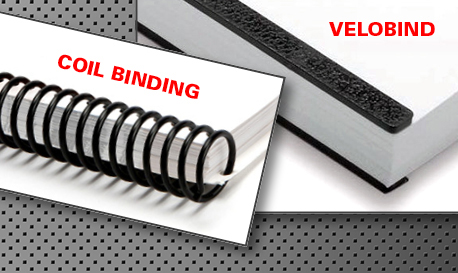 Binding available in coil (pictured left, recommended for course packets, booklets, scrapbooks, etc.) and velobind (pictured right, for thesis printing). The cost is $1 per booklet for Dickinson customers and $2 per booklet for non-Dickinson orders.
Finishing services include: binding, cutting, hole punching, folding, laminating, padding, perforating, poster mounting, creasing, and stapling.
Large Format Printing
The Print Center's large format printers offer full-color printing up to 44x90 inches on a variety of mediums including paper, adhesive-back PhotoTex, canvas and vinyl. Dry mounting on foam core or gator board is available to offer your paper poster a firm backing. Gator board is an archival quality mounting board consisting of rigid polystyrene foam core laminated between two face veneers of resin-impregnated wood fiber for use in displays, photo mounting, etc.