Print Center Frequently Asked Questions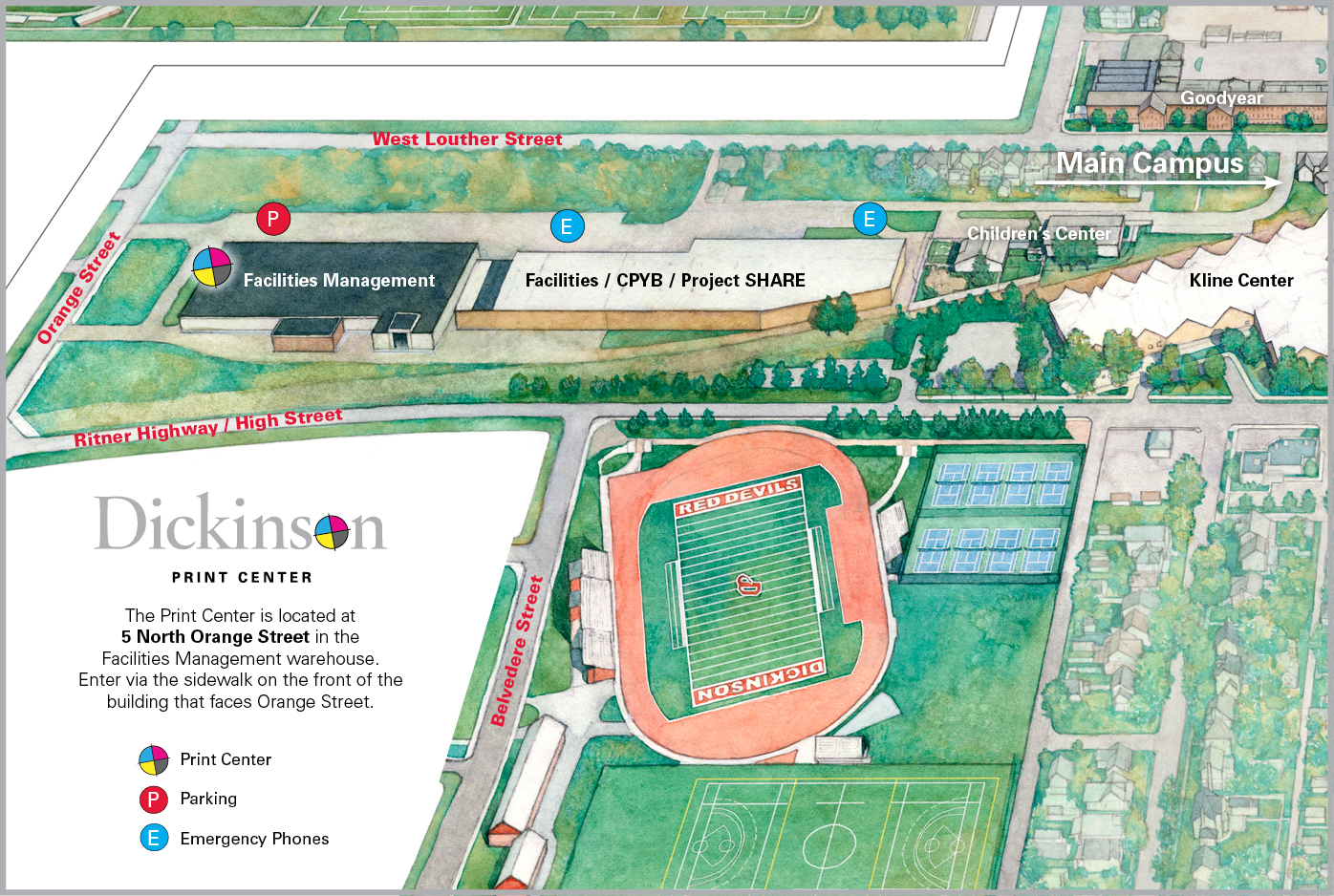 Check out the list of frequently asked questions below. If you are unable to find the topic you are looking for the Print Center staff will be happy to answer your questions.
Where is the Print Center?
The Print Center is located at 5 North Orange Street in the Dickinson Facilities Management warehouse, which also houses the Central Pennsylvania Youth Ballet and Project S.H.A.R.E. Just enter the front of the building that faces Orange Street and the Print Center is right inside the glass doors.
What if my file is too large to email to the Print Center?
If your file is too large you can use a file hosting service like Dropbox or Hightail to submit files.
What delivery options are available?
With the Print Center, you can pick up your order or courier your order to any academic building on campus (the Print Center cannot deliver to dormitories or HUB boxes).
If I pick up my order, how will I know when my order is ready?
The Print Center will contact you when your order is ready for pickup via phone or e-mail.
During what hours is the courier delivery service available?
Delivery occurs between 1 and 3 p.m. Monday through Friday. Please note the driver's route varies by day. If your order is completed after 12 p.m. it will be delivered the following day.
Which file types does the Print Center support?
PDF PREFERRED. However, the Print Center can usually accept the following file types for printing:
Adobe Acrobat (.pdf)
Adobe Creative Suite: Illustrator and InDesign (.ai, .indd)
Microsoft Office (Word, Excel, PowerPoint, Publisher)
Post Script (.ps)
Rich Text File (.rtf)
Text File (.txt)
Images (.jpeg, .tiff, .psd)
What page sizes does the Print Center support?
The Print Center can print any standard or custom page size up to 14" x 26". Large format options are available up to 44" x 90". Standard Print Sizes.
What happens if I send an unsupported file type or page size?
The Print Center will contact you about how to process your order and may request your file be sent in a different format.
Do I have other options for uploading unsupported file types?
Before sending your files, you may convert your files to PDF.
Can I upload multiple files?
The Print Center will accept multiple files for one order, but requests that you accurately label each file to expedite your order.
Can I set up different print options for each file I send?
Multiple jobs within one order can have different printing and binding options; however, it is requested you send a separate request form for each item.
What if I don't see the feature I desire?
When completing your print request form you may add an additional information Special Instructions. You can also call the Print Center to inquire about what options are available for your order.
Will you print copyrighted files?
The Print Center does not print copyrighted files unless you provide a release form from the copyright holder.
What is a bleed?
A bleed is the printing term for 'to the edge' printing. Most printers and copiers cannot print to the edge of the paper, so the white border is trimmed after printing to achieve the bleed. So when sending a job that you want to bleed, keep your text at least a half inch from the edge or it may be cut off.
How do I know my order will print correctly?
You may request a digital or printed proof from the Print Center when you submit your order. Note: digital proofs apply to designs setup by the Print Center.
How do I know how much my order will cost?
When you submit your order and files to the Print Center you may request a quote before proceeding. Please note all specifications are required to calculate an accurate quote.
Do I have to pay ahead?
No, payment is due at the time of pickup.
What type of payment does the Print Center accept?
The Print Center accepts cash, check (made out to Dickinson College), declining balance and credit cards.
Can I use the Print Center for my tax-exempt order?
Yes, to process a tax-exempt order, you must indicate your tax-exempt status on your order form. Proof of tax-exempt status may be requested.
How long will the Print Center save my orders?
If you provide a print-ready file the Print Center will not save your order for more than two weeks. You will need to resubmit the order. If the file is designed by the Print Center, the file will be retained indefinitely.
What turnaround time can I expect for my order?
Most print orders can generally be completed in 3-4 business days depending upon size and the volume of work at the time your order is placed. Note: Dickinson College customers receive first priority; August and early September orders usually incur longer turnaround times. The Print Center will make every effort to meet your deadline.
What is the Print Center's policy on copyrighted materials?
Faculty members requesting reproduction of copyrighted materials by the Print Center must complete a form which states:
All necessary copyright permissions have been obtained and any related fees paid, or that the reproduction of this copyrighted material is within the fair use doctrines and/or satisfies all the requirements of the copyright law of the United States. They must assume full responsibility for the reproduction of this material by the Dickinson College Print Center and indemnify it and its personnel from any claim, liability, expenses, damages, or costs that may be incurred in connection with a charge of copyright infringement arising from the reproduction of the copyrighted materials. Download Copyright Form.