Package Pickup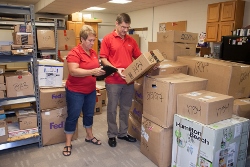 First Year Students will receive a HUB number at their Dickinson email address prior to their arrival on campus. The email will include important mailing information. Mail Services will assign a HUB number to returning students once confirmation is obtained.
Students keep the same HUB number while at Dickinson, even during their stay abroad. Students that leave campus for reasons other than going abroad could receive a different number when returning to campus.
All First Class mail and packages arriving on campus are held in Package Pickup. Students receive an email notification once mail and packages are processed. First Class mail remaining after two weeks will be forwarded to the recipients address on file or returned to sender. After two weeks, students receive a second email notification for unclaimed packages. Failure to pickup will result in packages being forwarded to the address on file or returned to sender.
Students must have their Dickinson College ID, when picking up the items at Package Pickup, without a Dickinson ID, the mail will not be relinquished. Due to lack of storage we recommend you send packages no more than two weeks before the start of a semester.
If we are unable to identify the receiver of a package, it will held for 48 hours and then returned to the sender.
The Mail Center is not responsible for perishable items.
• Perishable items will be held in Package Pick-up no longer than five consecutive days.
Due to limited space, we recommend you send packages no more than two weeks prior to the start of a semester. It is very important that all mail/packages for a student have their first name, middle initial and last name and be sure to always include the student HUB number.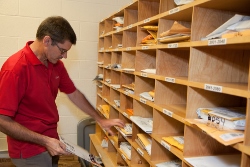 Please contact Zair Ulsh, ulshz@dickinson.edu or (717) 245-1298 or Lisa Ellerman, ellermal@dickinson.edu or (717) 245-1210 with any questions.
Mail Services Hours
Monday - Friday 8:00 am - 4:00 pm
Phone: 717-245-1238
Package Pickup Hours
Monday - Friday | 10 am - 6 pm
Saturday | 11 am - 1 pm
Zair Ulsh: 717-245-1298
Package Pickup: 717-245-1973
*Package Pick-up follows Mail Services hours beginning the day after graduation until the first day of classes.
All offices are closed on Sunday
Scheduled hours may vary during exams, breaks and holidays.