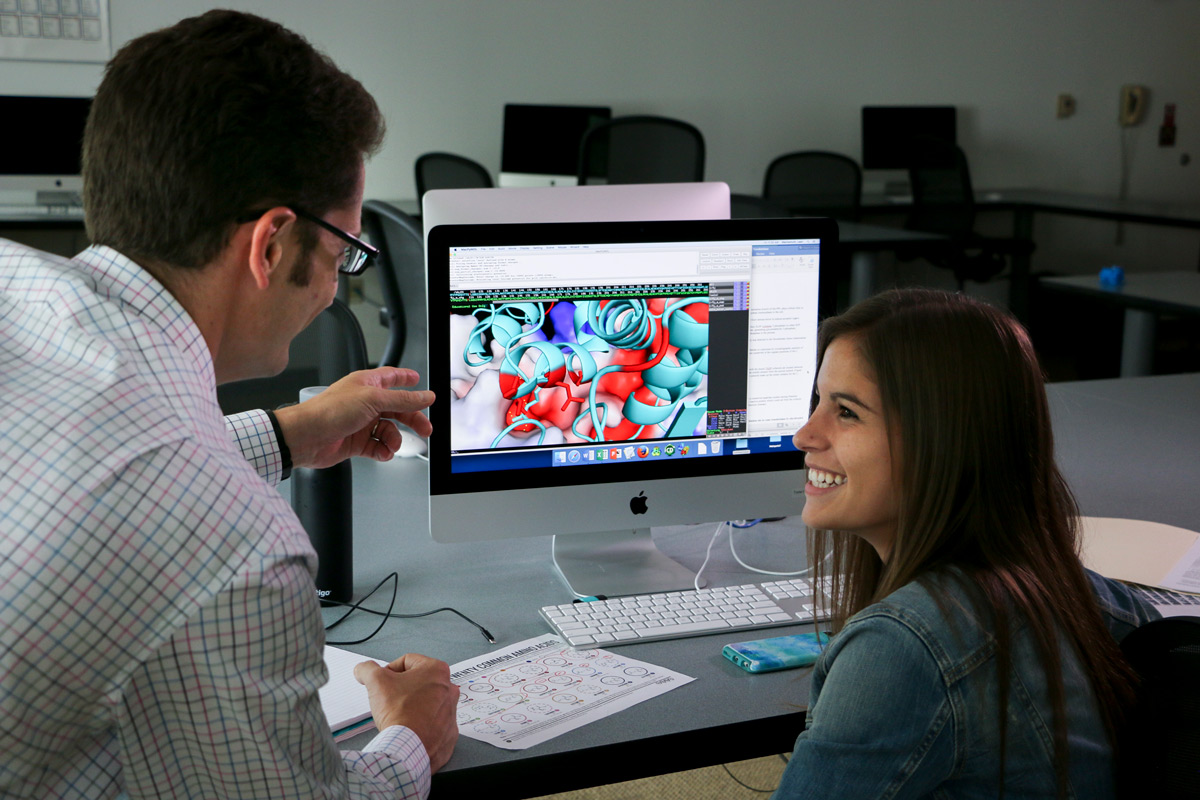 What is Collaborative Student-Faculty Research?
Dickinson expects a 1:1 working relationship between the student and faculty member. The student role must be truly collaborative and substantial during every phase of the project including project development and final outcome, which will most likely result in a co-authored publication. These projects normally take place in the summer when there is enough time for a student to take a truly collaborative role with a faculty member in a scholarly or creative project. The projects can be in any discipline and should concern a significant scholarly question or creative pursuit. Projects usually last 8 weeks, but in some circumstances may be shorter. Both the student and the faculty role must be substantial at every stage of the project, with the student taking on co-investigator status. The narrative must provide a detailed explanation of the role of the student.
These differ from Dana Research Assistantships because the student and the faculty member work in tandem as true collaborators.

Proposal for projects from all three divisions are invited and are eligible for funding.
What criteria are used to grant Student-Faculty research funding?
Student-faculty research grants are awarded by the R&D Committee using the following criteria:
Quality: What is the quality of the project in terms of significance, originality, and intellectual merit?
Dickinson's preferred model expects a 1:1 working relationship with an experienced faculty member.
The college expects summer student assistants to make a full-time commitment, within consecutive weeks, for the length of the project - since student stipends are paid bi-weekly and housing is paid weekly. Any interruptions to the project dates can add to the cost of the project. Because of this, we advise you to hire students who will be able to work with you for the full eight consecutive weeks.
Clearly defined outcomes from the research will be an important evaluation criterion in the award process. Future independent research honors thesis work for the student, joint papers, presentations or public theatrical performances or exhibitions are examples of desired outcomes.
Finally, R&D looks to the ancestry of the project. The applicant's previous history of grant applications should indicate the ability to accomplish what was promised, to use awarded funds prudently, and to file final reports as required.
In addition, the generosity of donors who have contributed to the endowment supporting Student Faculty Research has made it possible to periodically fund projects in the following specific areas:
The Betsy Logtens Student-Faculty Research Fund gives first preference to a team researching clinical neuroscience.
The Narol-Console Student-Faculty Research Fund supports a worthy student-faculty research team with preference given to research conducted in the disciplines of History and Political Science.
The Nellie Neide Higgins Student-Faculty Research Fund supports a research project in Classical Studies of Archaeology.
The Bernard A. and Rebecca S. Bernard "Engage the World" Fellowship endowment supports projects related to the study of the Jewish experience, with first preference for a project doing study abroad in Israel; second preference for research or creative projects related to the Jewish experience or Israel; and third preference for projects related to global education.
The Betsy Strite Freet '68 Faculty-Student Research Fund gives preference for a project involving economics.
The Ralph Minker Peace Fund for Student-Faculty Research honors Rev. Minker's military service as a pilot during World War II, his work in the nation's civil rights movement, and his lifelong commitment to peace. It supports a worthy team focused on research that forwards the cause of peace.
The G. Lee George Student-Faculty Research Fund honors his philosophy and his belief in the value of the education that he missed. Preference is given to projects in his field of business.
The Robert D. and Barbara C. Crouch Student Faculty Research Fund honors the parents of Professor David Crouch and has a preference for teams conducting research in chemistry or biochemistry and Molecular biology.
The Van Buskirk Student-Faculty Research Fund for Environmental Fieldwork supports projects in any discipline, with first preference to projects involving environmental fieldwork.
The Robert Allan Jansen Memorial Student-Faculty Research Fund is awarded for a team involving an Earth Sciences (first choice) or Environmental Sciences/Environmental Studies (second choice) sophomore or junior (or to a sophomore or junior in a closely related field of study in the sciences).
The George Allan Student-Faculty Research Fund honors George's philosophy and belief in the value of collaborative work and active engagment in learning, as well as his long associaiton with Dickinson.
How are these projects supported?
Student-faculty research grants are usually substantial, providing stipends to the faculty member ($500 per week) and the student ($350 per week) for up to 8 weeks, the student's room in on-campus housing (or on-site equivalent) and the expenses of the project. (Please note: if the project is on-campus, the student will be expected to live in campus housing during the time of the project.) The project dates must conform to the student housing constraints for summer. Expenses are limited to $2,000 per summer for materials and supplies which can include software, databases, reagents, small equipment, etc., and $2,000 for project-related fieldwork travel (not travel to present). Students who plan to present the results of the research conducted can apply for Kenderdine grants (up to $1,400) to support travel to a conference.

Information about other sources of funding for student travel and research can be found at:
Center for Sustainability Education

Please be sure to check for application deadlines.

Special application instructions for this program:
Your application should include a cover sheet/application, budget, and a description of the project. (No more than 5 pages).
We have prepared this helpful template for your convenience, collaborative student-faculty research proposal template.
Please be sure to include a full description of the role of the student.
All applications must be submitted electronically to randd@dickinson.edu.
Special reporting requirements for just this program:
Timely submission of a final report prepared by the student-faculty team is required. Please also note that Student-Faculty Research awardees will be required to complete responsible conduct of research training through the online CITI program.

The final report should include:
a summary of the research completed, including methods and results
the role of the student researcher, for example, how they participated in the research, what they accomplished as well as how the student benefited from this experience (what they learned and how any new specific knowledge will aid them in the future, who they met or what contacts were made during the course of the research experience)
an accounting of how any funds were spent
bibliographic citations for any publications and/or presentations which resulted form the research; are in progress; or are planned.
Additionally, students are to attach to the final report a 500-word statement, stating what they accomplished as well as what they learned from this experience.
The report must be submitted electronically to randd@dickinson.edu.

**Please note that any travel more than 50 miles from campus requires that the student be registered through the on-line trip system. Details for this can be found by logging onto CLIQ, going to the "general" tab and travel system.