Global Ambassadors are returning study abroad students who serve as peer advisors for their program. In addition to sharing about their program, some global ambassadors have also volunteered to discuss aspects of their identities with students who might have questions about navigating study abroad with these identities. They are here to answer your questions, so don't hesitate to reach out to them!
Dickinson Programs
Dickinson in China (Beijing)

Name: Corson Ellis
Email: elliswi@dickinson.edu
Major: German Studies and International Studies
About me: In my sophomore year of college, I had an open spot in my schedule and decided to take Chinese 101. Knowing that I would not be allowed to study abroad because of my language level, I initially planned to go abroad to Germany for a full year after my sophomore year. However, I was fortunately allowed to go to China with only one year of Chinese. Stepping off of the plane from JFK to Beijing Capital Airport, I realized that I was about to spend a semester living with a Chinese family with little English ability and taking classes that were taught in Chinese. Despite the serious nervousness that I felt, I was able to thrive at Peking University, joining student clubs, becoming the representative for my class, and winning third place at a speech competition. I traveled to Inner Mongolia, the Great Wall, Tianjin, Xi'an and Nanjing, saw the Terracotta warriors, the Great Wall, took a bath in coffee, and hiked one of China's Five Great Mountains. At the end of the semester, I got to travel with Dickinson to Shanghai and explore the history of the most populous city on Earth. All in all, my semester in China was one that challenged me in a way that required me to adapt both to different cultural values and a different language, but also allowed me to have experiences I never would have dreamed of.
Name: Olivia Shea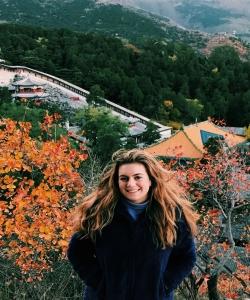 Email: sheao@dickinson.edu
Major: International Business & Management
Identities I can speak to students about: High financial need
About me: I'm Olivia Shea and I studied abroad at Peking University in Beijing, China during the Fall of 2018. I took intermediate Chinese language classes, played on the Peking University Tennis Team, lived with a host family and traveled around the country with my Dickinson program and friends we made. Like any study abroad program, there will be struggles and achievements, but I hope that I can be your mentor and help guide you with any questions or concerns. Ultimately, I enjoyed my study abroad experience and I came back to Dickinson more open-minded, able to speak a difficult language more comfortably, and wanting to discover more about the world and myself.
Dickinson in England: Humanities
Name: Madeline Callahan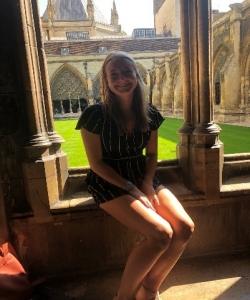 Email: callaham@dickinson.edu
Major: English
About me: My name is Madeline Callahan, I'm an English major and I'm a part of the class of 2020. I studied abroad in England in the fall of 2019 with the humanities program. Through this program, I lived in London for three weeks, and during these three weeks I took a class with the professor there. While we were here, we walked many miles a day to see all the historical sites that London has to offer. We saw a play in the Globe Theatre, took daily walks along the Thames, got to sit with the lions in Trafalgar Square, and sometimes had enough time after our many museum visits to do our own exploring of the city. We then moved to Norwich for three and a half months. Here I went to the University of East Anglia, where I took two classes through the University and one with the professor from Dickinson. While I was living here, I lived in a flat with five other students, but none were from the Dickinson program. This was really cool because I was exposed to people from all different places. We lived in a flat style apartment; I had my own room and bathroom, and the six of us shared a kitchen. I liked living like this because it made interaction with my flat mates easy, but if I needed space to myself I could always retreat to my own room. From the University, we took many trips into town on the double decker bus that was only on time sometimes. While we were in town we would go grocery shopping, do some homework in a little café, grab dinner, and even explore some of the bars in the area. Just like London, Norwich, of course, had its own little market filled with so many types of food, fresh fruits and vegetables, little thrift shops, and some of the best ice cream I've ever had. Deciding to do this study abroad program was one of the best decisions I've ever made. Not only did I get to live in a new country and meet so many new, exciting people, but I also had the opportunity to travel throughout Europe.
Name: Julia Mercado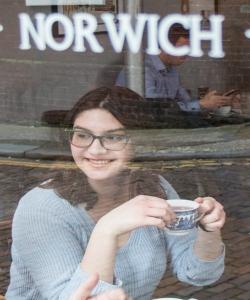 Email: mercadoj@dickinson.edu
Major: English
Identities I can speak to students about: Students of color, High financial need
About me: Julia Mercado spent her junior year abroad in Norwich, England to look for a sense of immersion, without the stress the language barrier. Being an English major and Creative Writing minor, the classes at the University of East Anglia were perfect for her. As the Arts took center stage at UEA, she felt most welcome expressing herself during small class seminars during the day and had no trouble finding literary events for her evenings. On days away from classes, Julia liked to go to the city center, whether it be to do work in a quaint cafe or to take in the people and sights of Norwich through its pedestrianized streets. During the second semester, she decided to focus her independent study away from her major. For the final six months, she spent her time researching the effects of gentrification in the Notting Hill area of London in the wake of the second anniversary of the Grenfell Tower Fire. Thanks to the Norwich program, Julia gained the chance to find new things to be passionate about.
Dickinson in England: Maths & Science
Name: Emma Brown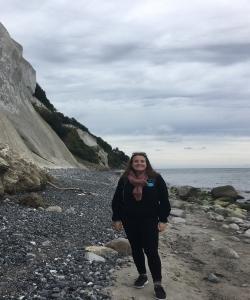 Email: brownemm@dickinson.edu
Major: Environmental Studies
Identities I can speak to students about: Students with a disability
About me: My name is Emma Brown and I am a senior Environmental Studies major from New York City. At Dickinson I am a member of Delta Nu, club soccer, and I spent this past summer working on the farm. I spent the fall of my junior year studying at DIS in Copenhagen, in the Sustainable Development in Northern Europe program. I took classes on public health, renewable energy, city planning, and Danish language and culture. I lived with a host family and another DIS student in Valby, which is about 15 minutes away from central Copenhagen, and I still keep in touch with my host sister. I also participated in the Climate Change and Human Security Mosaic, which involved three weeks of research in Nepal, and spent my junior spring in Norwich, at the Dickinson Math and Sciences program at the University of East Anglia.
Name: Song Kim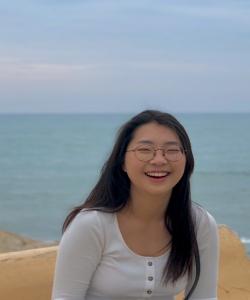 Email: kimson@dickinson.edu
Major: Biochemistry and Molecular Biology
Identities I can speak to students about: Students of color
About me: I am a senior at Dickinson, majoring in Biochemistry & Molecular biology. I currently work on campus as a research assistant, library services consultant, and a multicultural ambassador for prospective students. As an international student from South Korea, I would love to assist in choosing, discussing, or even just talking about different cultures and settings that you should be aware of in the study abroad programs. I did my 2019 spring semester study abroad in the University of East Anglia science program, which took place in Norwich, England. It was my first time being in any part of European countries, and I'd like to say that this semester was one of the most valuable memories that I will cherish for the rest of my life. There are various study trips available throughout the semester. Although I wasn't engaged in study abroad program in Norwich during the fall semester, I am aware that the study trip in London for a week was offered. In comparison, in spring semester, the main study trip took place in Edinburgh, Scotland, where you can visit different historical sites, museums, or parliament and learn more about the history of part of the United Kingdom. Short study trips to castles and nearby cities are additionally offered during the semester. The campus life in the University of East Anglia is quite different with Dickinson college in a way that it's larger and supports more independent life style. There are various facilities offered on campus such as café, bar, bank, convenience store, etc. The town, Norwich, is so lovely and easy to explore as there are parks and main town center not that far away from campus where you can reach such places by walking, riding a bike, and taking a bus (a free bus ticket would be offered by Dickinson).
Dickinson in France
Name: Drew Erickson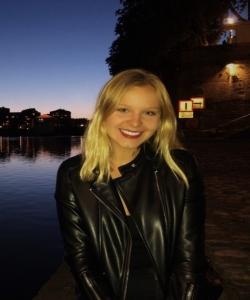 Email: ericksdr@dickinson.edu
Major: Political Science
About me: Drew Erickson (class of 2020) is a Political Science major and French minor. She studied abroad in the Dickinson in France program in Toulouse, Spring 2019 semester. Her cultural experience was enriched by living with a host family with a long history of welcoming Dickinson students. She enrolled in courses both at the Dickinson Center and at l'Institut Catholique, all of which were taught in French. In addition to immersing herself in the local culture she volunteered at La Societé St. Vincent de Paul, which is an outreach charity devoted to serving the homeless community in Toulouse. Drew fully embraced the cultural and educational opportunities provided by the Dickinson in France program giving her the confidence to engage in the larger global world.
Name: Bevin McDevitt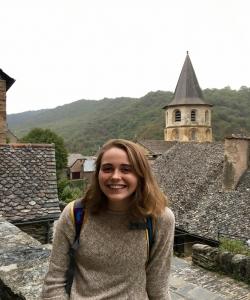 Email: mcdevitb@dickinson.edu
Major: Anthropology/French and Francophone Studies
About me: My name is Bevin McDevitt and I am a rising senior majoring in Cultural Anthropology and French. When I was in in elementary school I lived in Belgium for three years with my family, and that experience is what influenced my interest in French as well as cultural understanding and awareness. During my junior year, I studied abroad in Toulouse, France for the entire academic year. I was the only student in the program to stay both semesters, and parts of it were very challenging but otherwise it was the best decision I made, and it was extremely rewarding in the end. I lived with the same host family the whole time, and attended the local Institut Catholique de Toulouse (ICT) where I took some fascinating classes in comparative literature, intercultural relations, and marketing. Two classes at the Dickinson center focused on cultural differences, and learning how to write a typical French-style essay. Since I stayed both semesters, I was eligible in May for the Dîplome Approfondi de Langue Française (DAFL) exam which measured my French proficiency, and I scored a C1 level. Staying the year offered me several extra experiences I could not have gained in one semester.
Name: Emma Moore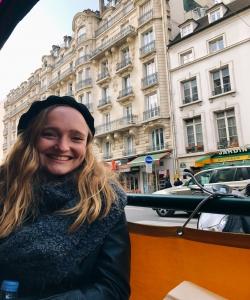 Email: mooree@dickinson.edu
Major: English
About me: This past spring semester I studied abroad in Toulouse, France. Both my parents attended Dickinson in the late 80s/early 90s and my dad was a French major and studied in Toulouse for an entire year. I loved hearing his stories from abroad and he told me what an amazing place Toulouse was to live. During my time in Toulouse, I lived with a host family of four, with a mom, a dad, and a teenage son and daughter. I studied at a small French university downtown similar to the size of Dickinson where I took an array of classes and I made friends with other French students. I partook in a service project where I assisted a Dickinson alum who teaches English to middle and high schoolers at a private school. I loved every second of my time in Toulouse, especially because I made meaningful relationships with my hosts and classmates which propelled my French language skills enormously. I learned a lot about myself and the ways I have lived my entire life in the United States by living and speaking in a completely different way from what I had become accustomed to.
Dickinson in Germany
Name: Liz Bodenman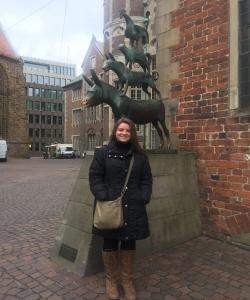 Email: bodenmae@dickinson.edu
Major: International Studies
About me: I am a senior with a passion for learning about and working with various cultures, which is why I is love being an International Studies major so much. I had an opportunity to exercise my passions through studying abroad with Dickinson's Bremen Program. While studying at Dickinson, I am active in the Infernos Co-Ed Acapella Group, am a Housing and Apartments Manager for Residence Life, a member of Kappa Alpha Theta, Order of Omega and Alpha Lambda Delta, an Eco-Rep, and a student representative on the International Studies Majors Committee. I am also a member of the German Club, which is highly recommended for students interested in studying abroad in Bremen. After graduating, I hope to serve for the Peace Corps before continuing my studies with a Masters in Foreign Policy and Service.
Dickinson in Italy: European Studies
Name: Isabella Jurcisin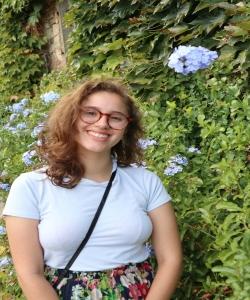 Email: jurcisii@dickinson.edu
Major: History/Political Science
About me: My name is Isabella Jurcisin and I am part of the Class of 2020. I participated in the European Studies Program in Bologna, Italy. It was one of my greatest decisions at Dickinson and believe it prepared me for life postgraduate. Living in Bologna can only be compared to living in a fairytale and I tried to spend all of my time soaking the history and beautiful architecture in. I am a Political Science and History double major. On campus, I am on the History Majors Committee, a member of HerCampus, and a Trout Gallery Ambassador. I am from New York City and have lived there my whole life. My father is from Bayonne, New Jersey and my mother from Bogotá, Colombia. Therefore, there is constantly a mix of Latin and 70's Rock and Roll music playing in my house. I can speak fluent Spanish as can my older sister Alicia.
Name: Christian Merino Rubio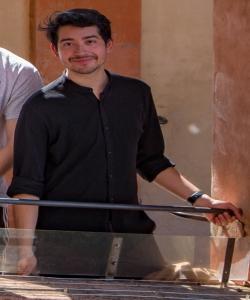 Email: merinorc@dickinson.edu
Major: Political Science
Identities I can speak to students about: LGBTQIA, Latinx, First Generation
About me: Christian Merino Rubio '20 is originally from El Salvador but has lived in Maryland since 2003. He transferred to Dickinson during the Fall semester of 2018 and enrolled as a Political Science major. While looking into transfer institutions, he knew that a robust study abroad program was a necessity. He participated in the European Studies program in Bologna during the Spring 2019 semester. He enjoyed being fully immersed in all aspects of Italian culture and was able to learn to speak, read, and write Italian. Prior to coming to Dickinson, he worked at a Montessori Preschool as an assistant and interned at the Latino Economic Development Center in the small business development unit. He likes to explore the relationship between politics and pop-culture, especially through a queer lens. He looks forward to becoming involved in more organizations throughout campus this academic year.
Dickinson in Italy: Italian Studies
Name: Sean Dowd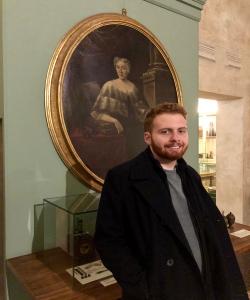 Email: dowdse@dickinson.edu
Major: Political Science/Italian Studies
Identities I can speak to students about: Students with a disability
About me: I started by going to the University for Foreigners in Perugia during the month of August 2018. After that I transferred up to Bologna to start my year abroad. I was introduced to the Italian studies section of my program, as well as the director for my program, Bruno Grazioli. We started by taking a trip to Lecce in the South of Italy. After that I enrolled in a couple courses at the University Of Bologna, the rest with Dickinson. During my stay in Italy, I chose to live with a host family, the Bergonzonis. They didn't speak English, so I was forced to speak in Italian the entire time I was around them. As part of a course I took in the first semester I volunteered as a teaching assistant at a local Bologna high school. The class I was in, I helped create lesson plans and corrected students during discussions in English. I continued this activity throughout the year, even after the course ended. I also traveled extensively throughout my stay in Italy, both with the program and by myself. I found Bologna offered many opportunities to travel, having a major train station and airport. After I returned, I took another course at the University of Bologna and continued my homestay and tutoring activities. The experience of a new and different University and community activities offered in the city was what I feel made my experience worth it, and made me feel apart of a different community than I
had been apart of previously.
Name: Odalis Almendarez Piña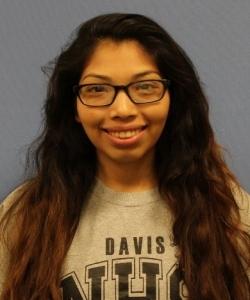 Email: almendao@dickinson.edu
Major: Political Science/Italian
Identities I can speak to students about: Students of Color, First Generation, High financial need
About me: My name is Odalis Almendarez Piña I was born and raised in Houston, Texas. I'm a first-generation student, part of class of 2020! I'm a double major in Political Science and Italian Studies. I identify myself as Mexican-American and Latina. For the academic year of 2018-2019 I had the opportunity to study abroad in Bologna, Italy. This experience has truly been wonderful. I was able to integrate myself into the Italian culture, while at the same time strengthening my Italian. Before going abroad, I was nervous and was unsure of what to expect. However, everyone I would talk to about their experience made it seem like it was the best decision of their college career and after a year of being abroad I can agree to that. Being able to experience the live in Italy has been amazing, I cannot hold my smile every time I get ask about it. I was not only there to study, but to integrate myself into the community, either by volunteering, by having weekly dinners with my host family, by having a cup coffee or aperitivo with my exchange language partners that later became good friends, or just having random conversations with other Italians on a train rides, at a bar or at any plaza in Bologna. For me being part of the Dickinson in Italy: Italian Studies program was one of the best choices I have done. Thanks to the support of many that encourage me to go for the entire year, is that I was able to experience something that a few years ago I wouldn't of imaging doing so.
Dickinson in Korea
Name: Yejin Son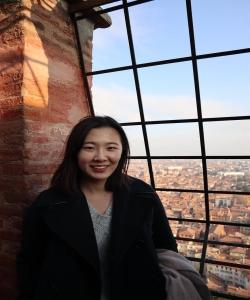 Email: sony@dickinson.edu
Major: International Studies
Identities I can speak to students about: High financial need
About me: Yejin Son '20 is an international student from South Korea, majoring in International Studies. Since childhood, she was brought up in Northern India, where she graduated High School and headed to the United States. At Dickinson, she participated as a member of WIND (We Introduce Nations to Dickinson) to promote and share intercultural events. Yejin finds academic interest in sustainability, development, and security, which led her to spend her 2018-2019 junior year abroad in Bologna, Italy and Seoul, South Korea (both with experiences she would love to share). In Italy, she studied migration and its implications for the European Union and international institutions, while in Korea, she focused on the bilateral relations and ongoing security issues between South and North Korea. In Dickinson, she hopes to continue her studies in sustainable development in a globalizing world as she faces her final year. (Dickinson in Italy - European Studies, Dickinson in Korea).
Dickinson in Russia
Name: Sophia Miretskiy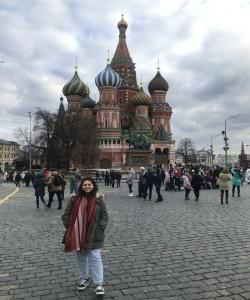 Email: miretsks@dickinson.edu
Major: Archaeology/Classical Studies
Identities I can speak to students about: First Generation College Student
About me: ! My name is Sophia and I'm a senior Archaeology and Classics major, and Russian minor. I studied abroad in both the summer and semester Dickinson in Moscow program. Growing up in a Russian-speaking family, I constantly heard stories about the negative aspects of life in the Soviet Union, so I was hesitant to go to Moscow at first. However, after going on the summer program, and experiencing Moscow, and to a lesser degree St. Petersburg, for myself, I fell in love with modern-day Russia and its culture, and decided that I wanted to go back for a full semester. The summer program was an intensive 5- week long program spent in both Moscow and St. Petersburg. Even though 5 weeks doesn't seem like a long time, it was more than enough time to see all the sights of Moscow and some of the surrounding area, and get acclimated to life as a real muscovite. The trip to St. Petersburg at the end of the program gives students the opportunity to experience a completely different Russian city with a completely different atmosphere. The program fully immerses students in the Russian culture and language, and facilitates extensive language acquisition over a short period of time. During the semester abroad, I was able to deepen my understanding of the Russian language and culture, while being surrounded by the rich history of Moscow. One of the most beneficial things about the Russia program is its location. Moscow has a variety of museums, monuments, parks, and cultural events that allowed me to see and experience what I had already learned about in the classroom. However, trips to smaller Russian cities like Kazan and Tula, helped me understand life outside of the mega polis of Moscow and the way that these smaller cities influenced the history of Russia. The placement of students in host families helps facilitate language acquisition outside of the classroom, and helps students further their understanding of the culture. Although it can be difficult at first adjusting to a new living situation, I quickly became accustomed to life with my host mom, and soon felt like a member of the family. I was also able to use the metro, one of my favorite aspects of Moscow, to get to class every day, which helped me get acclimated to the geography of the city.
Dickinson in South America
Name: Shantel Hernandez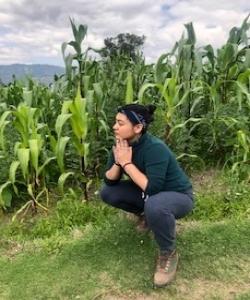 Email: hernansh@dickinson.edu
Major: International Studies
Identities I can speak to students about: Students of Color, LGBTQIA, First Generation
About me: My name is Shantel Hernandez, a Mexican girl from the Bronx and a senior POSSE NY 17 scholar, who has studied abroad in the Dickinson South America program, which includes Ecuador and Argentina. I am a first generation college student, who is majoring in International Studies with a concentration in Latin America and minoring in Women's Gender and Sexuality studies. I'm most passionate about my education whether its in academia or any learning related to life. One of my top reasons why I chose Dickinson was because of its global education emphasis. Knowledge is power and confidence. Education is my form of currency. Education makes me think of the type of ancestor I'm becoming.
Name: Kristen Kozar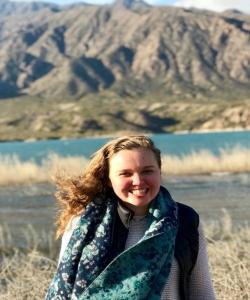 Email: kozark@dickinson.edu
Major: Political Science/Spanish
About me: Kristen Kozar is a Political Science and Spanish double major with a minor in Latin American and Caribbean Studies and a food studies certificate. After a conversation with Dickinson faculty member, Professor Mariana Past, she knew that this program would be the perfect fit and would provide the opportunity to study in two distinct South American Countries with host families and the chance to improve Spanish language acquisition skills with an intimate group of Dickinson students. In addition to the two Dickinson classes, she took Sociología Urbana y Rural and Estado, Sociedad y Política with other Argentine students at UNCuyo. Highlights of the semester Included traveling to Buenos Aires and Iguazu, one of the natural wonders of the world with the Dickinson program, And traveling independently to Salta, Argentina, Valparaíso, Chile, and Bariloche, Argentina. Favorite activities in Mendoza included drinking Mate, walking in Parque San Martín and spending time with friends and my host family
Name: Elisa Varlotta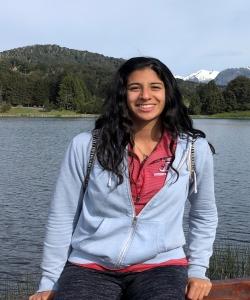 Email: varlotte@dickinson.edu
Major: Mathematics
Identities I can speak to students about: Students of Color
About me: I studied abroad in Dickinson's South America program. This program is a little different than the others that Dickinson offers because first off it is a full six months unlike other programs. A six-month program allows for a more immersive experience. Also we got to study and live in two contrasting countries; Ecuador and Argentina. Even though they both are in South America this provided for two unique experiences. Argentina is much more connected to its European colonizers, whereas Ecuador has retained a much greater connection to its indigenous roots. By living in both these countries, I was able to observe these differences that have been at the heart of the Latin American experience for the last half millennium. The program was one month in Cuenca, Ecuador where we went to class every day in a language and culture intensive program. The program offered excursions every weekend around Ecuador. The next five months were in Mendoza, Argentina. We took classes at the university and were able to do internships or join different clubs or sports. Within Argentina we were able to create a more personalized experience. For me that meant working an internship where I taught English in a refugee for women who were sexually abused. I also bought a membership at a local gym where I participated in daily classes as well as joined the tennis community and took classes and played in tournaments. This allowed me to meet people who had similar interests as me. I also got to do a lot of traveling across all of Argentina as well as take a trip to Chile. I met a lot of new people and got to practice my Spanish every day and see a whole other world down in the southern hemisphere. After this experience I feel that my mission to become a global citizen has just begun. I am even more inspired now to continue traveling but do so with more of a purpose. That is why I am in the process of applying to programs such as Fullbright and the Peace Corps for after I graduate. Thank you South America for igniting this passion and long live Latin America
Dickinson in Spain
Name: Alissa Lema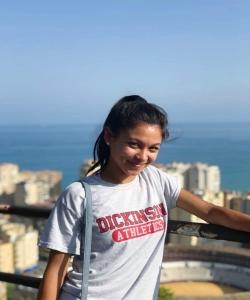 Email: lemaa@dickinson.edu
Major: International Business and Management/Spanish
Identities I can speak to students about: Students of Color
About me: I am a senior International Business & Management and Spanish double major. At Dickinson, I spend a lot of time in the library where I work and get to meet new people daily. Between balancing class and work, I am also a member of the Dickinson Softball team. Outside of school, I love to travel and have been to amazing places such as Colombia, Japan and Peru! While there I loved learning more about my own cultures and comparing them to those of other countries. In the fall of 2018, I was fortunate enough to spend a semester in Málaga, Spain. While there I had a very kind host Mom, tried some amazing food and made some close friends. I had no idea what to expect before I arrived but am so thankful and glad I went. Studying abroad really helped broaden my perspective and taught me extremely valuable lessons that I will keep with me for the rest of my life. If anyone ever wants to chat with me about my experiences or even swap stories, I'm always up for it.
Name: Luke Twill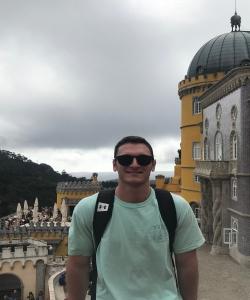 Email: twilll@dickinson.edu
Major: International Business and Management
About me: Hi! I'm Luke Twill and I am a senior from New York City, New York and an International Business & Management major with a double minor in Spanish and Economics. I have been studying Spanish since middle school, so naturally, I continued my studies at Dickinson. When I entered freshman year, my only goal at the time was to complete the language requirement for my major, but after taking a series of courses at Dickinson and speaking with my professors, I was convinced that furthering my Spanish language skills was an excellent option for me and my future. Before beginning college, I had always known that studying abroad was something I wanted to do, so when it came time to apply to Dickinson's wonderful abroad programs, Dickinson in Spain was the clear choice. While in Málaga, I completed courses towards my International Business & Management major and Spanish minor, and I was even able to complete my Spanish minor while abroad! Aside from being able to experience the academic environment at a large university, Dickinson's program in Málaga offered me the chance to explore local culture, art, and history in one of Spain's most beautiful coastal cities. While in Málaga, I had the opportunity to volunteer with Málaga cómo te quiero!?, an organization dedicated to preserving the beauty and maintaining clean public spaces in the city. Through various cultural excursions with my program, I had the chance to experience not only Málaga, but some of Spain's other awesome cities including Madrid, Sevilla, Córdoba, among others. Admittedly, I was very nervous as Dickinson's program in Málaga is a homestay program, but the transition into the Spanish lifestyle was swift, and I developed a great relationship with my host family (we still talk frequently!). For me, this is one of the aspects that sets Dickinson's program in Málaga aside from others and was certainly something that really helped me grow and become comfortable so far away from home.
Dickinson Partner Programs
CIEE Brazil
Name: Dulce Lopez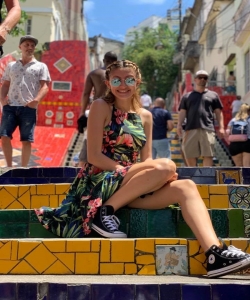 Email: lopezd@dickinson.edu
Major: Latin American, Latino, and Caribbean Studies
Identities I can speak to students about: First Generation College Student, Students of Color (Latinx Students), High financial need
About me: My name is Dulce Lopez and I was a part of the CIEE-Rio program for Spring 2019. Studying in Rio de Janeiro was a life-changing experience for me. Being able to study Portuguese as well as Brazilian culture will be something I never forget. Brazil is a hub of culture and during my study abroad experience, I learned so much about the country and language and I met and created bonds with Brazilians that will remain life-long friends. The Brazil study abroad program is very underrepresented, and I want to share my experiences so more people will want to get to know Brazil, and hopefully fall in love with it the way I did!
DIS
Name: Noah Grimeh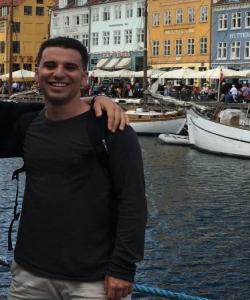 Email: grimehn@dickinson.edu
Major: Political Science
About me: My name is Noah Grimeh and I studied abroad in Copenhagen, Denamark with DIS. I enjoyed everything about the program from its informative classes, to its many inclusive clubs. I stayed in a Kollegium with Grad students from Copenhagen Business School and got to meet people from all across the globe. My favorite part about the program was definitely my core course, which was called Globalization and European Economies. This class is the most interesting course I have ever taken. We had numerous presentations and met with many speakers where we learned about current events and had field trips that helped us network and gain exposure to many different career paths. We had a study tour in London for a week where we stayed at Cambridge University, learned about Brexit and visited the HSBC headquarters. Professors have careers outside of teaching and are able to give you career advice on top of educational and personal advice. My core course is genuinely the most informative class I have ever taken; the skills I learned and people I met will stay with me far beyond graduation.
Name: Anna Prising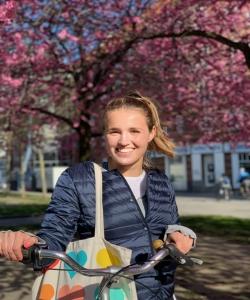 Email: prisinga@dickinson.edu
Major: Psychology
About me: Senior Anna Prising '20 believes that "travel truly broadens the mind". Pursuing a major in Psychology as well as a French minor, Anna studied abroad in Copenhagen, Denmark Spring 2019. Her favorite places in Copenhagen are Emmery's bakery and Nyhavn. Anna loves to kick box, bike (thanks to Denmark) and read John Grisham novels. Anna is part of the Psi Chi Psychology Honors' Society and the French Language Club. Anna is passionate about languages and speaks fluent Swedish, English and advanced Danish and French. Anna is currently interning at the Children's Hospital of Wisconsin as a mental behavioral health intern. She feels passionately about improving mental health care and reducing stigma towards mental illness to improve general wellbeing in the US.
Name: Mia Yao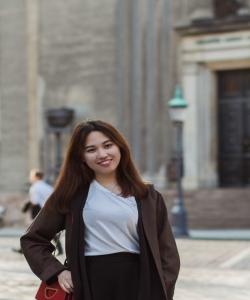 Email: yaoy@dickinson.edu
Major: Psychology
Identities I can speak to students about: Student of Color
About me: I studied abroad in Copenhagen, Denmark through the DIS program during last fall. As a psychology major student, I took Positive Psychology as my core course, in which I spent a semester exploring and even experiencing what I never encountered before. Like all other core courses, Positive Psychology had two field trips—one inside Denmark, the other in Prague, where I had a remarkable visit to an open prison for the first time. Although I managed to travel to 10 other European countries in that semester, exploring Prague with a class of 15 for 7 days was a completely different experience. Besides regular travels, going to class every day was like an excursion for me. I lived in a host family sitting in the suburb of Copenhagen, so I had to commute at least an hour from the bus stop around the corner of home to the DIS building locating in the center of Copenhagen. Although it might sound intimidating, I used the trip from home to school as the perfect timing for "daily meditation". Every morning I took Bus 165 from home to Hareskov Train Station, where I would then take a 45-minute-long train ride to central Copenhagen. It would be a sin to waste the time, but I spent all of it staring into the retreating scenes outside of the window. Occasionally I read on the train, but most of the time I just let my thoughts wander as I stared off into space. Seeing the transition from the suburb to the city is gently preparing me for another day of school, social and other more complicated stuffs. Similarly, returning home through the same route helped unload all the negativities (if any) I had during that day. As I went to boarding schools for most of my life, it was the first time that I could experience going back home from school on a daily basis, and I was always welcomed by my host parents' warmest greetings. I was glad that I went abroad and met a variety of people whom I might not have a chance to know if I stayed, but most importantly, I was surprised to discover the many new selves that I did not see in myself before I went abroad.
School for Field Studies - Tanzania
Name: Abby Kaija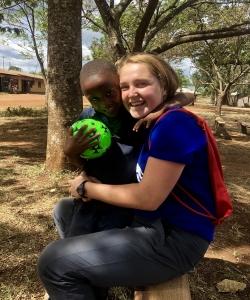 Email: kaijaa@dickinson.edu
Major: Biochemistry and Molecular Biology
About me: Mambo! (Hi in Swahili) My name is Abby and I spent 4 months studying abroad in Tanzania through the School for Field Studies. We lived and studied in a small town called Rhotia. We were a safari cruiser ride from Tanzania's world-famous national parks where we had the opportunity to study the wildlife; from elephants, giraffes and lions to birds, beetles and termites. I played soccer with locals, cooked Tanzanian food with Mama Marta, my host, and bought ketenge fabric at the Saturday markets. During my last month in Tanzania, I was part of a research team investigating the relationship between local people living adjacent to protected areas and wildlife. Studying abroad in Tanzania I was surrounded by a culture different from any I have known. This experience and the support from SFS greatly impacted my academic goals but more importantly transformed my perspective of what it is to be a global citizen. The beautiful people of Tanzania taught me how to love authentically through hardships and joy.
School for Field Studies - Turks and Caicos
Name: Delaney Koch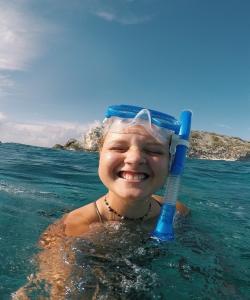 Email: kochde@dickinson.edu
Major: Biology and Educational Studies
About me: My time studying on the tiny island of South Caicos, TCI, is one that I would never trade. Waking up right next to the ocean and seeing gorgeous sunsets every night sounds like a vacation, but I can assure you, I did my fair share of studying, just with a much different view than the library. As an outside kid growing up on a lake in rural New Jersey, I always dreamed of taking my education outside the traditional classroom, allowing me to not only spend time outside, but also interact closely with the natural world. At SFS, I was able to spend time in the classroom learning about marine ecosystems, the local fisheries and the environmental policies related to marine systems and also had a chance to explore these ecosystems, visit the fish processing plants and speak with marine law enforcement.
SIT India
Name: Stephanie Teeuwen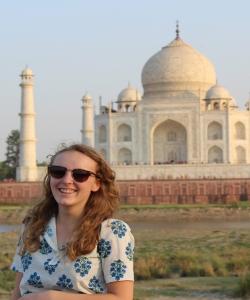 Email: teeuwen@dickinson.edu
Major: International Studies
About me: My name is Stephanie Teeuwen and I am a student from the Netherlands studying international studies. In the fall of 2018, I studied abroad in Bologna for Italian studies. Here I took courses at the Dickinson center, the University of Bologna and Johns Hopkins School of Advanced International Studies. I was both able to take courses towards my major, and to improve my Italian by taking courses in Italian.
During the spring of my junior year, I studied abroad in Jaipur, India with SIT: School for International Training. I lived with a host family while studying about sustainable development and social change. This experiential program combined lectures and field visits, travelling to various parts of India. Moreover, at the end of the program every student conducted a one month long independent study, for which I travelled to Kolkata.
University of Otago
Name: Kirsten Brodeen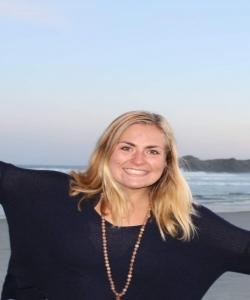 Email: brodeenk@dickinson.edu
Major: International Business and Management
Identities I can speak to students about: High Financial Need, and students with a disability
About me: Kia Ora I'm Kirsten Brodeen! I'm majoring in INBM and minoring in Economics and German from Fort Collins, Colorado! On campus, I'm on the women's tennis team, a member of Kappa Kappa Gamma, and work at the Writing Center. Junior year, I chased adventure across the globe to the University of Otago in Dunedin, New Zealand. I chose to study there because I was looking for a different abroad experience and wanted to explore somewhere in a part of the world I haven't yet been, and let me tell you, BEST.DECISION.EVER! While there, I was a member of the Otago University Snow Sports Club ("OUSSC"), Kayak Club ("OUCC"), and Cheese Making Club ("OUCMC") and when I wasn't in class, I was out exploring the country. Academically, I loved the opportunity to take more intensive courses in my major in a larger school setting, taking classes in Tourism, Entrepreneurship, and Sports Marketing. Pro tip: Study in the Commerce building! If you have any questions regarding the program—from visas & flights, course selection, and "flatting" to the local tips like best coffee, nearby running trails, and must-do adventures, I've got you covered. I look forward to hearing from you!
Name: Andi Rosenblatt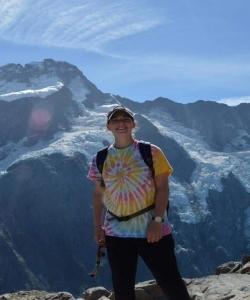 Email: rosenban@dickinson.edu
Major: Psychology
About me: Hi, I am Andi Rosenblatt and I am from Weston, CT. I'm a senior at Dickinson who is a Psychology major, Educational Studies minor, and receiving a Health Studies Certificate. I am also a member of the Dickinson Women's Soccer team and the Ultimate Frisbee team. I studied abroad in the spring semester of my Junior year at the University of Otago in Dunedin, New Zealand. It is best suited for social science and physical science majors but is a great place for anyone who has an adventurous spirit. The University of Otago offers a large range of classes and subjects that aren't offered at Dickinson, so it allows you to explore new things. Dunedin is a very friendly city with access to the ocean and the mountains! New Zealand has a relaxed, friendly, outdoor-oriented culture that is incredibly accepting. I cannot imagine a more naturally stunning or welcoming place to study!