Global Ambassadors are returning study abroad students and recent alums who serve as peer advisors for their program. In addition to sharing about their program, some global ambassadors have also volunteered to discuss aspects of their identities with students who might have questions about navigating study abroad with these identities. They are here to answer your questions, so don't hesitate to reach out to them!
Student Global Ambassadors
Dickinson Programs
Dickinson at Oxford
Name: Julia Chandler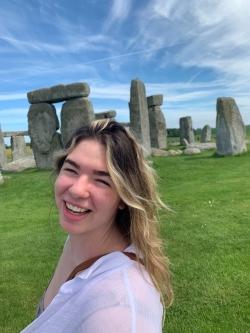 Email: chandlju@dickinson.edu
Major: English and Medieval & Early Modern Studies
Identities I can speak to students about: First generation, LGBTQ+
About Me: My name is Julia Chandler (she/her), class of 2022. I am a double major in English and Medieval & Early Modern Studies major, and have done coursework in Spanish. On campus I am known as the self-proclaimed master of Caf sits, and some of my other roles include Chair of Sports Club Council, President of Women's Club Basketball, and CGSE student worker. I also really enjoy being a part of Dickinson's climbing team and chess club.
Dickinson offered me the opportunity to study at the visiting students programme at Mansfield College, University of Oxford, in England. Although my time at Oxford was split between a computer screen and an in-person experience, I am grateful for the time I had there and the experiences gathered.
Dickinson in Spain
Name: Leslie Alas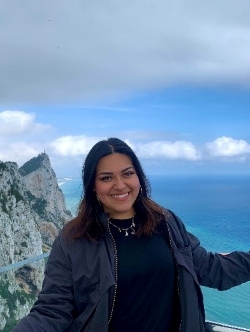 Email: alasl@dickinson.edu
Major: Spanish, Arabic minor
Identities I can speak to students about: First generation, Students of Color, High Financial Need
About Me: I first visited Málaga, Spain during my summer before my sophomore year of college. It was the first time I stayed in another country for more than two weeks. I was extremely nervous but excited to meet my host family also to create beautiful memories. It was important for me to fully integrate myself in the Spaniard culture. I made sure to try anything my host family offered me from food, music and social events. Although I am bilingual I felt that it was only appropriate to reteach myself the Spanish from Spain and it was challenging but it allowed me to feel more integrated in society. Málaga is great program if you love the sun and want to learn Spanish!!
Name: Olivia Statile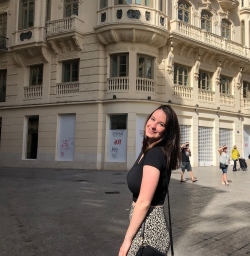 Email: statileo@dickinson.edu
Major: INBM, Spanish
Identities I can speak to students about: Students with Disability
About Me: My name is Olivia Statile and I am from Simsbury, Connecticut. I am currently a junior and double major in International Business and Management and Spanish at Dickinson College. I was fortunate enough to study abroad during my sophomore year in Málaga, Spain during the Spring 2020 semester where I lived with a host family and took both Spanish and business classes at La Universidad de Málaga and El Centro Internacional de Español. I had a great experience while I was abroad and would highly encourage anybody who gets the chance to study off-campus at some point during their college career
Dickinson Partner Programs
Akita International University
Name: Peter Philips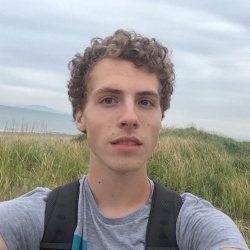 Email: philipsp@dickinson.edu
Major: Art History, German and Japanese minors
Identities I can speak to students about: LGBTQ
About Me: I studied at Akita International University (AIU) in Japan in the fall of 2019, in addition to a short, yet enjoyable 7 weeks in Bremen, Germany in the spring of 2020. By spending time in these locations with both radically different academic and social environments, the comparative cultural experience I received gave me a broader perspective of the world outside of America. At AIU, I managed to create long lasting relationships with students stretching across the world from Japan, to Venezuela, the UK, and then all the way back to the USA. Spending time with mostly non-American friends became my norm. However, when I first got there, only having two semesters of Japanese left me unable to participate in most casual conversation. And since many of us just ended up primarily communicating in English with one another, my language skills did not improve as much as I expected. Despite not reaching my lofty goals of Japanese fluency, I nonetheless learned valuable intercultural social skills that will continue to aid me into the future. And beyond my relationships within the campus community, I became deeply connected to the campus's rural mountainous setting. I miss the freedom and levity of being able to wander around the countryside, explore local religious sites and small hole-in-the-wall restaurants.
When I moved onto Germany, it was finally time to ditch speaking English and switch my language of communication to German. And keeping my failures and successes trying to learn more Japanese in mind, I had grown to place much more realistic expectation on myself as to how I would be able to improve my German. Fears surrounding COVID made things stressful sometimes and got in the way of focusing on my studies and enjoying myself fully, but I still pushed myself in the way I only wish I had during my time in Japan. Through my language courses, along with the patience and kindness that other Germans showed me, I surely would have reached fluency If I had spent the whole six months there.
---
Alumni Global Ambassadors
Kaila Burke-Ozuna, '21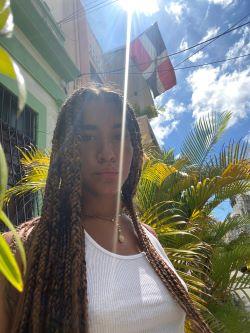 Program: Dickinson in Spain
Email: kaiburkeozuna@gmail.com
Major: Spanish and Creative Writing
Identities I can speak to students about: person of color, first generation, high financial need
About Me: My name is Kaila Burke-Ozuna, I'm a born and raised New Yorker. I've always felt drawn to explore different countries and travel. I grew up surrounded by artists from all over and I've come to value my ability to reflect through collage and prose the various worlds I've found myself in.
Zayn Carey, '21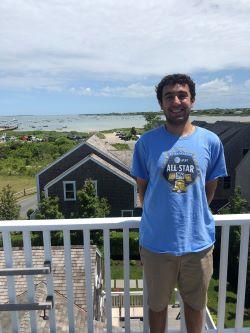 Program: Amideast: Morocco
Email: zcarey2123@gmail.com
Major: International Studies
About Me: My name is Zayn Carey and I studied abroad in Rabat, Morocco as a part of the Amideast Regional French Program. I enjoyed every moment of my abroad experience in Morocco, as it is something I will forever cherish. In Rabat, I lived with an amazing host family who spoke no English, and although this was slightly intimidating at first, it allowed for me to greatly improve my French. My coursework consisted of one French class, one Arabic class, and two English classes. The material allowed me to gain a far better appreciation and understanding about the history and current political and economic climate in Morocco, as well as in North Africa as a whole. I also worked as an intern at a Moroccan think tank, where I completed research in French and Arabic about how to better analyze and improve national women's unemployment. Outside from academic work, I spent my free time and weekends exploring Morocco, in total visiting over 10 cities. My favorite trips included riding a camel in the desert, conversing with sellers and locals in the extremely busy market of Marrakesh, and visiting an Amazigh village in the High Atlas Mountains. All in all, studying abroad in Morocco was absolutely the right choice for me. The relationships I developed, the professional interests I cultivated, and the memories made are experiences that helped me rise as an independent person, and I look forward to using these skills and moments of growth in my future.
Giuseppe Collia, '20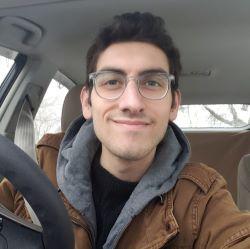 Program: Dickinson in Ecuador and Argentina
Email: Colliag.wwnj@gmail.com
Major: Environmental Studies and Spanish, Food Studies Certificate
Identities I can speak to students about: First gen, high financial need, LGBTQ+
About Me: Giuseppe Collia '20 (Environmental Studies, Spanish, Food Studies Certificate) studied abroad with Dickinson in South America in Spring 2019. Living with a host family in both countries, Giuseppe spent 1 month in Ecuador in a language-intensive course before spending 4.5 months in Mendoza, Argentina where he truly immersed himself in the local culture. Giuseppe took history and tourism classes in the Faculty of Literature and Philosophy at UNCuyo, joined a board game club at a local library, and taught English to adults in a private institute. Giuseppe remains connected to friends he made while abroad and currently resides in Carlisle, PA.
Austen Dowell, '17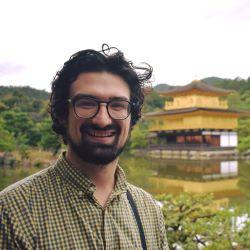 Programs: Dickinson in Russia; Non-Dickinson program
Email: dowellausten@gmail.com
Major: International Studies and Russian
Identities I can speak to students about: High Financial Need
About Me: Austen Dowell (class of 2017) is a Bakhmeteff Fellow at Columbia University's Harriman Institute, where he is pursuing his interdisciplinary MA in Eurasian affairs. While at Dickinson, he studied abroad for 3+ semesters - two semesters at the Dickinson-in-Moscow program, and six months as a Boren Scholar in Kyrgyzstan. Post-Dickinson activities have included a stint in the Peace Corps as well as work as a researcher for organizations involved in human rights, disinformation studies, and Eurasian conflictive/cooperative processes. Austen is from Seattle, and he enjoys playing soccer and ultimate frisbee in his free time.
Zina Ettangi, '20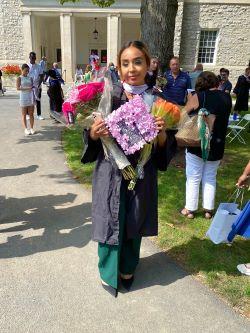 Program: Dickinson in Spain
Email: zinaettangi1998@gmail.com
Major: International Business & Management, Minors: Spanish & Anthropology
Identities I can speak to students about: Person of color
About Me: Hello my name is Zina Ettangi'20 & I am currently working for the Department of Education in NYC as a Parent Coordinator.
While I was at Dickinson I was a student global ambassador and I truly enjoyed speaking on my experience abroad. So, why not continue sharing my amazing experiences abroad with current students. I remember being doubtful and scared to study abroad and I felt like I had no one to talk to. I want to be a resource for those other students that may have doubt and mixed emotions.
Katya Hrichak, '17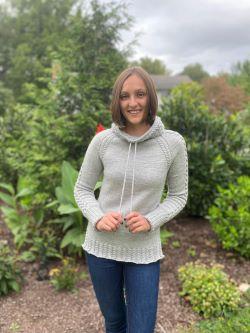 Program: Dickinson in England
Email: katya.hrichak@gmail.com
Major: English and Music
Identities I can speak to students about: High Financial Need
About Me: Katya Hrichak '17 is a higher education communications professional working at Cornell University and living in upstate New York. During her time at Dickinson, she majored in English and music and participated in numerous music department ensembles, wrote and served in editorial roles for the Dickinsonian newspaper, and worked in Marketing and Communications her senior year as a student writer. She spent the fall of her junior year with the Norwich Humanities program, spending three weeks in London before transitioning to Norwich for the remainder of the semester. Despite many positive experiences during her Dickinson career—including the internship that led to her current career!—study abroad was the most pivotal. She looks forward to connecting with current students interested in, actively pursuing, or returning from this uniquely-Dickinson opportunity!
Grace Ingle, '20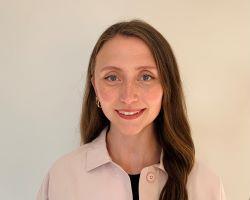 Program: Dickinson in Russia
Email: gingle812@gmail.com
Major: Russian and Middle East Studies majors; Arabic minor
Identities I can speak to students about: High Financial Need
About Me: Grace Ingle is a 2020 graduate who majored in Middle East Studies and Russian with a minor in Arabic and certificate in Security Studies. While at Dickinson, she was involved with the Spanish, Russian, and Arabic Clubs and worked at The Trout Gallery, Multilingual Writing Center, and as a Russian Department Teaching Assistant. She studied in Moscow through Dickinson's summer program and fall semester program in 2018, visiting various cities around Russia and traveling with her class to Tbilisi, Georgia. In spring 2019, she completed a research internship at the U.S. Army War College in Carlisle, and that summer she studied Arabic in Cairo, Egypt through a non-Dickinson program. As a senior, Grace wrote honors theses for both majors and received a grant through the William G. and Elke F. Durden International Initiatives Fund at Dickinson to return to Tbilisi, Georgia for research in January 2020. Since graduation, Grace has worked in international development and government consulting in Washington, DC, and continues to pursue her language studies independently.
Amanda Jimcosky, '17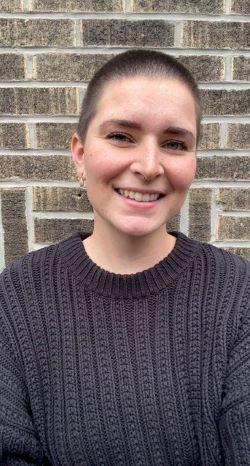 Program: Dickinson in England
Email: amandajimcosky@gmail.com
Major: Biology
Identities I can speak to students about: First Generation, LGBTQ+, High Financial Need
About Me: My name is Amanda (she/her), and I graduated Dickinson in 2017. I participated in the Ethnographic Field School in Tanzania in the summer of 2014 and Dickinson Science in England in Norwich, UK in the fall of 2015. During my time at Dickinson, I was on the track team and completed research in the Biology department. I utilized grants and scholarships as much as possible to fund my education as a first-generation college student.
As a global ambassador, I am here to help you navigate study abroad. Whether you're interested in a program I did or not, I hope to be a resource in the process. Whether you're excited and/or nervous, I'm here to assist you in making an informed decision, figuring out finances, getting through the application process, packing - trust me you don't need as much as you think - and most importantly, enjoying the experience! In my opinion, knowing what to expect and being prepared before I got to a foreign country helped me be present and get the most out of it. As your Alumni Global Ambassador, I want you to tell me how I can help, so you can have the best experience
Abigail Kaija, '20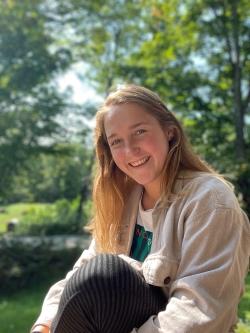 Program: SFS: Tanzania
Email: akkaija@gmail.com
Major: Biology and SINE Certificate
About Me: My name is Abby Kaija. I graduated from Dickinson with a degree in Biology and a certificate for Social Innovation and Entrepreneurship. I studied abroad in Tanzania through the School for Field Studies. We explored the beautiful ecosystems of East Africa in the classroom and during our free days! Our professors taught us wildlife ecology and techniques for wildlife management. We learned Swahili so we could talk with locals. My favorite experience was playing soccer every evening with locals. My time abroad expanded my understanding of biology but more importantly my world view and the diverse circumstance people face in the world. Being able to build long lasting relationships with friends on the program and friends in Tanzania is something I am beyond grateful for. I am now living in Portland, Maine working in a metabolic genetics lab at Maine Medical Center Research Institute.
Alissa Lema, '20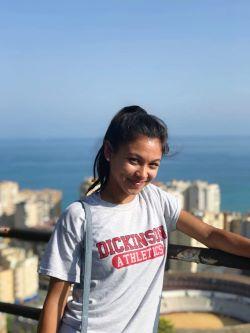 Program: Dickinson in Spain
Email: Alissa.lema@gmail.com
Major: International Business & Management and Spanish
Identities I can speak to students about: Person of color
About Me: My name is Alissa Lema and I graduated Dickinson in 2020 as a International Business & Management and Spanish double major. While at Dickinson I was able to balance life as a student-athlete, working on campus and studying abroad. I studied abroad in Málaga, Spain where I was able to take business courses and strengthen my Spanish fluency. This helped prepare me for a career in Finance where I now help both English and Spanish speaking clients better prepare for their retirement.
Sophie Martin, '21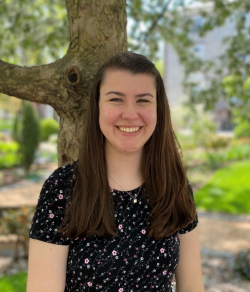 Program: Dickinson in England
Email: martisopall@gmail.com
Major: English
Identities I can speak to students about: Students with learning challenges
About Me: Hi! My name is Sophie Martin, and I am part of the class of 2021. While at Dickinson, I chose to study abroad in Norwich, England, for the whole year when I was a junior. I ended up spending a little under seven months there before we had to go home in March because of covid. It was, of course, disappointing to have to leave early, but I had the opportunity to take some really amazing classes connected to my English major and go on some fantastic trips around England. One of my favorite classes was a Shakespeare film class that I took where we read the plays and then watched their movie adaptations. I also took an interesting American modern literature class where I found the book I wrote my senior thesis on. On some weekends, the university offered bus trips to different parts of England. While I was there, I went to Canterbury, Brighton, The White Cliffs of Dover, and Cambridge. Please don't hesitate to reach out if you have any questions about anything from living in a university flat to what it's like to have accommodations while aboard. No question is too big or too small!
Amy Soba, '21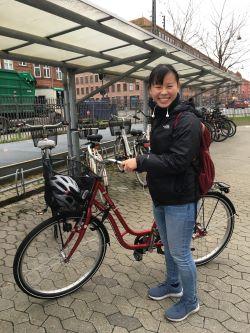 Program: DIS: Copenhagen
Email: sobaa@dickinson.edu
Major: Psychology, Physics (minor)
About Me: Hi! My name is Amy. I graduated in May 2021 and was a psychology major with a physics minor. I studied abroad at DIS Copenhagen during fall 2019. Initially, I was unsure if I wanted to go abroad, but I'm so glad I did! While abroad, I lived in a kollegium, which is like an apartment complex but mainly for students. I had an American roommate but got to interact with the Danish students who also lived in the building. I thoroughly enjoyed all my courses, including the Danish 101 class! In my free time, I enjoyed exploring the city, going to cafe's, and meeting up with friends. If you're thinking about going to Copenhagen or studying abroad in general, I would be more than happy to talk!
Sara Soba, '21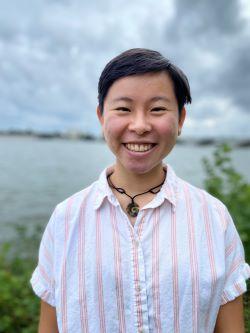 Program: University of Otago, New Zealand
Email: szsoba@gmail.com
Major: Environmental Science
Identities I can speak to students about: Asian American, LGBTQ+
About Me: Hello! My name is Sara and I graduated in the class of 2021. While at Dickinson, I majored in Environmental Science, with additional coursework pertaining to civil engineering and urban design. During Fall 2019 I studied abroad at the University of Otago in Dunedin, New Zealand. While I was at Otago, I lived in a university flat with 5 other women from all around the world; and took courses in civil engineering, indigenous cultures, and earth sciences, all of which were wonderful! Outside of classes, I did a lot of backpacking and hiking (or as the kiwis call it "tramping") around the South Island, as well as a trip to Australia. I also joined the ultimate frisbee team and took a dance class through the University. If anyone has questions about local travel and outdoor adventure, coursework, or just the general New Zealand experience, please reach out! I would love to chat!
Stephanie Teeuwen, '20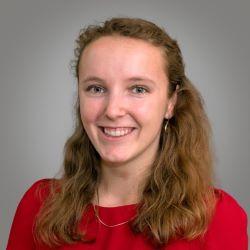 Programs: Dickinson in Italy: Italian Studies; SIT: India
Email: stephanieteeuwen22@gmail.com
Major: International Studies
About Me: I majored in International Studies with a focus on globalization and sustainability. I studied abroad in both Bologna, Italy and Jaipur, India. Though two very different programs, both were valuable and I learned a lot pertaining to my major.
I am currently working at a social change organization, focused on Internet Governance. And I will be pursuing a Master of Public Administration focused on International Policy and Development.