Global Ambassadors are returning study abroad students who serve as peer advisors for their program. In addition to sharing about their program, some global ambassadors have also volunteered to discuss aspects of their identities with students who might have questions about navigating study abroad with these identities. They are here to answer your questions, so don't hesitate to reach out to them!
Dickinson Programs
Dickinson in Australia
Name: Vladimir Markov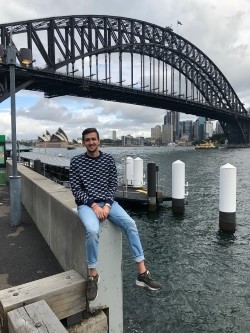 Email: markovv@dickinson.edu
Major: BCMB, Health Studies certificate
About Me: My name is Vladimir Markov and I'm a senior majoring in Biochemistry and Molecular Biology and taking the Health Certificate program. I'm an international student from Bulgaria and I made the great decision to study abroad in Australia for a semester in my junior year. I think that this program was the perfect fit for me. It offers a great combination of flexible academics, travel among beautiful nature, and great experiences in general. The University of Queensland has a really beautiful campus that offers flexible academic courses and scheduling. My favorite place on campus was definitely Darwin's café in the Biological sciences library. I joined some clubs, but my favorite one was UQ's Surfers club. I learned how to surf and went on a camping trip to surf which was amazing, I was able to meet local people that taught me a lot about Aussie culture, but at the same time I made great friends with most of the people on my program, most of which are from Dickinson. We would take the train to the Gold Coast almost every week and go have fun at the beach. It was great experiencing the Australian culture and travel with all of them.
Dickinson in China (Beijing)
Name: Lily Bui
Identities I can speak to students about: First Generation, High Financial Need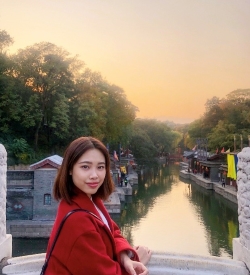 Email: buil@dickinson.edu
Major: INBM
About Me: Lily Bui '21 is an INBM student with a passion for learning about different cultures and human insights. During her junior year at Dickinson, she had the opportunity to participate in two study off-campus programs, one in Beijing-China, and one in New York City. From using Chinese to make friends with people from 7 countries to interning at a New York State's chief economic development agency, these two programs have brought her a ton of memorable experience and valuable lessons.
Name: Kiara Smith
Email: smithki@dickinson.edu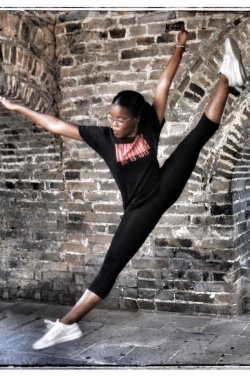 Major: INBM, Chinese
About Me: Kiara Nia Smith is a rising senior from Somerset, NJ that is a Chinese and International Business & Management major. On campus she is involved with the Black Student Union, Dance Theatre Group, Admissions, and Delta Sigma Theta Sorority, Inc. In addition to these activities she does community service with several organizations located in Carlisle. When not working, her favorite places on campus are Althouse and the HUB dance studio. She studied in Beijing, China for the fall semester in 2019. While in China, she was able to study the language and learn more about the culture. Whether it was in the classroom, or in Shanghai or Inner Mongolia, she was able to have a life-changing immersion experience. Studying abroad was critical to her speaking development, as this was the one part of her language learning that needed the most work. As a result of studying abroad in Beijing, she has developed lifelong friendships with classmates and learned many lessons from her teachers! In addition, she knows the city transportation system very well now! Ultimately, she hopes to go to law school after graduating from Dickinson to get concentrate on Intellectual Property Law.
Dickinson in England: Humanities
Name: Madeline Callahan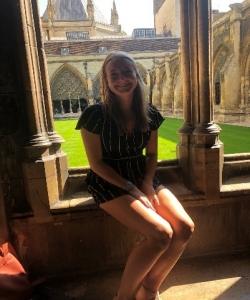 Email: callaham@dickinson.edu
Major: English
About me: My name is Madeline Callahan, I'm an English major. I studied abroad in England in the fall of 2019 with the humanities program. Through this program, I lived in London for three weeks, and during these three weeks I took a class with the professor there. While we were here, we walked many miles a day to see all the historical sites that London has to offer. We saw a play in the Globe Theatre, took daily walks along the Thames, got to sit with the lions in Trafalgar Square, and sometimes had enough time after our many museum visits to do our own exploring of the city. We then moved to Norwich for three and a half months. Here I went to the University of East Anglia, where I took two classes through the University and one with the professor from Dickinson. While I was living here, I lived in a flat with five other students, but none were from the Dickinson program. This was really cool because I was exposed to people from all different places. We lived in a flat style apartment; I had my own room and bathroom, and the six of us shared a kitchen. I liked living like this because it made interaction with my flat mates easy, but if I needed space to myself I could always retreat to my own room. From the University, we took many trips into town on the double decker bus that was only on time sometimes. While we were in town we would go grocery shopping, do some homework in a little café, grab dinner, and even explore some of the bars in the area. Just like London, Norwich, of course, had its own little market filled with so many types of food, fresh fruits and vegetables, little thrift shops, and some of the best ice cream I've ever had. Deciding to do this study abroad program was one of the best decisions I've ever made. Not only did I get to live in a new country and meet so many new, exciting people, but I also had the opportunity to travel throughout Europe.
Name: Lauren Feldman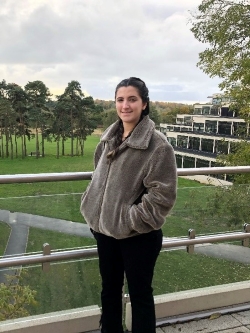 Email: feldmala@dickinson.edu
Major: English, Creative Writing minor
Identities I can speak to students about: LGBTQIA+
About Me: My name is Lauren Feldman and I am a rising Senior here at Dickinson. I am an English major and a creative writing minor. I chose to spend my entire Junior year abroad in Norwich, England, with Professor of Theatre Karen Kirkham as my advisor. As per Dickinson's goal to send students to areas of the globe with mostly local populations, I found the residents of Norwich had very often grown up within 10 miles of the city, now raising families of their own in the same area. The city is a pleasant mix of chains – including American stores like Claire's, Starbucks, and more – and unique pubs and shops which have existed in the city for decades, if not centuries. Norwich is England's most well-preserved Medieval city, but it also contains a modern, thriving feel. As someone who grew up very close to New York City, I was never bored by Norwich. Even after six months, I could still get lost there (in the best way). The town has benefitted from the presence of students at the University of East Anglia, which hosts a population of over 14,000. Most university attendees are from England or the UK, and I enjoyed this aspect because I was able to make connections with young people who have led entirely different lives than I have. Students were always friendly to me and I found the staff to be enthusiastic and as helpful as any I have encountered at Dickinson. Both Norwich and UEA are welcoming to and embracing of international students, and I truly found my second family there.
Dickinson in Ecuador and Argentina
Name: Scout Best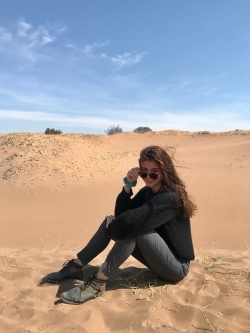 Email: bests@dickinson.edu
Major: International Studies, French and LALC minors
About Me: My name is Scout Meredith Best, and I hail from the small town of Confluence, PA where I grew up on a farm. After participating in a year-long Youth Exchange Program through Rotary International in Oruro, Bolivia, I fell in love with the continent of South America and its diverse population and colorful cultures and I knew I wanted to return! After committing to majoring in International Studies, I continued to delve into issues related to South America in my research and course selections and strove to learn more about the politics, culture, and issues in the region. The Dickinson in South America program appealed to me because the program truly allows students to draw connections between the regions and see the diversity and history that has shaped Ecuador and Argentina. As an International Studies major, I have appreciated the opportunities offered by studying abroad! I've navigated bus routes in a foreign language...and learned to be attentive and patient. I've hiked in the Patagonia mountains...and learned deep appreciation. I've been helped by strangers and loved by my host family...and learned about the common goodness that we share across cultures. Plus, I've enjoyed drinking mate with friends from Dickinson and friends from Argentina. I can't think of a better way to explore the world and its people than to be immersed in my daily life.
Name: Andres Salazar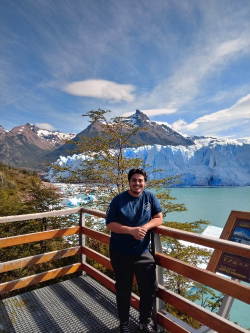 Email: salazara@dickinson.edu
Major: History
Identities I can speak to students about: First Generation, LGBTQ, Latinx
About Me: Hello!! My name is Andrés Salazar, I am a rising senior and coming back from a whole year (more like 8 months) of studying abroad during my Junior year. I personally would love to represent both the South American program and the Malaga program; however, it was only Ecuador and Argentina that I fully completed my semester and Dickinson abroad experience due to the global health crisis of COVID 19. I want to start off with saying this. Please apply. The opportunity to even study in a different country while learning is literally the dream. Dickinson does a great job in ensuring a great experience that encompasses a lot of what study abroad is truly about. Independence, adaptation, fun and the most important to me, the unlearning. There are so much misconceptions, unknown truths waiting to be exposed to you and the first step is completing the application. Secondly, the program itself is amazing. In my opinion, this is the most underrated Study abroad location Dickinson offers. If your objective is to learn and improve on Spanish while learning so much about the language itself which is so different across Latin America, this is the program. The cultural learning is also heavily influenced about the indigenous people of Ecuador and Argentina, and the excursions you go to will blow your mind. You literally go to the Amazon and really take in the beauty of such a natural treasure. This program also will officially encompass two parts of Latin America that really give you an insight to certain regions but the continent of Latin America as a whole, and the multitude of identities within the continent. For all you History, International Relations and or Political Science to Sociology majors, this program will cover you on your major requirements as well. There is much more to be said, but without a doubt, this program will be one of the best decisions of your lives.
Dickinson in France
Name: Julia Walsh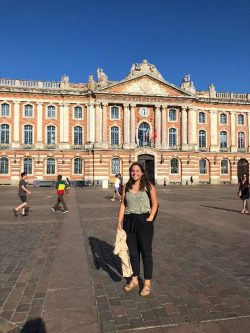 Email: walshju@dickinson.edu
Major: International Studies, French and Francophone Studies
About me: I am an International Studies and French double major in the class of 2021. I grew up in Syracuse, NY and started learning French in middle school, but didn't discover my love for the language until my French courses at Dickinson. On campus, I am involved with the Liberty Caps, the Women's Club Soccer Team, Delta Nu, the Outing Club, and am a Student Interviewer. I studied in Toulouse, France in the Fall of 2019. I took the majority of my classes at the Institut d'études politiques, the city's Political Science Institute. My other course was at the Dickinson Center, which is central in the city, and a location I found to be a great study spot. The program is language immersive, meaning I lived with French hosts and was completely immersed in the language and culture in my home life and academic life. Living in a city and taking several modes of transportation to class, rather than a 5-minute walk like at Dickinson, presented new and exciting challenges. Upon arriving, a task as mundane as grocery shopping was difficult and nerve-wracking. To learn even more about our host culture, the Toulouse program offered academic excursions with our French 300 class. We traveled to Paris, attended several art exhibits, and stayed in a quaint village called Conques, all of which were tied into our lessons and curriculum. By the end of my studies in Toulouse, I could see substantial change in my comfort with the language and overall self-confidence.
Dickinson in Germany
Name: Liam Pauli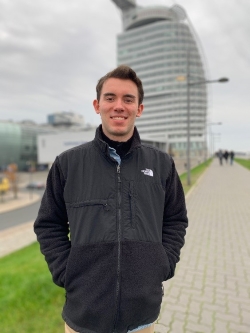 Email: paulil@dickinson.edu
Major: BCMB, German
About Me: I studied abroad at Dickinson's program in Bremen, Germany during the Fall 2019 semester. For the month of September, I took an intensive German language course at the Ludwig-Maximilians University in Munich, Germany. While I was in Munich for the month, I swam at the 1972 Olympic Swimming Pool, experienced the festivities of Oktoberfest, and ate lots of great Bavarian food. Through my language course I was also able to make friends with international students from all over the world, which was one of my most memorable experiences abroad. After the language course ended, I took a train up to Bremen with my other friends in the program and stopped at the cities of Frankfurt and Cologne along the way, which was an awesome way to see the country. Our semester at the University of Bremen began shortly after we arrived in Bremen. While in Bremen, I got to live with five German students in a flat, join a German swimming team, improve my German significantly, and travel in the nearby area as well as across Europe. I practiced my German a couple of times a week with a "Study Buddy" and we have become great friends as a result. In December, our program took an excursion to Berlin as well. We learned a ton of history (specifically what it was like to live in East Germany when the country was divided) and we even sat in on a session of German parliament at the Reichstag. Berlin was a great bonding experience for our program too. Overall, I am extremely grateful that I was able to study abroad as a Pre-Med student-athlete. My semester abroad has been one of my best experiences at Dickinson so far.
Name: Laura McNevin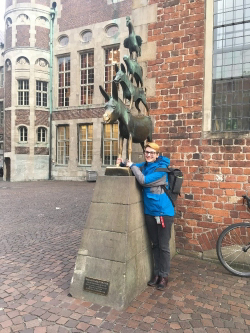 Email: mcnevinl@dickinson.edu
Major: German, Russian minor
Identities I can speak to students about: LGBTQ
About Me: Hi! I'm Laura, I'm a German major and have been learning German since my freshman year of high school. I grew up and live in Bucks County, Pennsylvania, a mere hour or so away from Pennsylvania German country, somewhere my family and I have been visiting since I was 2 years old, so as you can see I've spent much of my life learning German and about German culture. So of course, I participated in the Dickinson in Germany program in Bremen! My time there was precious and it's a part of my life I'll keep with me always. It truly is one of the best decisions I've ever made. Bremen is such an easy city to fall in love with. I lived in the Viertel, a quaint, pretty neighborhood riddled with cute shops and delicious restaurants, down the street from the stunning Bremer Marktplatz. While in Bremen, I visited museums, frequented Imbissstände, and spent many hours enjoying the outdoors in Bremen's many lovely parks. My time in Germany allowed me to travel to Berlin and Weimar as well. Like Bremen, they're both incredible, glowing cities that are ridiculously easy to fall in love with. Studying in Bremen is a great way to get to know and understand German culture head-on, and a great way to discover more about yourself and your relationship to the world we live in. It's the adventure of a lifetime and I couldn't recommend it enough!
Dickinson in Italy: European Studies
Name: Libby Cohen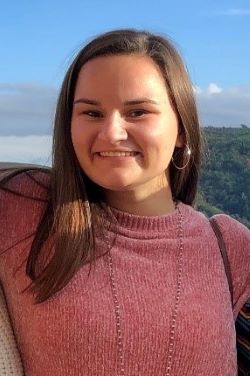 Email: cohenlib@dickinson.edu
Major: Political Science, Security Studies certificate
Identities I can speak to students about: High Financial Need
About Me: Hi, my name is Libby Cohen and I am a rising senior from Jacksonville, Florida. I am majoring in Political Science with a certificate in security studies. My junior fall I decided to study abroad in Bologna, Italy and took classes for my major and my certificate, as well as some classes just for fun. I learned a lot about Italy and myself during my time there and would love to talk with anyone who has questions or are just interested about this specific program.
Name: Odessa Elmore
Email: elmoreo@dickinson.edu
Major: Sociology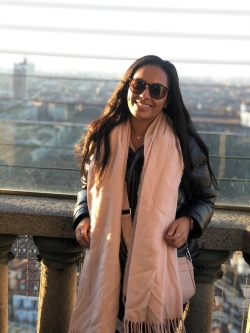 Identities I can speak to students about: Students of Color
About Me: I am a current incoming senior, sociology major. I became a sociology major because the opportunities that I was given growing up and throughout high school allowed me to uncover a passion and interest for other cultures. I find that because of the sociology major, I am able to connect almost every other class I take outside of the department, to something of greater measure. My fond interest for cultural interactions is what led me to want to study abroad. I have always been pretty adventurous, and in going abroad, I knew it was going to be an experience to make new friends and learn about a culture different than my own. I knew going into junior year that I was almost finished with the classes for my major, so I wanted to venture out and take classes that I otherwise would not take. The decision to study in Bologna, Italy felt right as I had many friends who spoke very highly of the program, classes, area, and professors. While none of the classes that I took abroad were part of the sociology track, I had the opportunity to take my first political science course, which I am now able to use toward my sociology electives. I found that the classes I took in Bologna allowed me to connect my academics to physical interaction with the country I was living in. Although I was only able to be there for a month, I hope to someday go back and be able to see all of the aspects that make Italy, and specifically Bologna, what it is. I really enjoyed the program because of my peers and the staff that helped me learn how to live in another culture. I went into the program knowing no Italian, and came out of it yearning to go back to Italy to practice my Italian in person. Another aspect of the program that I enjoyed was that each class really connected back to Italy as a whole, but also to Bologna in particular. For this, I found it really nice and enjoyable to be able to walk around the city and see things on my own time that I was learning about in class.
Name: Maggie Wilson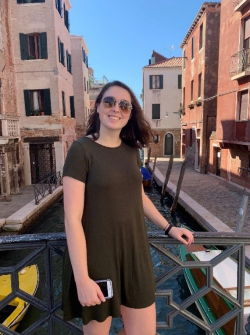 Email: wilsonms@dickinson.edu
Major: Political Science, History minor
Identities I can speak to students about: Student Athletes
About Me: My name is Maggie Wilson and I am part of the Class of 2021. I spent my fall semester in Bologna, Italy as a participant of Dickinson's European Studies Program there. As a Political Science major, I was granted the unique opportunity to study the politics of Europe while actually being there made especially interesting by the fact that multiple history making decisions occurred during my time in Europe! The amazing professors and personnel who worked in the Dickinson Center in Bologna encouraged me to expand my interests and have led me to have found a new interest in European politics and as well as the desire to return to Europe! I also had the opportunity to study "abroad" in the spring with The Washington Center in Washington, D.C in which I interned for a defense and intelligence consulting firm. On campus, I serve as the Senior Class President on Student Center, I am a tour guide for Dickinson, am a member of Greek life, and was a member of the woman's Varsity Lacrosse team for two years. Fun fact: both of my parents went to Dickinson and graduated in '91… exactly thirty years before me!
Dickinson in Italy: Italian Studies
Name: Kyra Ramos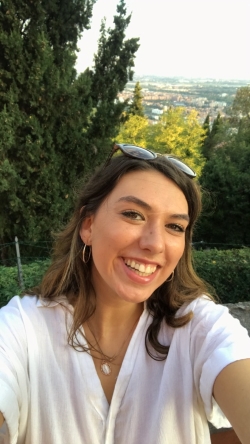 Email: ramosk@dickinson.edu
Major: Education, International Studies, and Italian
About Me: Hi! My name is Kyra Ramos, and I am a current senior at Dickinson College this Fall. I am a triple major in Education, International Studies, and Italian. Since my first semester on campus I have been a member of the Women's Cross Country and Track & Field programs. I am a member of Kappa Delta Pi (Educational Honor Society) and currently serving on the Executive Board as the Chapter Representative. Outside of academics and athletics, I am a member of Delta Nu and serving as the Vice President this year, as well as an Italian Peer Tutor and a part of the student employee team in the Center for Civic Learning and Action (CCLA) at Dickinson. This Fall I am living in Carlisle and doing an internship at the US Army War College while also doing a Dana Research Project for the Educational Studies Department. Last Fall I studied abroad in Bologna, Italy, and feel in love with the city, the way of life, and the experiences I had during my time there. This opportunity to study in Italy and develop my language skills as well as work in a classroom setting at a local high school, inspired my post-graduation plans for next year, and I am hoping to pursue a teaching position abroad next year and then get my PhD in Global Education and Language Learning. My favorite pastimes include trail running, bike riding, walking my chocolate lab, Rocco, and spending time with family and friends.
Dickinson in Japan
Name: Julie Mancini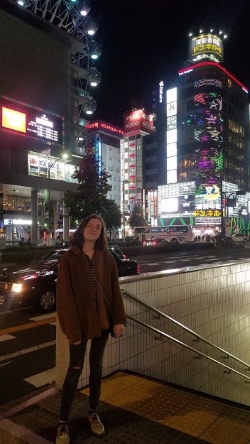 Email: mancinju@dickinson.edu
Major: International Studies, Japanese
Identities I can speak to students about: LGBTQIA
About Me: Julie Mancini is a senior International Studies and Japanese double major. Over the course of her junior year, Julie spent her fall semester participating in the Dickinson in Japan program, based in Nagoya, Japan, and then enrolled in The Washington Center Program in Washington, D.C. for the spring semester. During her semester in Nagoya, Japan, Julie was able to improve her Japanese language skills in addition to expanding her knowledge of Japanese culture and foreign policy. Daily life with her Japanese roommate, rarely using the English language, and traveling across Japan forced her to grow even while living in a culture very different from her own. Outside of her classes, Julie enjoyed going to cultural festivals and participating in Nanzan University's ikebana club. Additionally, Julie found value in exploring queer culture in Japan and the ways it differs from its American counterpart. Participating in the Dickinson in Japan program allowed Julie to enhance her academic career in ways which studying in America simply could not provide. After her time in Japan, Julie participated in The Washington Center program, which gave her the opportunity to work for the Near East South Asia (NESA) Center under the US Department of Defense. In this internship role, Julie used her Japanese language skills to research Japan's economic influence in Africa and the Middle East. This research was then used by NESA staff to support and provide context for their own publications. She is particularly interested in US-Japanese relations, cross-cultural communication, and international education and strives to gain more experiences related to these topics going forward. Julie hopes to serve as a source of advice for fellow Dickinsonians as they consider studying abroad before she finishes her time at Dickinson. (Dickinson in Japan – Nagoya, The Washington Center Program).
Dickinson at Oxford
Name: Maizie Ober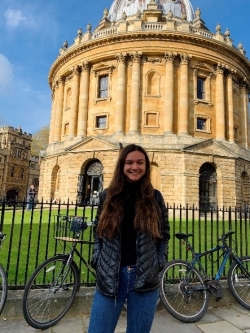 Email: oberm@dickinson.edu
Major: Philosophy
Identities I can speak to students about: Students of Color, High Financial Need, Vegan
About Me: I'm Maizie Ober, a senior philosophy major from Mechanicsburg, PA. On campus, I am a tour guide and first-year mentor and spend my weekends working at a local orchard. I studied abroad in England during my junior year at Mansfield College at the University of Oxford. While at Oxford, I was able to take courses in ethics, philosophy of religion, and early modern philosophy. I also participated in weekly hikes in Oxfordshire's countryside and attended termly meetings of the Oxford Animal Ethics Society. My favorite parts of studying abroad were the visiting student community at Mansfield, the vegan options in the UK, and attending lectures on David Hume, my favorite philosopher, given by one of the top Hume scholars in the world.
Dickinson in Spain
Name: Leslie Alas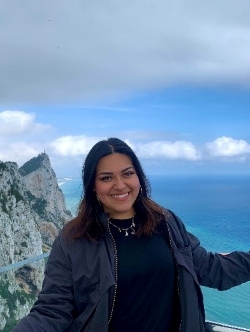 Email: alasl@dickinson.edu
Major: Spanish, Arabic minor
Identities I can speak to students about: First generation, Students of Color, High Financial Need
About Me: I first visited Málaga, Spain during my summer before my sophomore year of college. It was the first time I stayed in another country for more than two weeks. I was extremely nervous but excited to meet my host family also to create beautiful memories. It was important for me to fully integrate myself in the Spaniard culture. I made sure to try anything my host family offered me from food, music and social events. Although I am bilingual I felt that it was only appropriate to reteach myself the Spanish from Spain and it was challenging but it allowed me to feel more integrated in society. Málaga is great program if you love the sun and want to learn Spanish!!
Name: Tyler Caballero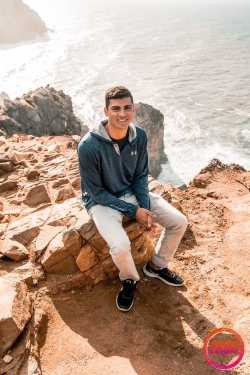 Email: caballet@dickinson.edu
Major: INBM, Spanish, Econ minor
About Me: In the fall of 2019, I studied abroad in Malaga, Spain and had the best experience of my life! Going to Dickinson I knew I wanted to study abroad and taking Spanish classes, I knew Spain would be an awesome opportunity for me. After a lot of consideration, I decided to go in the fall and was extremely nervous. I did not have any close friends with me and living with a host family was a concern. However, after a couple of days you get familiar with everything and from there, it is an amazing experience. I met some of the most amazing people from all over the world, traveled all throughout Europe and parts of Africa and so much more. The people, culture, social scene and climate is so perfect beyond belief. I had such an amazing time there, that I am hoping to obtain my master's degree in Spain and even live there. Not only will you have an amazing time, you will improve your language skills immensely and simply will not regret your decision.
Name: Kiana Smith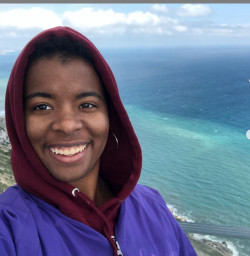 Email: smithkia@dickinson.edu
Major: International Studies, Spanish
Identities I can speak to students about: Students of Color, LGBTQIA ally, Students with Disability
About Me: Kiana Smith is a rising senior Spanish and International Studies double major. She studied abroad in Malaga, Spain for the Dickinson Summer Immersion program as well as the semester in the Spring of 2020. Malaga, Spain was an incredible experience for her and has helped Kiana tremendously academically and in her daily life. From living with her host mom and sister to traveling to different countries in Europe, her experience abroad was unimaginable. The main reason she wanted to study abroad was to improve her Spanish. While has been studying Spanish since her sophomore year of high school speaking was one of the hardest obstacles for her to conquer. Even while learning and growing in the language at Dickinson speaking was still a burden, she wasn't ready to face. So, she stepped out her comfort zone and did the 5-week immersion program. It was the best first step for to build her confidence and understand the language better. With a requirement to try your hardest to only speak in Spanish amongst the group as well as living in an only Spanish speaking environment really helped her understand were, she was and how she grows within the language. Also learning how to be an independent person in a different country as well. Learning the way, a young adult lives in Spain has changed her perspective completely. After she completed her 5-week immersion program she knew she had to return for a semester to get the complete 5-month experience in the amazing country. Having the same host family and growing within the language only helped build her confidence in speaking Spanish. She finally started to get comfortable speaking even if she made a mistake, which was one of her main goals while studying abroad. Unfortunately, in March the world came down with a treble pandemic which stopped the program from continuing for the last two months. Once returned to the states she continued her studies from Spain in New Jersey where she lives with her twin sister who is also a Dickinsonian and her parents and grandfather. While she truly believes if she would have continued her studies in Malaga her Spanish would be at a different level she is truly honored to have had the chance to live, experience, grow, and learn in the beautiful place called Malaga and she can't wait to return.
Name: Olivia Statile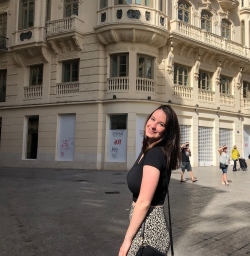 Email: statileo@dickinson.edu
Major: INBM, Spanish
Identities I can speak to students about: Students with Disability
About Me: My name is Olivia Statile and I am from Simsbury, Connecticut. I am currently a junior and double major in International Business and Management and Spanish at Dickinson College. I was fortunate enough to study abroad during my sophomore year in Málaga, Spain during the Spring 2020 semester where I lived with a host family and took both Spanish and business classes at La Universidad de Málaga and El Centro Internacional de Español. I had a great experience while I was abroad and would highly encourage anybody who gets the chance to study off-campus at some point during their college career
Dickinson Partner Programs
Akita International University
Name: Peter Philips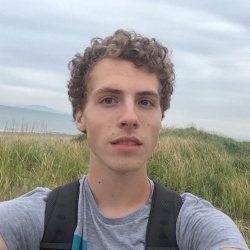 Email: philipsp@dickinson.edu
Major: Art History, German and Japanese minors
Identities I can speak to students about: LGBTQ
About Me:
I studied at Akita International University (AIU) in Japan in the fall of 2019, in addition to a short, yet enjoyable 7 weeks in Bremen, Germany in the spring of 2020. By spending time in these locations with both radically different academic and social environments, the comparative cultural experience I received gave me a broader perspective of the world outside of America. At AIU, I managed to create long lasting relationships with students stretching across the world from Japan, to Venezuela, the UK, and then all the way back to the USA. Spending time with mostly non-American friends became my norm. However, when I first got there, only having two semesters of Japanese left me unable to participate in most casual conversation. And since many of us just ended up primarily communicating in English with one another, my language skills did not improve as much as I expected. Despite not reaching my lofty goals of Japanese fluency, I nonetheless learned valuable intercultural social skills that will continue to aid me into the future. And beyond my relationships within the campus community, I became deeply connected to the campus's rural mountainous setting. I miss the freedom and levity of being able to wander around the countryside, explore local religious sites and small hole-in-the-wall restaurants.
When I moved onto Germany, it was finally time to ditch speaking English and switch my language of communication to German. And keeping my failures and successes trying to learn more Japanese in mind, I had grown to place much more realistic expectation on myself as to how I would be able to improve my German. Fears surrounding COVID made things stressful sometimes and got in the way of focusing on my studies and enjoying myself fully, but I still pushed myself in the way I only wish I had during my time in Japan. Through my language courses, along with the patience and kindness that other Germans showed me, I surely would have reached fluency If I had spent the whole six months there.
*NOTE: Peter is on a leave of absence for the fall 2020 semester so his responses may be delayed, but students are welcome to reach out to him with questions.
AMIDEAST: Morocco
Name: Zayn Carey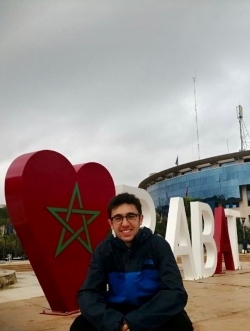 Email: careyz@dickinson.edu
Major: International Studies, Middle East Studies & Econ minors
Identities I can speak to students about: Students of Color
About Me: My name is Zayn Carey and I studied abroad in Rabat, Morocco as a part of the Amideast Regional French Program. I enjoyed every moment of my abroad experience in Morocco, as it is something I will forever cherish. In Rabat, I lived with an amazing host family who spoke no English, and although this was slightly intimidating at first, it allowed for me to greatly improve my French. My coursework consisted of one French class, one Arabic class, and two English classes. The material allowed me to gain a far better appreciation and understanding about the history and current political and economic climate in Morocco, as well as in North Africa as a whole. I also worked as an intern at a Moroccan think tank, where I completed research in French and Arabic about how to better analyze and improve national women's unemployment. Outside from academic work, I spent my free time and weekends exploring Morocco, in total visiting over 10 cities. My favorite trips included riding a camel in the desert, conversing with sellers and locals in the extremely busy market of Marrakesh, and visiting an Amazigh village in the High Atlas Mountains. All in all, studying abroad in Morocco was absolutely the right choice for me. The relationships I developed, the professional interests I cultivated, and the memories made are experiences that helped me rise as an independent person, and I look forward to using these skills and moments of growth in my future.
Art History in Florence
Name: Ana-Elena Karlova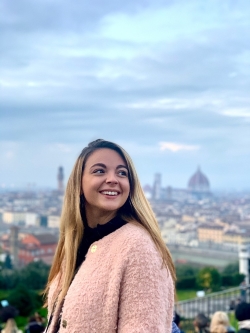 Email: karlovaa@dickinson.edu
Major: Art History, Economics
About Me: My name is Ana-Elena Karlova and I am a senior majoring in Art History and Economics. I am also an international student from Bulgaria. During Fall 2019, I studied abroad in Florence, Italy. I was excited to be closer to home, to study Art History in a city with a rich art legacy, and to eat great food! I lived with a host family in Le Cure, one of Florence's neighborhoods. Living with a host family was an integral part of my experience because I got to experience Italian culture first-hand. I took four classes in Florence: Italian Language, Italian Renaissance Art, Black Death and Medieval Art, and Michelangelo. Learning the basics of the Italian language helped me become part of the community and also communicate with my host family. My Art History classes had various trips across the country, and we looked at art which changed the course of Art History. Half of my classes during the weekdays were in the city of Florence and my professors lectured at churches, cathedrals, and other important art historic sites which created a very fun learning environment. My semester abroad not only developed my Art History expertise but also allowed me to grow, change, and discover the amazing Italian culture!
DIS: Copenhagen
Name: Jen Hughes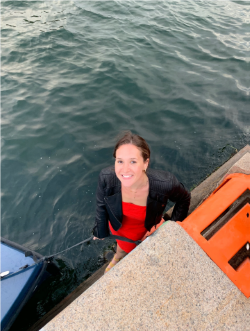 Email: hughesje@dickinson.edu
Major: Political Science, Philosophy minor
Identities I can speak to students about: High Financial Need
About Me: My name is Jen Hughes and I am a rising Senior at Dickinson majoring in Political Science and minoring in Philosophy. I spent the first semester of my Junior year at the Danish Institute of Study Abroad (DIS) in Copenhagen, Denmark where I studied Ancient Greek philosophy and Scandinavian Politics and Criminology. During my time in Copenhagen, I lived in a flat with other international students and two Danish host students, all of whom I keep in touch with to this day. My time abroad broadened my perspective on the functions of state governments and international relations as a whole. I had the unique opportunity of traveling to several other European countries throughout the semester and partaking in two faculty-guided study tours. This experience was eye-opening, it made me appreciate the vastness of cultures and the world at large, and led me study abroad for a second semester in a completely new part of the world: New Zealand. My time abroad has been by far the most transformative experience of my collegiate career, and one that has made wish to pursue a career in global relations in the future.
Name: Ariel Levin-Antila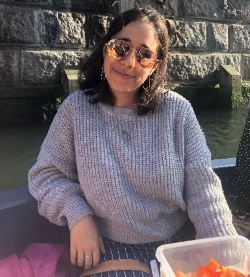 Email: levinana@dickinson.edu
Major: Psychology and Environmental Studies
Identities I can speak to students about: Students with disabilities
About Me: My name is Ariel Levin-Antila and I am a rising senior Psychology and Environmental Studies double major from the greater Washington, DC area. In Fall 2019, I had the privilege to study abroad in Copenhagen, Denmark with DIS Copenhagen. I was able to take classes in both my areas of study, expanding on my Dickinson education with topics such as the intersection between psychology and developing technology, environmental philosophy and criticism, and Geographic Information Systems mapping for future climate change issues. I also took a Danish language and culture class. My time abroad was truly one of the best experiences I've had (cliché, but true!). The amazing people I was able to meet--ranging from American students from universities across the country to the Danish students I shared an apartment with—taught me so much about living independently, cultivating a strong sense of self, and achieving the goals that you set, no matter how impossible they may seem. The opportunities for travel I was able to participate in also shaped my knowledge of my place in the world—DIS sponsors two class trips throughout your semester, allowing you to engage deeply with the topics you're learning about and cultivate close relationships with your professors and classmates. By the time I left Denmark, I had learned so much more about my global environment, as well as myself.
Name: Amy Soba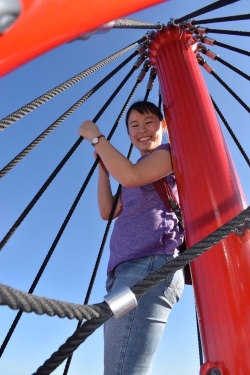 Email: sobaa@dickinson.edu
Major: Psychology, Physics minor
About Me: Hi! My name is Amy and I am a senior. I studied abroad in Copenhagen, Denmark with DIS (Danish Institute for Study Abroad) in Fall 2019. I am a psychology major with a physics minor. While abroad, I took three psychology courses which were all fantastic! I also had the opportunity to take a Sustainable by Design course which was amazing. If you're worried about having to take Danish 101, don't be. It's pretty straightforward and I liked being able to understand a little bit of what people were saying around me. While in Copenhagen, I lived in a kollegium (an apartment complex) with a kitchenette in the room. I had one roommate who was from the United States and also attended DIS. My kollegium was a 10-minute bike ride (15min bus ride) from school. During the weekends I enjoyed exploring the city and admiring all the sites Copenhagen has to offer. I also did a little bit of individual travel to Paris, Avignon (France), and Amsterdam. In my free time I hung out with friends, took bike rides around the city, went on runs through the park near me, and played piano and guitar in the music room we had in the kollegium. Some of my favorite events throughout the semester were the ones hosted by the kollegium. I attended community dinners, game nights, Friday bars, and Christmas decorating events. Through these gatherings, I got to know the Danish residents who also lived around me. They were all very friendly and excited to share their culture as well as listen to my experiences. If you have any questions, even if they seem small, please feel free to contact me! I'm more than happy to answer any and all questions or just share more about Copenhagen!
School for Field Studies - Tanzania
Name: Abby Kaija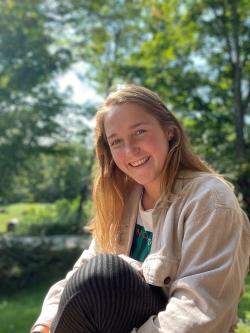 Email: kaijaa@dickinson.edu
Major: Biochemistry and Molecular Biology
About me: Mambo! (Hi in Swahili) My name is Abby and I spent 4 months studying abroad in Tanzania through the School for Field Studies. We lived and studied in a small town called Rhotia. We were a safari cruiser ride from Tanzania's world-famous national parks where we had the opportunity to study the wildlife; from elephants, giraffes and lions to birds, beetles and termites. I played soccer with locals, cooked Tanzanian food with Mama Marta, my host, and bought ketenge fabric at the Saturday markets. During my last month in Tanzania, I was part of a research team investigating the relationship between local people living adjacent to protected areas and wildlife. Studying abroad in Tanzania I was surrounded by a culture different from any I have known. This experience and the support from SFS greatly impacted my academic goals but more importantly transformed my perspective of what it is to be a global citizen. The beautiful people of Tanzania taught me how to love authentically through hardships and joy.
University of Otago
Name: Maisara Khan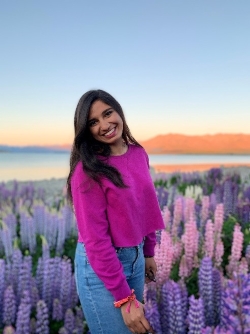 Email: khanm@dickinson.edu
Major: Math, Econ
About Me: My name is Maisara and I'm a rising senior studying Mathematics and Economics at Dickinson. Since the beginning of my time at Dickinson, I had been set on participating in the Norwich program in my junior year, but I made a last-minute decision to study abroad at the University of Otago in New Zealand – and it's one of the best decisions I've ever made. Being a city girl who grew up in Dhaka, New Zealand was completely out of my comfort zone. I was able to have amazing new experiences such as traveling across the country in a camper van, sleeping in a cave full of penguins, enjoying Dunedin's exciting nightlife and immersing myself in the local Māori culture. My transition from the US to New Zealand was uniquely different from my transition from my home country of Bangladesh to the US, each journey bringing with it a new flavor. Academically, I was able to take advantage of Otago's large class sizes, beautiful library and other interesting classes outside my majors, such as Māori Studies and Contemporary Media Studies. My semester abroad was the experience of a lifetime, and I would love to share more about it with you – whether it be advice on the best study spots around campus, questions about visa or housing, or general tips about studying abroad!