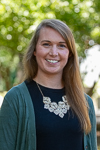 I grew up in Howard County, MD, and attended Atholton High School before enrolling at Dickinson in the fall of 2009. As a student at Dickinson, I majored in English and education, spent a semester abroad in England and competed on the cross country and track & field teams. I was also a member of the Kappa Delta Pi honor society in education, which helped prepare me for my first job after I graduated in 2013: teaching English right here in Carlisle! I couldn't stay away from Dickinson, though, and I returned to the college—first for a few years as an assistant coach and now as a member of the admissions team. One of my favorite parts of being a teacher, coach and admissions counselor has been meeting students and their families, and I'm looking forward to working with you as you continue with your college search! Please feel free to contact me if I can be helpful in any way!
Fun Facts:
Favorite spot on campus: Biddle Field track at sunrise. Worth getting up for the early workout ... most of the time! :)
Favorite place in town: Whistlestop Bookshop. Professor Wendy Moffat, my English advisor, sent me there for a book on my first day at Dickinson, and I've been going ever since! Easy walk from campus, great selection of books and Jeff and his staff are the best!
Favorite Dickinson course: Hmm ... so many choices! I'd have to go with a tie between: Ideas That Have Shaped the World (my first-year seminar course) and U.S. Literature and the 9/11 Decade (which inspired my work on my senior thesis). If I could take a course that is currently being offered, it would be Social Media, Social Movements and Global Change—sounds fascinating and useful!
Ask me about: English, education, athletics, study abroad, community service ... and more!
E-mail: noltem@dickinson.edu
Phone: 800-644-1773