Physics & Astronomy Facilities
The Department of Physics and Astronomy resides in Tome Hall, part of the Rector Science Complex. This state-of-the-art building has top-notch facilities throughout, including classrooms designed for interactive learning and laboratory space for both teaching and research.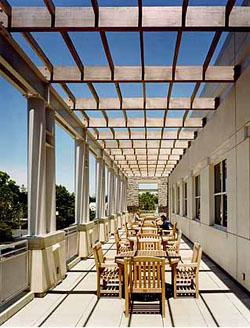 Photograph of Tome Hall's outdoor terrace
Classrooms
The classrooms in Tome Hall are designed for a "Workshop" approach to teaching. This is an interactive learning environment where lectures and labs have been combined into an activity-based format. Students work in small groups on experiments virtually every class session.
Teaching Laboratories
The Workshop approach is carried forward into the sophomore year where students begin working on more advanced experiments. Courses such as Vibrations, Waves, and Optics, and Introduction to Relativistic and Quantum Physics have strong laboratory components that allows students a chance to explore more modern topics in physics. In particular, a modern quantum optics laboratory allows students to explore such intriguing quantum phenomena as wave-particle duality and single-photon interference.
Research Laboratories
There is plenty of interesting research going on in Tome Hall to satisfy the interests of any student. Dickinson professors have ongoing research projects in astronomy, plasma physics, non-linear dynamics, ultrafast laser physics, and magnetic fluid pattern formation. Additionally, motivated students can undertake a research project in some other area under the guidance of a faculty advisor.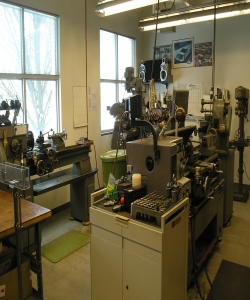 Machine Shop
The department houses a fully equipped metal and wood shop. The metal shop includes two milling machines, two lathes, drill presses, a band saw and welding tools. The wood shop features large table and miter saws, a planer, a jointer, and various sanders (among others). The machine shop is integral in supporting much of the student and faculty research in the department. In addition, the department's technician, Jonathan Barrick, offers machine shop training courses for majors.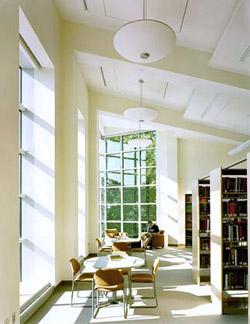 Other Spaces in Tome
In addition to the classroom and laboratory spaces in Tome Hall, there are some comfortable places to lounge around. These include the majors room, the Tome reading room, and when the weather is nice, an outdoor terrace.