Academics
Russian State University for the Humanities
The Dickinson-in-Moscow program is based at the Russian State University for the Humanities, one of the most dynamic and modern universities in Russia (RSUH). Currently, RSUH serves more than 5,000 students. It houses 13 BA and 19 MA programs, and offers 39 majors.
Russian State University for the Humanities Home Page
Academics
Students arrive at least 10 days prior to the beginning of classes at RSUH.
During that time they go through an orientation program which is designed to prepare students for the daily life in Moscow. The program includes familiarizing students with the RSUH campus, the surrounding neighborhood, the Moscow metro, and the areas where students live. Along with this walking tour of Moscow, the program provides an intensive 10-day course, "Russian for Survival in Moscow".
The students take the majority of their classes at the Department of Russian as a Foreign Language (i.e. the center for foreign students), but for many years we have encouraged them to also take content based classes with the Russian students, usually during their second semester (history, literature, politics). Although course offerings may vary from year to year, the following classes are typically chosen by Dickinson-in-Moscow students: Russian Language in Context; Writing Workshop; Topics in Russian Studies; Intellectual, Historical, and Cultural Aspects of Russian Orthodoxy; Visual and Performing Arts in Russia; Russia Today.

For the successful completion of a semester in the Moscow program, participants receive 3-4.5 credits, applicable to the Russian major or minor.
Students participating in a year-long program are required to complete a Research Project in Russian History, Politics or Sociology which is carried out in conjunction with a course at RSUH. For the project advising, the Program find specialists in the filed.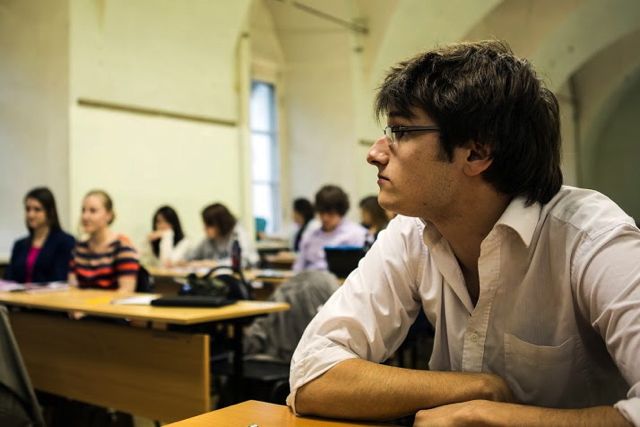 Russian Higher Education
Russia's higher education system started with the foundation of the universities in Moscow and St. Petersburg in the mid-18th century. The system was constructed similar to that of Germany. In Soviet times, every person in Russia compulsorily attained a secondary education. The pursuit of higher education was, and still is, considered to be a very prestigious honor. More than 50% of Russians hold a degree.


More recently, universities began transitioning to a system similar to that of Britain and the USA: 4 years for the Bachelor's degree and 2 years for a Master's degree. Russian universities are still in the midst of change; some of them offer the new system and others are still functioning according to the prior 5-year system, particularly in programs such as law.
The academic year lasts from Sept 1 to mid June everywhere, with long summer vacations from July 1 to Aug 31. The duration of a single class period is usually an hour and a half, the equivalent of two academic hours. The "academic hour" in Russia is generally 45 minutes, as opposed to 50 in U.S. Students typically have 3-4 classes a day, 5-6 days a week. While on average, students might expect to spend less time on their homework than at Dickinson, they definitely spend more time in classes. The university does not provide a large variety of extracurricular activities – many students who were born in Moscow and live mostly with their families, not in dorms, find extra activities and friends outside of campus life.


"I signed up for "Contemporary Foreign Policy of the Russian Federation" about a month before the annexation of Crimea. Regardless of the timing, taking that class with Russian students was great for my speaking ability, not to mention exciting. It was a seminar that involved more discussion, which meant I got to hear a variety of perspectives on the issues of the day. My advice to any Dickinson student: take regular classes with Russians, even if you're just focused on listening. If possible, volunteer to give a presentation or speak up in class--leading a discussion on Tajikistan was one of the more intimidating days but useful experiences I had in that class." —Caroline Elkin '15