The Dickinson College Russian Department strives to instill in each of its students an enthusiasm for Russian language and culture. After graduating, students seem to maintain this passion, no matter where their professional life takes them. Many get hooked on living in Russia during their study abroad and return to Moscow after graduating to teach English, research or pursue careers in business. Many go to graduate schools to get advanced degrees in Russian or International Studies, MBA, law and even medicine. Even if their current profession is not connected to Russian, they often feel that Russian studies have been an important stepping stone in their careers and have enriched them as individuals. And, of course, we are especially proud of the fact that in the last seven years seven Russian language graduates have received Fulbright Fellowships to do research in Russia and former Soviet republics.
Alexandra North '13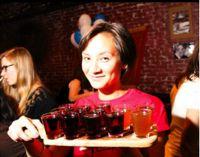 I originally enrolled in Russian classes my freshman year simply to fulfill the foreign language requirement, but after a semester or two I fell in love! There are so many perks associated with learning a lesser-studied (and notoriously difficult) language like Russian: scholarship opportunities, small and personalized classes, unique study abroad programs, and of course the close-knit community of fellow students/commiserators. I loved that every class I took in the Russian department felt like a workshop; the professors had watched our skills and interests develop over the course of four years and could really shape the coursework and syllabus according to the students' needs. I felt so blessed to have been able to study abroad in Russia on two different programs, first on a Critical Language Scholarship from the State Department, and then through the Dickinson in Moscow program. We were surrounded by great resources, from Russian teaching assistants, to visiting professors, to tutoring, to the full-time faculty, to student peers; I always felt supported and encouraged by the department.
Strangely enough, I managed to find a job at the only Russian-owned and -operated business in my Texas hometown after graduating in May 2013, as a server at a brand new Russian bar and restaurant. I had plenty of experience in bars and restaurants before then, and I figured that while I was looking for full-time work I might as well capitalize on the opportunity to keep up with my Russian. I was the only American server working in the only local hub for Russian speakers, and Russian and American patrons alike were consistently very surprised by my story. While the other servers all spoke English, no one in the kitchen did. It was an incredible lesson in inter-cultural communication. I had to translate language and culture in real-time, communicating guest needs to the kitchen and staff. It was a really unique and cool opportunity for me, as I was able to make so many Russian-speaking friends and improve my conversational skills immeasurably. Plus I got to eat home cooked Russian meals every day!
In February 2014 I started a full-time job as an account manager and content writer with a tech startup in Austin called Main Street Hub. The company manages the social media presence of small businesses, and I get to write post content for 120+ small businesses across platforms like Yelp, Facebook, and Twitter.
Sasha Kozhevnikova
(Overseas Student Assistant from Moscow, 2011)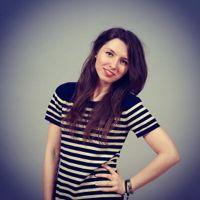 My semester at Dickinson as an OSA in the Russian Department was one of the happiest experiences of my life. The opportunity that Dickinson gives to international students is hard to overestimate. You not only study in American college with other students, but also help American students learn Russian and get to know Russian culture. The professors in Russian department are amazingly kind and helpful; they do everything they can to help you engage with students and become part of Russian Department family. I lived in the Russian House, where we watched Russian movies and TV shows in the evenings, cooked traditional Russian meals in the kitchen, and had deep conversations until late into the evening. During language labs, we played vocabulary jeopardy, watched Russian music videos, learned poems, and many other things. I still keep in touch with the great people I met at Dickinson. When the students came to study in Moscow the following semester, it was like a great reunion with long-distance friends. My experience at Dickinson helped me make friends with people from all over the world, rethink some of my views, develop my communication and studying skills, travel around States, explore American culture, and eat a lot of hot dogs! All in all, it was an amazing experience.
Phil Kiffer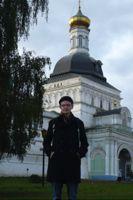 The Russian Department at Dickinson influenced me very positively. The curriculum is intense and challenging, but the department is very supportive of their students and constantly provides the help and support necessary to master the language. Dickinson's study abroad program at RGGU in Moscow is among the nation's best. From living with a fantastic family in a homestay located in the center of Moscow, to classes at the university, to experiencing life in the capital of one of the contemporary world's most important states - my study abroad experience was a life changing opportunity that allowed me to understand not only the Russian language, but the Russian people and their culture on another level.
Since graduating, I continue to use Russian on an everyday basis. I worked as a freelance translator for businesses in the greater New York City area and I am currently continuing my academic career as an MA student in Russian and East European Studies at the University of North Carolina at Chapel Hill. Russian is essential to my current research interests. My training at Dickinson allowed me to immediately access archives, documents, and monographs in the Russian language and helped me to start my graduate career on solid footing. Additionally, as I began to branch out and study other East European languages, such as Romanian, my understanding of Slavic vocabulary permitted me to learn them at an accelerated pace, providing me with an advantage over other students.
My advice to other students is to work hard. You do not need to have a good reason to study Russian, "I think it would be cool," or "I just want to" are perfectly acceptable justifications. However, learning, as opposed to studying, the language is a demanding process. However, if you do want to learn Russian, Dickinson College is the perfect place. Not only is the faculty excellent, and the program on par with any school in the Ivy league, Dickinson boasts small class sizes you are unlikely to find at any other top notch Russian department at the beginning level. If you complete four years of Russian at Dickinson, you will have cultivated a very marketable skill that will serve you well in both the job market and graduate school as Russia becomes an increasingly important, yet deeply and perpetually misunderstood, force in the contemporary world.
"Elena Borisovna and Dr. Deblasio are two of the best language and literature professors in their field. They challenge students to critically analyze and interrogate the topic under study, to appreciate the multifaceted dimensions of Russian language and culture, and to develop polished professional and academic writing skills in both Russian and English. The Russian Department and its students are extremely lucky to boast two such demanding, but very assessable, experts and thought leaders."
Vadim Ivanishchev
(Overseas Student Assistant from Moscow, 2012-2013)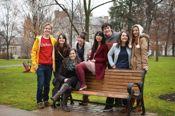 The Dickinson program gave me the amazing opportunity to gain invaluable international experience. Through continuous contact with professors and students from all over the world, I had a chance to learn more about different cultures and nationalities. The level of teaching was exceptional and all the classes I took were extremely challenging. As a teaching assistant for the Russian Department, I was able to promote Russian culture and language by organizing a variety of events and informal meetings (such as film discussions), leading classes, and working in Multilingual Writing Center. It was wonderful to see how many students are interested in Russian culture. My time at Dickinson College greatly shaped my life and I will never forget it.
Caitlin Rice '09

Dickinson taught me that taking on a challenge with an open mind and proactive attitude is the best way to truly engage the world. By studying abroad in Moscow, I gained a better grasp of what it means to be a citizen of modern Russia. I never imagined I would meet so many people who were willing to chat with me about everything, from language to politics, to current events, to pop culture. Not unlike the literary tradition that Russians hold near and dear, Muscovites seem very much in touch with the idea of the "Russian soul", which made for a warm reception and rewarding exchanges.
 
I graduated from Dickinson in 2009 with a major in Russian and a minor in French. I am currently pursuing an M.P.I.A. in Security Studies and Russian-East European Studies at the University of Pittsburgh's Graduate School of Public and International Affairs. I am a US Department of Education Federal Foreign Language Area Studies (FLAS) Fellow of Advanced Russian Language and served as a volunteer attaché/translator and open-source media analyst during the G-20 Summit in Pittsburgh. My current research focuses on transnational organized crime in Eurasia and the intersection between Olympic contracts and criminal groups in Sochi. Upon graduation in 2011, I plan to work for the federal government at the Department of Defense or State.
Cara Roney '08

I decided to study Russian after being introduced to Russian literature in my first year at Dickinson. I had to wait until my sophomore year to begin, but once I had started, I couldn't get enough of it. My professors even encouraged me to apply for the full year abroad, even though I didn't have the required two years of study. The time I spent in Moscow was exceptionally demanding and gave me new confidence in myself.
I graduated with a double major in Russian and International Studies in 2007 and returned to Russia in the fall of that year. I spent my first year back teaching general English to groups of children and adults. I have since joined the Marketing Department of a multinational audit and consulting firm and now run the English editing team. Although my work is in English, my colleagues all speak Russian to me, and so I've managed to pick up a bit of business Russian as well. I also visit my former Dickinson host mother at least once a week, and she still takes every opportunity to tell me I don't eat enough or to tsk tsk the fact that I won't touch dill or caviar.
Erica Lally '08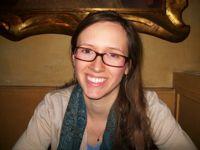 The Russian Department was my home away from home at Dickinson, and the experiences I gained through it-learning from our professors, having adventures with my classmates, and studying abroad in Moscow-have fundamentally shaped who I am as a person.
The ability to study abroad for a whole year was one of the reasons that I chose Dickinson, and that time in Russia has proved invaluable. There is no better way to learn about a culture and a people than to live amongst them. Fighting the rush hour crowds on the metro, going to the outdoor markets for groceries, sharing food with fellow travelers-these are the everyday moments that give you a glimpse into a Russia that is at once beautiful, sad, hilarious, and resilient.
Because of the language skills and the study-abroad experience that Dickinson gave me, I was able to return to Moscow after graduation on a Fulbright research grant, where I studied the history of a dacha community. Following that experience, I worked for two years at an international human rights organization, assisting my colleagues with research and advocacy related to human rights abuses in the former Soviet Union. Currently in graduate school, I still use my Russian regularly, and I plan to continue my career in international relations after graduation.
At Dickinson, I received an education in the truest sense of the word. Both the faculty and students challenged me to think deeply and critically about issues, to step outside of my comfort zone, and to engage with new people and new ideas. For these experiences and for the lifelong friends that I gained in the process, I am incredibly grateful.
Evan Sparling '08

For some reason people always ask me why I study Russian. I don't know, but I would bet that my biologist, journalist, and sociologist friends don't have to answer similar questions nearly as often. And I'm afraid that I don't have a satisfying answer to this question. I continue telling all who ask that, during my childhood, my father, a great fan of American history and architecture, dragged me to all sorts of historic sites and buildings throughout the eastern seaboard. By the time I reached high school I was so fed up with American history that I looked to its complete opposite, and discovered the Soviet Union. Throughout high school I read books about great revolutionaries and, my head filled with cold-war era nonsense about riddles wrapped in enigmas, dreamed of visiting this mysterious land.
I chose Dickinson mostly because it would give me the opportunity to do just that. One of the few colleges in the US with its own year-long Russia program, Dickinson would allow me to spend a significant amount of time living in Russia learning the language and unwrapping those riddles and enigmas. Fortunately Dickinson's history department steered me away from literature written about the Soviet Union during the 1950s and provided me with up to date scholarship on the Soviet experiment. I became even more fascinated with this attempt to transform not just government, but society and even human nature itself.

I spent my junior year studying in Moscow, the cosmopolitan capital or the Russian Federation. Here I lived with a host family and steadily improved my Russian, although not without a series of hilarious (for other people) mistakes and misunderstandings, one in which I told my host sister that I categorically despise all horses. During my winter break, in search of adventure and against the advice of pretty much everyone, I traveled to Uzbekistan and Kazakhstan to see ancient madrassahs and miles of empty steppe. There I discovered a society caught between ancient local traditions, Soviet norms, Islamic principles and ubiquitous western culture. One memorable evening a group of Uzbek men lectured me on Islam, their faith, while drinking shot after shot of vodka. When I returned to Moscow for my second semester I volunteered at a refugee absorption center and conducted research on Uzbek labor migration to Russia's capital.
Having grown up during New York's racial conflicts of the 1990s, I had long been fascinated with the relationship between government and ethnic groups, and became particularly interested in Soviet attempts to create a singular Soviet citizenry with no separate ethnic identity. I wrote my senior thesis on national self-identification among Rusyn' immigrants to America, and applied for a Fulbright grant to study the Soviet "friendship of the peoples" movement in Uzbekistan. My application denied for political reasons, I was instead offered a grant to Kyrgyzstan, which I began in January 2009.

In Kyrgyzstan I conducted interviews and archival research to understand the role of Soviet power in the formation of the Kyrgyz national identity and the regulation of ethnic relations in this multi-ethnic republic. I also taught classes at Kyrgyz National University, volunteered at a local NGO, wrote several freelance articles, and sampled several local specialties, such as fermented mares' milk (think runny alcoholic yogurt). While still in Kyrgyzstan I interviewed for and was offered a position at Pacific Environment, an environmental non-profit based in San Francisco. I moved to California straight from Bishkek in October 2009 and now coordinate Pacific Environment's salmon preservation programs on Russia's Kamchatka peninsula.
Read my articles (two are written as William O'Connor for, well, various reasons):
Alla Lipsky '08

I work for a small non-profit organization called NCSJ. It's a Jewish organization that works with the former Soviet Union on various issues. My job here is to do some research and writing, assist with planning trips and meetings, follow legislative and human rights issues in the FSU and attend congressional hearings and meetings at think-tanks. I occasionally speak Russian for work. I spend a LOT of my time at work reading the news and keeping up with what is happening in that part of the world.
Rosalie Gant '07

My interest in Russian culture and literature started at a young age and only grew with time. It seems the more I found out about Russia the more I wanted to know and experience.

I moved to Moscow in August 2008 to work as an English teacher. Teaching was a way for me to spend more time in Russia and continue to improve my Russian through immersion. I have really enjoyed the teaching experience. I've made some good friends from my students and fellow teachers and enjoy being a part of the lively expat community. I try to see as much as I can in my free time and have taken many short trips to towns outside of Moscow and some longer trips to places like Kostroma and Kazan. Every day I am amazed by this city. I live in the Taganka area not far from Moscow's oldest building which houses the Andrei Rublev museum and I can see the domes of Christ the Savior from my window.

After a year I realized that although my spoken Russian had improved greatly, I had very little opportunity to read and write, so in September 2009 I enrolled in some classes at RGGU. My fascination with Russia has only gotten stronger through living here. I expect that I will continue to study the Russian language and all things Russian for the rest of my life.
Charlie Blanchard '06

I arrived at college, probably like a lot of other freshman, without a clear sense of what I wanted to do. When Elena Borisovna convinced me to take Russian 101, I figured it would be a fun distraction and a nice party trick to be able to read Cyrillic. Two years later I was in Moscow, and again two years after that working my first job out of school. For me, taking Russian served as a segue into my eventual career as an oil and gas analyst, because - no matter what anyone tells you - you cannot understand modern Russia without understanding O&G.
My Russian has deteriorated, and these days I focus on the booming US oil and gas markets, but without my Russian major I would never have ended up where I am now. So I'd recommend incoming students who don't know exactly what they want to do - which is probably 95% of them - to take Russian, go to Russia and see what strikes you. You will find out more about yourself and the world being a little outside of your comfort zone in Moscow than taking a six-month vacation in Bologna. (Although with the weather these last few months maybe I'm wrong :))
Amy Wilson '06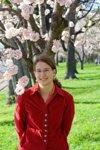 I graduated from Dickinson in 2006 with majors in Russian language and political science. I spent two semesters in Moscow with the Dickinson program where my favorite experience was taking a 24 hour train ride north to the city of Arkhangelsk. Following Dickinson graduation, I worked as an AmeriCorps volunteer with the International Rescue Committee where I was able to speak Russian with refugees from various Central Asian countries. I recently completed a master's degree in Russian, Eurasian and East European studies at Georgetown University.
Jack Seitz '05

I found the Russian department to be an incredibly friendly and intellectually stimulating environment. In addition to the solidarity of fellow students of Russian suffering through case endings and perfective/imperfective verbs, the faculty was always supportive and interested in seeing every student succeed in their own way. Some weeks it felt like I spent more time with my classmates and Professor Duzs than I did my roommate, but I never regretted it. Additionally, the opportunities offered by a year abroad in Moscow changed my life in countless ways. From the cultural and historic opportunities to late night conversations around the kitchen table with my host grandma, it changed the way I understand the world and myself.
Currently I am at Iowa State University pursuing a Ph.D. in Agricultural History and Rural Studies. My research focuses on the question of rural modernization in the late 19th and early 20th centuries in a transnational context, specifically Russia and the United States. However, the path toward a Ph.D. was not a straight one. After graduation I spent a year in Kazakhstan on a Fulbright, researching the Virgin Lands Campaign, and upon returning I spent a couple of years rehabilitating my grandparents' 20 acre farm in York County Pa. into a Certified Naturally Grown vegetable farm. I also spent a few years back in my native West Virginia doing community development and anti-poverty work around local agriculture in the southern coalfields. Somewhere in the mix I decided to go back to school, and spent two years at Indiana University where I received an M.A. in Central Eurasian Studies. However, I can trace the desire for all of these diverse paths back in part to my time with the Russian department. Because, it was there that I found my diverse interests supported and cultivated, and it was in my study of Russian art, literature, history, and poetry that I went from being a boring rationalist to being a boring romantic.
Before I went to Russia, I was pretty sure I understood the world. While I was there, I realized I didn't have a clue, I still don't, and that is a beautiful thing.
Advice for incoming students/prospect students:
Go to Russia
Trust Professor Duzs
Read more poetry
Learn your case endings
Nicolas Stebinger '05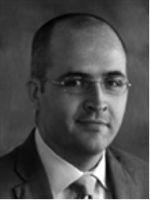 I graduated from Dickinson in 2005, having majored in international studies with a minor in Russian. I didn't mean to study Russian at first, but I dropped another class freshman year, and Russian fit neatly into the gap. I loved the language-it's lilting, expressive, and makes sense structurally once you get into it-and decided to make it a big part of my time at Dickinson. I spent my junior year in Moscow with the Russian program. The city is incredible. Music and museums are everywhere, the food is great, and the Russian department helps you to get the most out of it. After graduation, I joined the Peace Corps, and helped an organization in the Russian-speaking city of Balți, Moldova, implement an internationally funded project to combat the effects of human trafficking. That was the first time I realized how strong Dickinson's Russian department really is, and how well it had prepared me to work and socialize in Russian. I then attended Georgetown Law, and graduated in 2010. I practiced litigation and antitrust law with Chadbourne & Parke LLP in New York City until 2013, where I had the pleasure of using my Russian in connection with cross-border business disputes. I now work as a law clerk for Judge James I. Cohn at the United States District Court for the Southern District of Florida.
Emily Kodama '05

I signed up for Russian classes freshman year of college in order to fulfill Dickinson's language requirement and, I thought, simultaneously impress my friends and family with such a difficult class on my schedule! Though my friends weren't as impressed as I'd hoped, I ended up falling for the language and the culture, and I credit Dickinson and the Russian department there with the path my career and life has taken since graduation. Armed with a Russian language major in 2005, I started a job at Sotheby's auction house in New York, working in the Russian department as an administrator during a time when the Russian art market was experiencing a major boom. Nine years later and I am still at Sotheby's and still using my Russian, having moved into the role of Specialist of Russian Paintings. Thanks to that random choice of a Russian 101 class in 2001, Russia is a huge part of my career, life, and Russophile soul. I'd encourage any students that are considering trying a Russian class at Dickinson to ready themselves for an incredible experience-one that could potentially alter their future major and career!
Jenny Webb '05

After graduating from Dickinson, I began to work for American Councils for International Education in Washington, DC. At American Councils I work for the Open World Program. The Open World Program is funded by Congress and it brings emerging leaders from Russia and the former Soviet Union to the United States for 10-day exchange programs. The participants stay with American host families and shadow professionals in the same field as them in order to learn from one another. I help arrange their travel and visas and work with the hosts to create an interesting agenda for the groups. I work with the participants when they arrive in Washington, DC for a two-day orientation and I keep in touch throughout their stay to ensure the program is going smoothly. I am so glad that I can continue to use my language skills that I learned while at Dickinson and in Moscow, and I love getting to meet so many people! We work with participants from Russia, Ukraine, Georgia, Moldova, Tajikistan, Turkmenistan, Azerbaijan, Kazakhstan, and Kyrgyzstan, so I have the opportunity to learn so much about all their different cultures. My four years here have been a great experience!
Suzanne Derr '05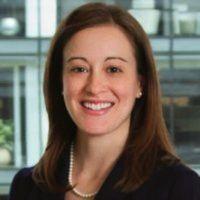 I had a fantastic experience as a student in Dickinson's Russian department. The faculty was top notch and enthusiastic about teaching students about Russian language and culture. During freshman year, Elena Borisovna Duzs became my faculty advisor. She is terrific. The Class of 2005 also benefitted from the fact that her sabbatical coincided with our year abroad in Moscow. As a result, not only did we have host families to help immerse us in Russian culture and customs, we also were lucky to have Elena Borisovna available to address any questions that we had and to accompany us on trips within Russia and to Tallinn, Estonia.
After graduation, I went to law school, clerked for a judge in Maryland, and now work at a law firm in Washington, D.C. My practice concentrates on civil litigation defense, primarily in the areas of products liability and professional malpractice. I have found that my legal practice has benefited from my experience in the Russian Department and from my experiences studying abroad. Each case that I work on involves unique issues and terminology, which requires mastering the terminology specific to the case to vigorously represent the client. These skills were certainly refined by learning a foreign language and using it on a daily basis.
My advice for incoming/prospective students is to be sure to take advantage of Dickinson's study abroad programs, especially the program in Moscow. It will be an unforgettable and fantastic experience.
Lucas Stratton '04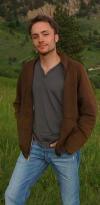 I graduated from Dickinson in 2004 with a double major in French and Russian languages and literatures. During the course of my studies at Dickinson I spent two semesters in Russia and one in Toulouse. In the summer immediately following graduation I served as lead resident advisor for the The Governor's School Summer Russian Language Program at Virginia Commonwealth University. Come August of 2004 I had returned to Moscow under the auspices of the William J. Fulbright program to undertake research on synaesthetia in the works of symbolist writer Andrei Bely and composer Alexander Scriabin. During this year of research I continued to study with poet and philosopher Vladimir Mikushevich, who served as my advisor during the second semester of my Dickinson-in-Moscow sojourn. Upon the end of my Fulbright grant, I traveled to Ufa to teach English to Russian schoolchildren at a summer camp run by the U.S. Department of State. Before beginning my M.A. studies at the University of California at Berkeley, I taught and translated Russian on a free-lance basis in my "birthtown," Richmond, VA. Currently I am in my fourth-year of a combined M.A. and Ph.D. program at U.C. Berkeley. My major field of study is the Russian Avant-Garde in poetry, 1910-1930, and I focus most notably the work of Vladimir Maiakovsky and Mikhail Kuzmin.
Matthew Winter '02

I graduated from Dickinson in 2002 with a major in Russian and immediately headed off to the CIS to pursue a Fulbright scholarship in Uzbekistan and Kyrgyzstan from September 2002 to October 2003. My research project was titled "Paradigms of Local Government in the Fergana Valley Region" and segued into my first assignment at the Urban Institute's Tashkent office - a study on the state of local government in Uzbekistan, which I co-authored (read "Assessment of Intergovernmental Relations and Local Governance in the Republic of Uzbekistan"). I stayed with the Urban Institute in Central Asia until the end of 2006, working on the USAID-funded Local Government Initiative (LDI) and the Collaborative Development Initiative (CDI), also funded by the United States Agency for International Development. In LGI I led research projects, helped draft proposals for legislative reforms and training materials for community mobilization throughout Uzbekistan, sending me to Bukhara, Samarkand, Navoi and the Fergana Valley. CDI was an economic development program in the Kyrgyz portion of the Fergana Valley, which worked on projects as diverse as orchard management, artificial insemination of cattle, greenhouse construction and beekeeping. In both projects, I worked in fully Russian-speaking offices and I maintain that I could not have done this job without a good working knowledge of the language. 

Since then, I have made repeated trips to the region, working on short consulting projects for NGOs in Russia and Ukraine. I recently received my MBA from the Thunderbird School of Global Management, and am now living in Shanghai, China, working for EurasiaCFO Transaction Services, a boutique financial services consultancy that provides advisory ona wide variety of investment projects, from an IPO for a Mongolian cement factory to a quick-service restaurant chain in China. The company has operated in China for 8 years, but I will soon launch their first non-China office for work on projects in Central Asia and non-EU Eastern Europe. Read about Matthew's exploits during his stay in Central Asia several years ago
Jennifer Moll '02
After graduating from Dickinson in 2002 with majors in Russian and International Studies, I moved to the UK to read for an MPhil in International Relations. My Master's thesis explored how Estonia's identity is affected by Russian foreign policy. After finishing her MPhil, I moved to Estonia to pursue similar research as part of a Fulbright scholarship, while also learning basic Estonian. After completing my studies, I moved back to London where I have worked in Corporate Intelligence teams, and continue to be focused on eastern Europe and Central Asia, while investigating reputational risk, fraud and corruption for multinational companies. As part of my job, I regularly travel to the region.

I regard my time spent in Moscow as the most formulative of my life and believe that the understanding and love of Russian language and culture that first grew at Dickinson has made me into the person I am today.

Catherine Meyrat '01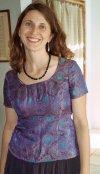 I graduated from Dickinson in 2001 with a double major in French and Russian and my time at Dickinson, as well as my semester in both Moscow and Toulouse, made a profound impact on my life these last eight years. With the help from Professors Nancy Mellerski and Elena Duzs, I applied and received a Fulbright and an IREX (which I declined).
I was off to Moscow for 14 months on the Fulbright to study the growth and methods of Russian environmental groups. I used a three month extension of the Fulbright to travel through Siberia to Kamchatka interviewing environmental activists. For four months I didn't spend one night in a hotel, instead I was taken in by Russians that I met through contacts, friends, or with whom I spent 48 hours in a train compartment. Along the way I went horseback riding in the wilds of Altai, climbing rock pillars in Krasnoyarsk, camping on Olkhon, and backpacking over volcanoes in Kamchatka.
After the Fulbright was over, I couldn't conceive of leaving beautiful, messy Moscow, so I stayed on for three more years. I worked as a freelance English teacher and as a journalist for The Moscow Times. Within the year I joined Independent Media, the parent company of The Moscow Times, as an editor for special publications. Later I joined the New Eurasia Foundation, an NGO that was spinning off its American parent organization, as a communications consultant. Looking back, living in Moscow gave me the opportunity to gain job experience at a level that would have been difficult to gain in the US fresh out of college. It became increasing difficult to live in Russia as a freelancer without an official work visa. So I returned to be near family and get an MBA from Boston University. I also worked at Boston University, first as a communications manager and then a production manager for an online news site. While studying the MBA part-time, I worked as Assistant Director for Boston University's center for entrepreneurship. At this new center, I created processes for budgets, staffing, communications, event logistics, and a new website.
I still miss Russia deeply, especially after watching some of the movies I brought back, reading a book in Russian, or after a visit to the local banya or Russian grocery store. However, since moving back I decided to visit other parts of the world and have made it to the remote beaches and jungles of Costa Rica and Honduras. Most recently, I participated in BU's inaugural MBA India field seminar in January 2009, where I had the opportunity to explore health care challenges and opportunities in India and how to apply those lessons to the global context.
While I no longer live in Russia, my global world has grown to include getting my wedding dress tailored in Mumbai, researching entrepreneurship in India from the shine of Bangalore to the slums of Mumbai, and consulting with a social business in Guatemala. Though I don't currently use my Russian skills at work, the memories, friends, language skills, and adventures have definitely enriched my life. It's made me stand out from other job candidates and was one reason my French-American husband wanted to date me. Those Dickinson days in Russian class and studying abroad, as well as post-Dickinson years living in Russia will always be a part of me. Russia doesn't allow herself to be forgotten so easily!
Wendy Whitehead Martelle '95

I attended Dickinson from 1991-1995 and chose a double major in International Studies and Russian. During my time at Dickinson, I had the opportunity to study abroad in Moscow, and gained a greater appreciation for Russian culture and history. After graduating from Dickinson in 1995, I served as an officer in the U.S. Navy until 2000, when I returned to Moscow and decided to continue my Russian studies at the MA level. In 2002 I received an MA in Russian Philology, with a focus on Russian Linguistics, from Moscow State University. After studying linguistics, I became fascinated not only with how the Russian language works, but also with how language as a whole works, and especially with issues related to second language acquisition. After graduating from MGU, I received a second MA in Applied Linguistics and am currently working towards a PhD in Applied Linguistics/Second Language Acquisition at the University of Pittsburgh, where my research focus is on the acquisition of Russian tense-aspect morphology among second language learners.