Host Families
While in Moscow, each student lives with a specially selected family. This gives participants a unique opportunity to speak Russian in a casual setting. Students and families learn from one another and often forge lifelong friendships.
Larger Russian families rarely have room to host foreign students. For this reason most Dickinson students will be hosted by host mothers whose children are grown and no longer live at home. Here are some memories about host families from recent program participants: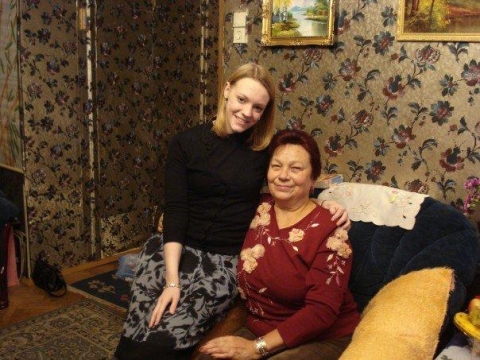 Caitlin Rice with her host mother
"During my semester there, my host mother was a fascinating woman of 77 with innumerable stories about her life she had spent in the city, including during the war, when she and her family would take refuge in the Moscow metro during air raids. I will never forget my first week living in Moscow, when we bonded over the difficulty of showering a cat (she brought her kitty back to Moscow from her countryside dacha and it took the two of us to successfully wrangle the muddy feline into the bathtub)!" —Caitlin Rice '09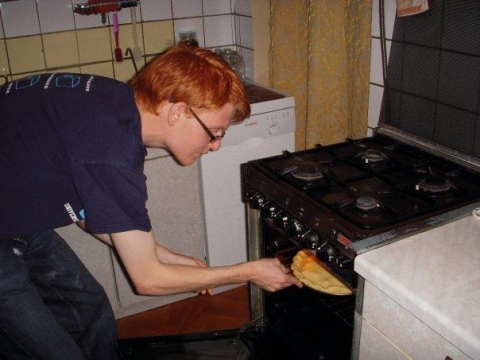 Even in Russia we bake apple pies!
"My host family: three generations of women and a black lab. Elena Alexandrovna, the oldest, spent hours regaling me with stories of the past; everything from the Second World War through her career as a chemist and her continuing involvement in the local senior citizens' organization. Irina, in the middle, divided her time between working two jobs, running the household, making delicious apple pierog, and sharing with me her political views and Portuguese wine. Liza, the youngest, introduced me to Russian music and tried to explain why dreadlocks are fashionable for petite Russian women. Roma, the lab, wasn't very talkative, but loved to dance." —Evan Sparling '08