On-Site Director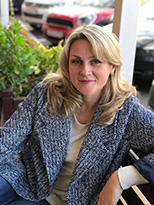 Irina Filippova, on-site director for the Dickinson in Moscow program.
Irina Filippova graduated from the Moscow Teacher Training University and has been working with Dickinson students since 2001. She first taught conversational Russian to Dickinson students and helped with the program in Moscow. In 2004 she became the coordinator for the Dickinson in Moscow program and was invited to be a visiting instructor for the Russian department at Dickinson.
Filippova's experience working at Dickinson has helped her to learn about the American education system and American customs. Now as the resident director of the Dickinson in Moscow program, she combines all of her experiences to make Dickinsonians' stay in Moscow a rich and unforgettable one.