Past, Present and Possible
The Popel Shaw Center for Race & Ethnicity and the Office of College Advancement invite alumni and students to the 2016 Alumni of Color Conference, Friday, Oct. 28, through Sunday, Oct. 30.
Come back to campus for a weekend of in-depth conversation about experiencing Dickinson and beyond as a person of color. Help advise today's students about navigating Dickinson today and preparing for the future. Hear from campus leaders and connect with fellow Dickinsonians as we develop and sustain a robust community of alumni of color.

Conference Schedule
FRIDAY
4:30-6 p.m.
Alumni & Student Mentoring Session, Co-sponsored by the Career Center
Connecting with current students is one of the most impactful volunteer activities for a Dickinson alum. Kick off the weekend with a speed-networking program, and get to know our amazing students.
6-7:30 p.m.
Alumni Welcome Reception
Join us as we welcome you back to campus for our first Alumni of Color Conference.
SATURDAY
8:30-9:30 a.m.
Welcome Breakfast
Begin your morning with a continental breakfast buffet! Enjoy great conversations with campus leaders and student ambassadors, and hear our keynote address.
Alumni Panels:
9:45-10:45 a.m.
Navigating Campus Life: Alumni Reflections
Alumni panelists will discuss the key elements of their Dickinson experiences that helped them grow and thrive as students of color.
11 a.m.-12 p.m. (noon)
Navigating Social Identity in the Workplace
An experienced group of alumni offer reflections on how to mobilize cultural diversity in professional environments.
12 (noon)-1 p.m.
Landis Presents
Enjoy lunch and a student performance and take a tour at Landis House, home to the college's five diversity and inclusion offices, the Center for Service, Spirituality, and Social Justice; the Office of LGBTQ Services; the Popel Shaw Center for Race and Ethnicity; the Prevention, Education & Advocacy Center; and the Women's & Gender Resource Center.
Break. Check out the Homecoming & Family Weekend Activities!
5-6 p.m.
Alumni of Color Conference Reception
Catch up with friends and campus partners before dinner.
6-8 p.m.
Dinner
Join us for a buffet dinner as we reflect upon the ideas generated throughout the day. Enjoy performances by some of Dickinson's most talented alumni performers!
SUNDAY
10 a.m.-12 p.m. (noon)
Farewell Brunch
Wrap up the weekend with alumni and campus leaders as we discuss next steps.
Alumni of Color Launch Event Gallery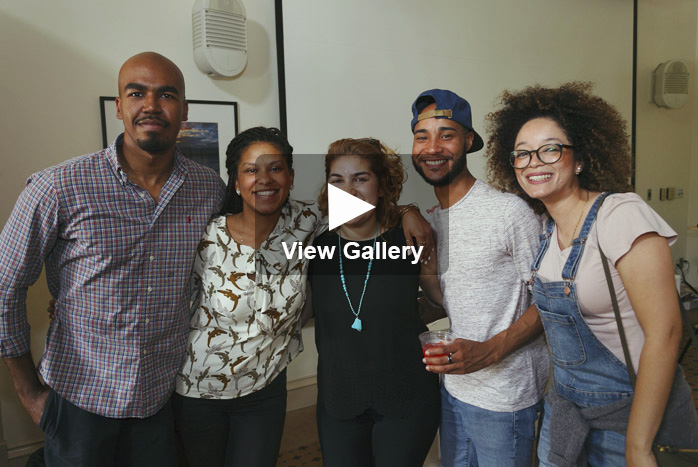 View a gallery of photos from the Alumni of Color Launch Event during Alumni Weekend 2016.