Welcome to

Dickinson College's employee wellness program is a voluntary program available to all employees. Some portions of the program are available to all employees, whereas other portions are available only to full-time employees. The program is administered according to federal rules permitting employer-sponsored wellness programs that seek to improve employee health or prevent disease, including the Americans with Disabilities Act of 1990, the Genetic Information Nondiscrimination Act of 2008, and the Health Insurance Portability and Accountability Act, as applicable, among others. Please click the link above to review the full notice regarding wellness programs for employees of Dickinson College.
*** ALERA Wellbeing Fair ONLINE ***
Tuesday, June 7, 2022 | 11 a.m. - 4 p.m.
AGENDA
11 a.m. | Listening Inward for Wellbeing (Meditation)
11:15 a.m. | Connection, Compassion and Coaching: 3 Keys to Resilience in 2022
12 p.m. | Nutrition for Peak Performance and Energy
12:45 p.m. | Sleep, Mental Health and Wellness
1:30 p.m. | Fertility and Family Planning
2:15 p.m. | The Cure for the Pain-demic of MSK Injuries is Prevention
Looking for a way to add some FREE fun and fitness to your spring activities?
Join the 2023 Spring Into Fitness Challenge will begin on Sunday, March 19 and continuing through Saturday, April 29. What will our challenge be for 2023? Click the link above for a glimpse of the Challenge activities from previous years, and for future announcements in the spring semester 2023!
Employee Wellness Week 2023 will take place April 17-21. The annual Fun Run Walk date is planned for Thursday, April 20 (Rain Date: Friday, April 21) along with a few other campus events! Registration for this annual event will be available in Totara during the spring semester!
The Dickinson College 2022-2023 Professional Development and Wellness events can be found online in Totara via the Gateway. Additionally, please view the upcoming events online in the monthly issues of our Vitality newsletter, and remember to register for the programs in Totara.
The 2022-2023 Wellness@Dickinson program will again be available online in Totara. Employees of the college ~ Start participating in Wellness@Dickinson today by completing your Biometric Screening and/or your annual well visit with your healthcare provider, and then completing the online Health Risk Assessment to learn about your own health status. Explore Wellness@Dickinson program options in Totara via the Gateway!

*Please note: If you earn and receive an incentive reward for your participation in Wellness@Dickinson programs, the IRS considers incentive rewards, awards and gifts to employees as taxable income.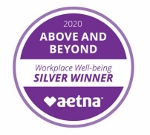 Dickinson College has been recognized by Aetna as an Above and Beyond Workplace Well-being Silver Winner for our employee wellness programs in 2020.

Dickinson College has been recognized by the American Heart Association as a gold-level Fit Friendly worksite in 2014, and also as a platinum-level Fit Friendly worksite for 2015 and 2016!

Dickinson College has been recognized as a silver-level Bicycle Friendly University since 2014, and has now been recognized as a gold-level Bicycle Friendly University in 2018!
Questions? Email devwell@dickinson.edu