To register for Employee Wellness programs and events:
Call: ext. 1503 or 8084
Email: devwell@dickinson.edu
Register Online: For exercise and fitness classes offered through Wellness@Dickinson and in collaboration with the department of Intramurals and Recreation, please register through Totara or EngageD found on the Gateway portal.
Each year, Wellness@Dickinson presents a variety of fitness class options. Some examples of the sessions offered over the years are included in the list below.
***During the COVID-19 pandemic, (if necessary) programs will be virtual or on-demand/online as available.
Campus Fitness Challenges
Throughout the year the campus community offers a variety of campus community fitness challenges. Explore these FREE fun fitness options through the Spring Into Fitness Challenge webpages to join in the FUN no matter the season - spring, summer, fall or winter!
Yoga Classes
Qi Yoga
The benefits of both Indian and Chinese practices of Yoga and Qi Gong are incorporated into Qi Yoga. By moving slowly and mindfully, we are able to improve the energy flow in our bodies, create new neurological pathways and bring balance into the body, mind and spirit.
Sports Yoga
The sports yoga classes combine active stretching, breathing techniques and a westernized approach to learning and using Yoga poses.
Vinyasa Flow Yoga
This type of yoga fuses breath and movement to cultivate grace, flexibility and balance of body and mind. From breath work and meditation, the practice moves through smart, inventive sequences designed to focus the mind and energize the body.
Pilates & Dynamic Fusion Classes
Pilates
Pilates is a form of exercise that emphasizes the balanced development of the body through strength, flexibility, and awareness in order to support everyday movement. Through a series of core exercises, the body is both strengthened and stretched, ultimately providing a longer, leaner look. Improve coordination, release stress, and improve your posture with a practice that is both effective and fun.
Dynamic Fusion
Gain length, strength, and flexibility through a series of blended traditional moves combined with the exercises of moving arts such as Pilates, Tai Chi, and dance. This class includes a standing portion focusing on strength training and balance as well as mat work for core and flexibility.
Zumba & Dancing Classes
Zumba
If you're looking to ditch the workout and join the party, give Zumba a try! Zumba is a Latin-inspired, dance-fitness class that incorporates Latin and international music and dance movements, creating a dynamic, exciting and effective fitness system. This class format combines fast and slow rhythms that tone and sculpt the body in an aerobic/fitness fashion to achieve a unique blended balance of cardio and muscle-toning benefits.
Dancing at Dickinson
This program offers beginning, intermediate, and advanced levels of ballroom dancing lessons for six-weeks. Instruction includes the foxtrot, tango, cha-cha and swing dancing. A partner is required to participate.
Transformation Boot Camp Class
Transformation Boot Camp is a fun-filled, fast-paced class that will not only help you feel and look better but will improve the way you move. Using a variety of exercise equipment including stability balls, medicine balls, resistance tubing and bands, participants will be engaged in activities that are designed to improve the strength, balance, coordination and performance of individuals at any exercise level. Boot Camp is now offered exclusively through Transformation Training & Fitness, located at 117 North Hanover Street, Carlisle. Contact Kirk Ream at Transformation Training & Fitness for program details.
Spinning / Indoor Cycling Classes
Indoor Cycling is a form of high intensity exercise that involves using a stationary exercise bicycle. The routines are designed to simulate terrain and situations encountered in actual bicycle rides, including hill climbs, sprints and interval training. Go at your own pace. This class will increase your cardiovascular fitness, burn fat as well as tone and shape your lower body.
Water Aerobics Classes
Water aerobics exercise burns calories, tone muscles and refreshes with a dip in the pool! Enjoy a low-impact workout to music in a stress-free environment. Great for all levels of fitness.
Marathon in a Month
(Walking Program)
The Marathon in a Month program can help you finish the distance of a marathon (26.2 miles) over one month, and is an easy way to participate in the Wellness@Dickinson program for 2021-2022.
This is a walking program designed for individuals who are looking to achieve a baseline fitness level. The goal is to complete the distance of a marathon within a thirty day time period (less than 1 mile daily). As an added incentive, each month participants who submit their mileage forms are entered into the monthly random drawing for exercise participation to win a participant incentive reward!

To get started: Print out the Marathon in a Month: Tracking Your Walks (PDF) form to get started, and remember to submit your results at the end of each month.
Dickinson Arbor Walk
(Self-Guided Tour & Map)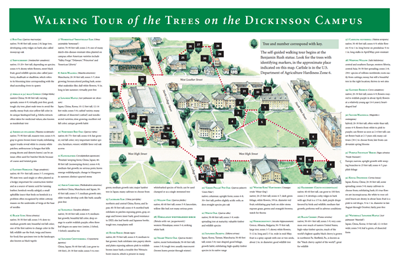 The Arbor Walk, a brief self-guided walking tour, begins at the Hurwitz Green on the John Dickinson campus, located adjacent to the statue of Benjamin Rush, and encompasses the blocks that border W. High Street and W. Louther Street between N. West Street and College Street. Enjoy the beauty of the campus as you stroll past more than 30 trees.
For questions about the trees or self-guided tour, please contact either: Dale Robinson, Director of Grounds and Landscaping, or Zachary Dubbs, Arborist.
Carlisle Parks & Recreation
Carlisle Borough's Department of Parks and Recreation provides lots of opportunities to get active while having fun. Check out the Carlisle Parks and Recreation Programs offered!
Registration is easy! You can walk in, call or sign up online through at www.CarlislePA.org