Dickinson's admissions student interviewers are a highly select group of students known for being engaged, responsible members of the campus community. They are trusted with this unique opportunity to help shape the future of the Dickinson community through the admissions process by interviewing prospective students and contributing to their applications.
From varsity athletes to Student Senators, Feminist Collective members to ROTC cadets, Vermonters to Californians to native Pennsylvanians, political science and art history majors to creative writing and Japanese minors, these students represent all facets of the very multifaceted Dickinson community.
Schedule your visit and interview today!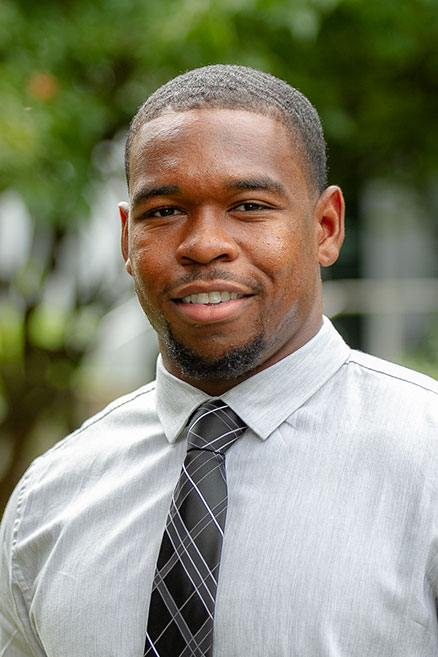 Malcolm Davis
Class of 2019
Hometown: Florissant, MO

Major: Policy Management

Activities: Malcolm was a member of the football program throughout his tenure at Dickinson. The experience with the team has helped him branch out through other areas on campus as well. This will be his second year as the SAAC (Student-Athlete Advisory Committee) rep for the football team. Outside of football, he volunteers with Project SHARE and works with Be The Match, which is an annual bone-marrow drive. Dickinson Christian Fellowship has also been a big part of his Dickinson experience. He has been a member of the Liberty Caps for the past two years.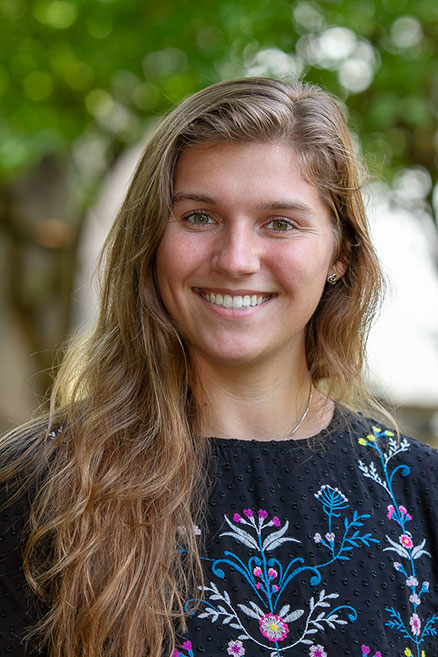 Bizz Fretty
Class of 2020
Hometown: Cos Cob, CT.

Major: Art History, Medieval & Early Modern Studies

Activities: Bizz is starting her second year as a museum interpretation assistant at the Trout Gallery and is heavily involved in the art museum's education programing. She is president of Film Club and has been a member of the organization since her first year. Bizz has been a tour guide for two years—you can usually find her at the Quarry grabbing a cup of hot tea before starting a tour.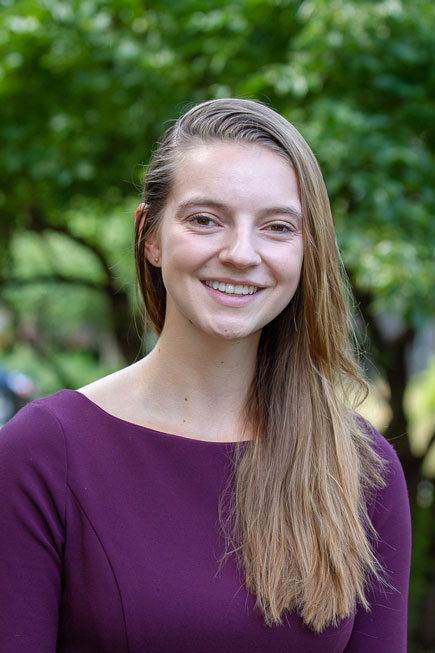 Mollie Montague
Class of 2018
Hometown: Gloucester, VA

Major: Sociology and Spanish

Activities: On campus, Mollie is involved in the Swing Dance Club, the Random Acts of Kindness Club, Spanish Club, and theatre. She's worked with the Office of Disability Services, the Admissions Office, and as a First-Year Mentor her sophomore and senior years. This year she is also a Learning Community Coordinator for a First-Year Seminar. Mollie studied abroad her junior year with Dickinson in South America and Dickinson in Spain. She enjoys volunteering in Carlisle, attending talks on campus and planning adventures in the area with her friends. You may find Mollie doing her reading outside on Morgan Field, sipping coffee curled up by a window in the library or cooking with her roommates.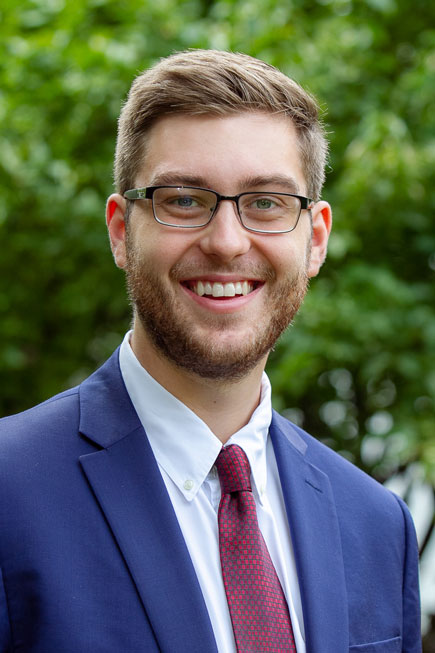 Grant Shearer
Class of 2019
Hometown: Portland, OR

Major: Economics and Law & Policy

Activities: Grant keeps himself busy on campus as president of the College Republicans, vice president of Club Basketball, vice president of Mock Trial, a member of the Alpha Lambda Delta academic honor society, and as the economics department's teaching assistant. He sits on both the economics and policy studies majors committees to influence the education he and his peers receive while maintaining a personal relationship with both departments. On campus, you will find Grant in his favorite study nook in Althouse or on the court playing basketball with his teammates. Outside of Dickinson, you will find Grant biking the Cumberland County countryside or frequenting Carlisle's local businesses with friends. After graduation, Grant hopes to attend law school and pursue a career in the legal field.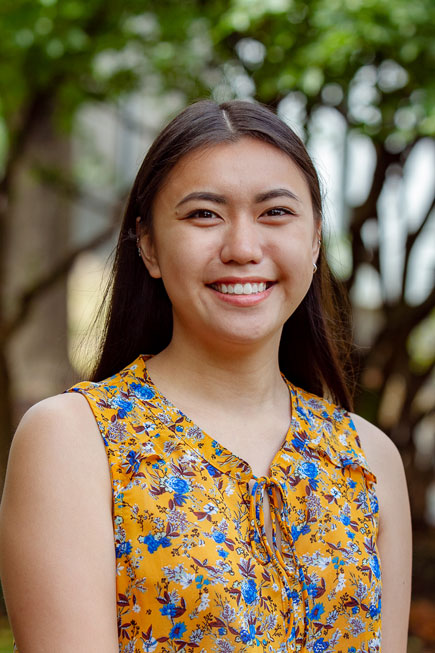 Heidi Kim
Class of 2019
Hometown: Los Angeles, CA

Major: American Studies

Activities: Heidi is part of a the CrescenDevils (co-ed acapella group), a student mentor for Big Brothers Big Sisters, a student tutor with the YWCA Carlisle Homework Club and a cashier for the Devil's Den. She is also a member of the Tritons and participates in Dickinson's community service trips. Heidi enjoys playing piano, singing, drawing, discovering new music and going on trips with her friends. Her favorite place on campus is sitting on Dickinson's iconic red Adirondack chairs on Morgan Field.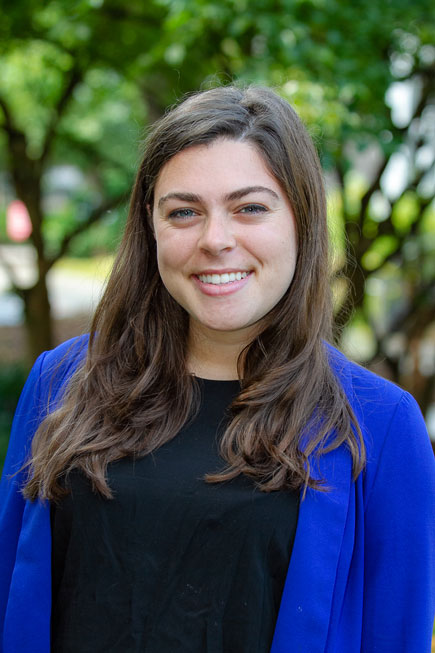 Sara Nash
Class of 2019
Hometown: Mansfield, MA

Major: Mathematics

Activities: Since her first year at Dickinson, Sara has been involved with admissions as a tour guide and in Student Senate focusing on student life initiatives and financial planning. She is also a Math TA, a First-Year Mentor and a member of Delta Nu. Some of the highlights of her Dickinson experience include studying abroad in Dunedin, New Zealand, and serving on the Presidential Search Committee that brought President Ensign to our campus.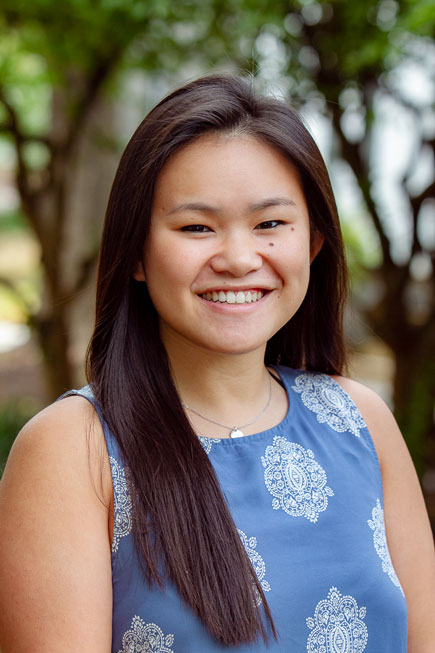 Lydia Orr
Class of 2019
Hometown: Lexington, VA

Major: Psychology

Certificate: Health Studies

Minor: Music Performance

Activities: Lydia is involved in the peer educator program with the Title IX office. She was a First-Year Mentor her sophomore year and a social justice peer educator. Lydia studied abroad in Copenhagen, Denmark. Off campus she has a work study job with the YWCA Carlisle After School Homework Club and she volunteers with the YWCA in their Sexual Assault and Rape Crisis program. Lydia also works with the Central Pennsylvania Youth Ballet. She enjoys iced chai lattes from the Biblio, working in the photography studio in Goodyear and petting every dog she finds on campus.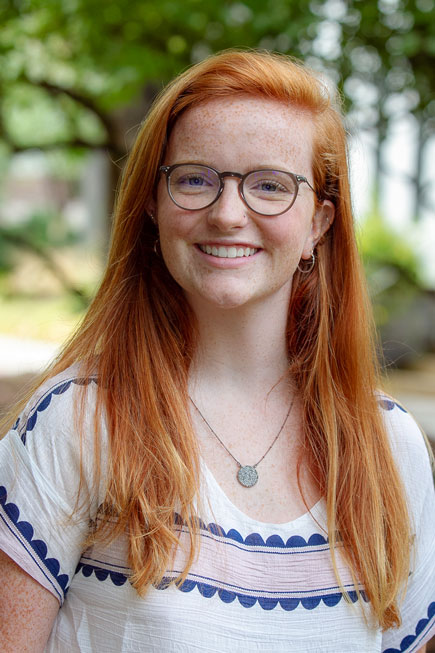 Maddie Underhill
Class of 2019
Hometown: Wellesley, MA

Major: Psychology

Minor: German

Certificate: Health Studies

Activities: Madison works as a TA for photography and a student worker in the mailroom. She studied abroad in the spring of 2018 in Dunedin, New Zealand, and studied psychology of language and forensic psychology. She is also a member of the Liberty Cap Society, an executive board member of the Outing Club and a member of Kappa Kappa Gamma sorority. Maddie also enjoys hiking, canoeing, camping and biking.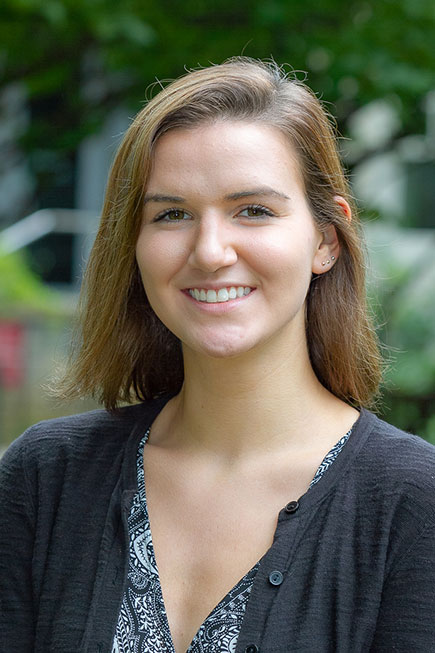 Shannon Bonner
Class of 2019
Hometown: Schnecksville, PA

Major: Biochemistry and Molecular Biology on Pre-Health Track

Activities: Shannon is captain of the women's varsity swimming team, sits on the executive board of Pi Beta Phi, is a member of the Liberty Cap Society and conducts student-faculty research in the biochemistry department. Shannon enjoys exploring all that Carlisle has to offer and taking study breaks with a coffee at Denim.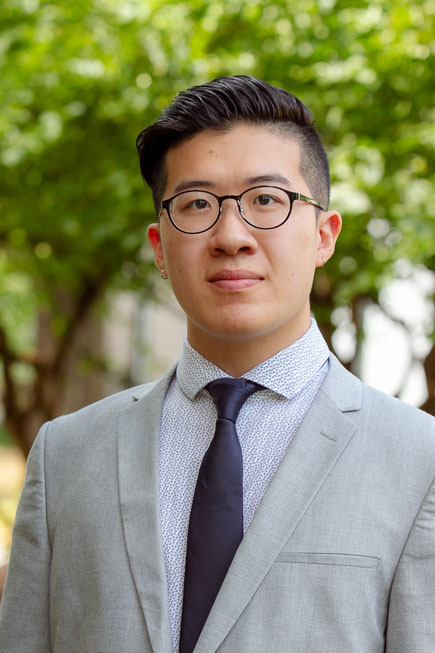 Duanduan Hsieh
Class of 2019
Hometown: Teaneck, N.J. and Taipei, Taiwan

Major: Art and Art History (Studio Arts Concentration)

Activities: Over the course of his time at Dickinson, Duanduan has been involved in the Liberty Cap Society and The Dickinsonian, in addition to his work as an international admissions intern. He also studied abroad in Rome, Italy, and had summer internships in Antwerp, Belgium, and New York City. During his senior year, Duanduan will be the admissions events intern and serve on the major committee of the Department of Art & Art History. He also is president of the Asian and Asian-American Collective. Duanduan enjoys reading on Morgan Field and hiking trails near campus.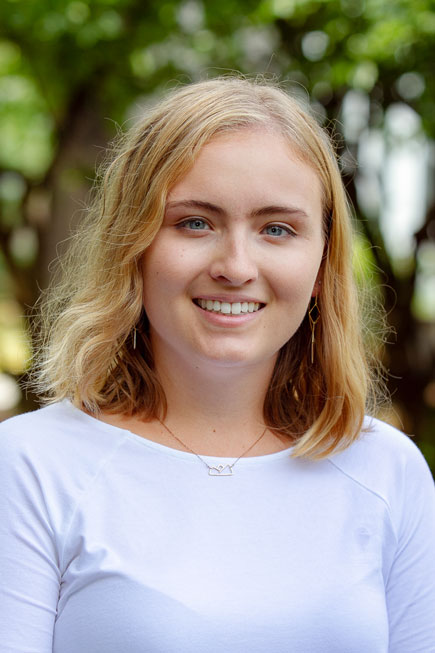 Caroline Snyder
Class of 2019
Hometown: Hilliard, Ohio

Major: Anthropology, Music

Activities: Caroline is First-Year Mentor, plays the trumpet in the Jazz Ensemble, is a member of Pi Beta Phi Fraternity for Women and is on the executive board of the Liberty Cap Society. When it's sunny, you can find Caroline doing homework on the Academic Quad in an Adirondack chair and at night jamming to music on the second floor of Weiss. She enjoys walking to the Carlisle Commons movie theater to watch movies with friends.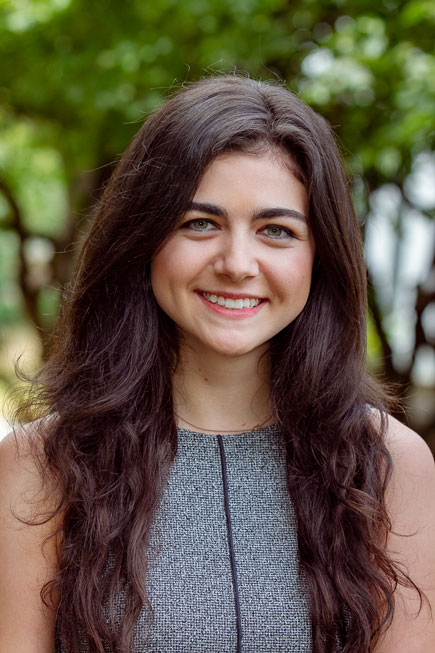 Brooke Castagna
Class of 2019
Hometown: Yonkers, NY

Major: Psychology

Certificate: Health Studies

Activities: Brooke intends to use her knowledge and passion of psychology and health to counsel and support children in the future. Besides her work as a student interviewer, Brooke serves as a Triton in the admissions office. She is a member of the Dog House and has taken classes at the Central Pennsylvania Youth Ballet. In her junior year she had the privilege to study abroad in Washington, D.C., where she interned for a nonprofit. You can frequently find her eating an apple fritter on the patio of the Quarry.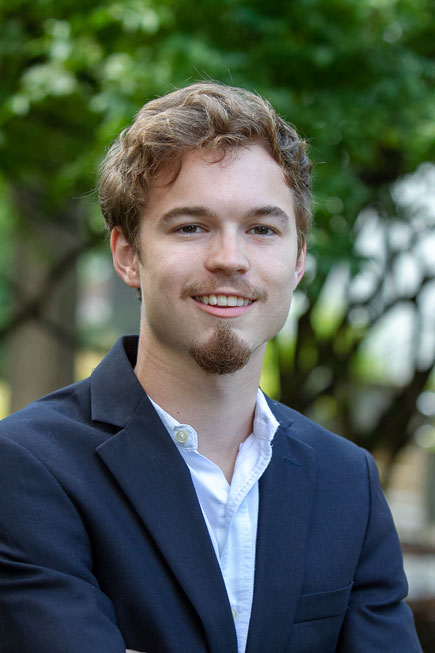 Kiernan Jordan
Class of 2019
Hometown: Woodbridge, Virginia

Major: International Studies with a focus on Security Studies

Minor: Russian

Activities: Kiernan is the captain of the men's varsity swim team and a first year mentor. He studied abroad during his junior year in Bologna, Italy, studying transatlantic relations and Italian art history. He is passionate about human rights and international security and is using his Dickinson education as a platform to expand his horizons about world issues around us. When he is not in the pool, you'll most likely find him in the library or on Morgan Field.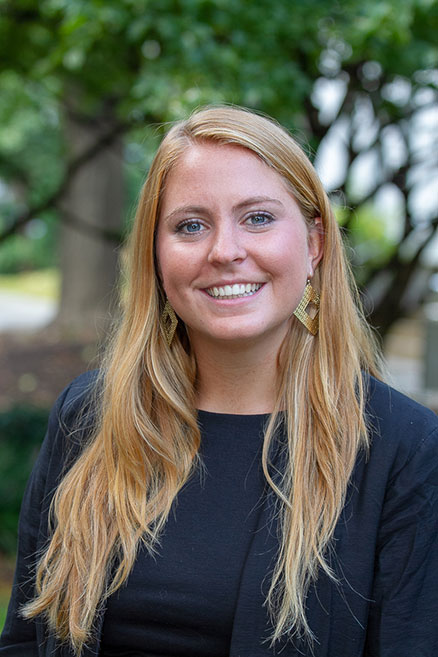 Dori Auslander
Class of 2019
Hometown: Pennington, New Jersey

Major: Educational Studies: Concentration in Teaching and Learning

Activities: Dori is the president of Kappa Delta Pi the Educational Honor Society on campus. She also is a First-Year Mentor and is a Liberty Cap Society tour guide. Additionally, Dori is vice president of Don't Conceal to Heal, a club working to decrease the stigma surrounding mental illness on Dickinson's campus. She's also involved in the Feminist Collective and tutors at a local middle school. You can find her sitting outside The Quarry drinking an iced coffee on nice days!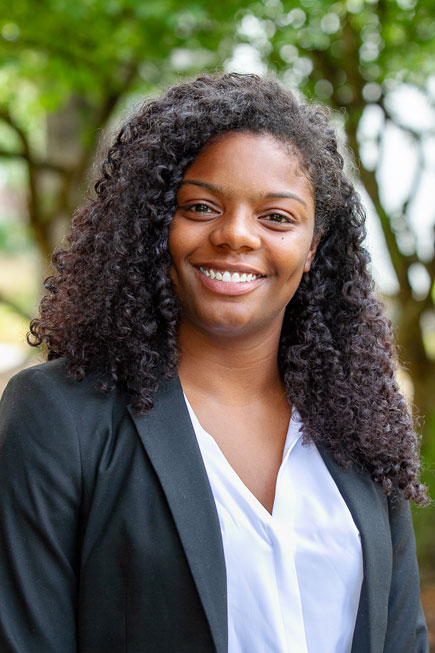 Naji Thompson
Class of 2019
Hometown: Piscataway, New Jersey

Major: : Africana Studies and Anthropology

Activities: Naji is a member of the Black Student Union and the track and field team. This year she also will be part the Wheel and Chain Honor Society, working as the house manager in the X House, Dickinson's house for black culture, serving as a Learning Community Coordinator for the Native American Histories and Carlisle First-Year Seminar and interning at House Divided.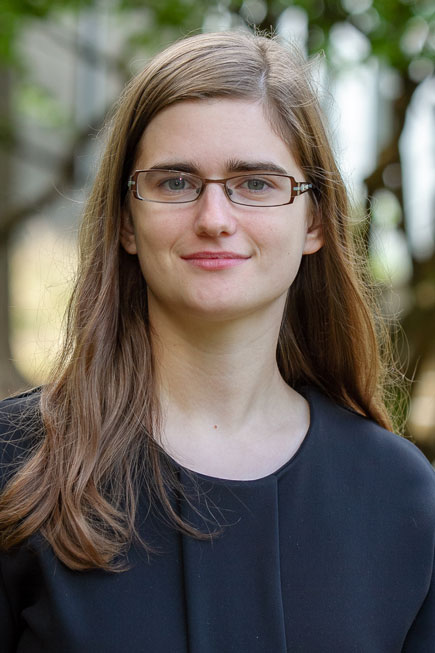 Nadia Tivvis
Class of 2019
Hometown: Baltimore, MD

Major: English

Activities: Nadia has returned to Dickinson after studying literature and history abroad last year at Mansfield College in England. She served as co-president of Belles Lettres Literary Society sophomore year and works in the Writing Center as a tutor and Writing Associate.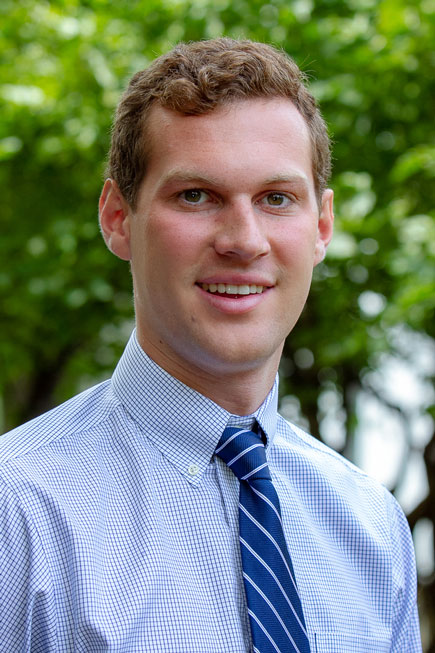 Hal Marshall
Class of 2019
Hometown: Radnor, Pa.

Major: Economics

Activities: Has is passionate about Dickinson College as both his mother and cousin also attended Dickinson. He is a four-year student-athlete on the men's lacrosse team. Last fall Hal studied abroad in Bologna, Italy. In his free time, Hal enjoys playing pickup basketball in the Kline Center and trying new restaurants in Carlisle.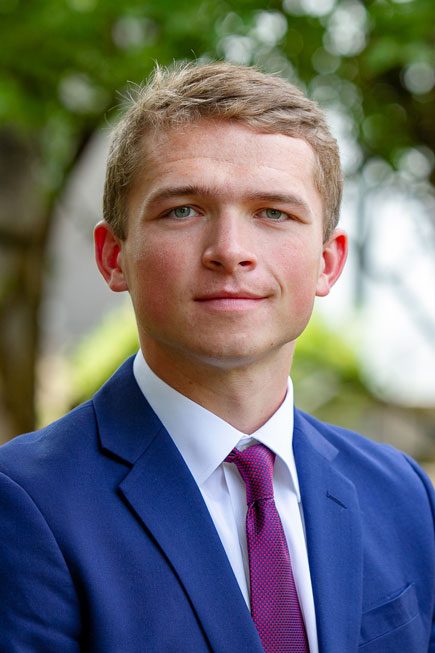 Duncan Hopkins
Class of 2019
Hometown: Lancaster, PA

Major: Political Science

Minor: Philosophy

Activities: Duncan is a member of the cross country and track & field teams at Dickinson. Recently, Duncan was tapped as a member of the Order of the Scroll and Key Honors Society. He also writes opinion pieces for The Dickinsonian and works as a student-assistant to his coach, Don Nichter.