Doorway to the Past, Bridge to the Future
Dickinson alumni are some of the most influential thinkers, leaders, artists and innovators in the world. They include CEOs and presidents; judges and congressmen; award-winning authors, musicians and actors; doctors, scientists and entrepreneurs who have been named to Forbes and Time magazine's "most powerful" lists; and thousands of others who use their Dickinson liberal-arts educations to make the world a better place.
To foster a brighter future for the college, our students and the world those students will serve and shape, Dickinson must better leverage the undeniable power of this alumni community as well as the college's extensive parent network. Though alumni have historically maintained strong pockets of affiliation through Greek organizations, academic programs and athletic teams, the college must translate those connections into stronger consistent engagement with Dickinson as a whole.
To do that, Dickinson is teaming with the wider community of alumni and parents to transform the Historic Presidents House into the John M. Paz '78 Alumni & Family Center.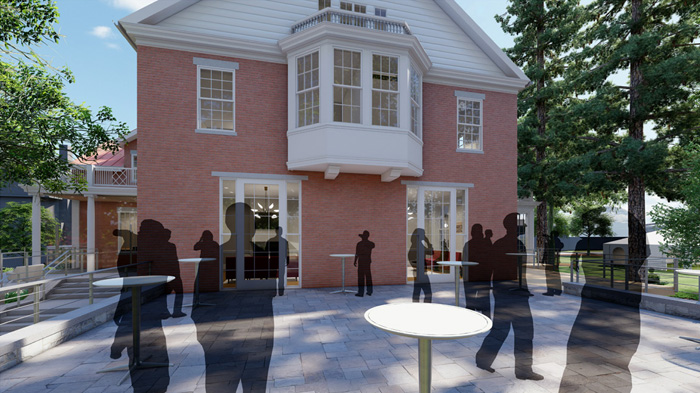 This architectural rendering of the exterior terrace highlights the space's potential for outdoor events and receptions.
The Purpose
By renovating the Historic President's House to create the John M. Paz '78 Alumni & Family Center, we will establish a permanent, centralized facility that reimagines what a welcome center can be. Useful, forward-looking and multifunctional, the new center will be evocative of Dickinson's past, present and future. It will:
provide a welcoming space for alumni and parents to visit campus to interact with students, faculty and college administrators
foster deeper connections between current students and alumni
strengthen the bonds between Dickinson's past, present and future
enhance the power of the Dickinson network
bolster the college's ability to attract VIP visitors
make a bold statement about our lifelong commitment to Dickinson alumni and families.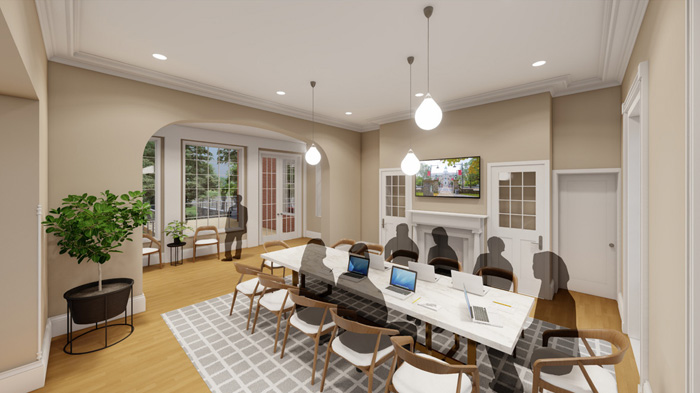 Plans include this first-floor meeting space as well as offices, event spaces, gathering rooms, suites and other spaces to foster engagement and collaboration.
The Plan
The Alumni & Family Center will bring together Dickinson students, faculty, alumni and families, and foster engagement and collaboration through:
events and seminars featuring alumni and parent experts
reunion and affinity group events
fireside chats with senior leaders and faculty 
lifelong-learning programs  
visiting family programs and services
The center will become an integral part of every Dickinsonian's lifelong Dickinson journey. Students will visit the center on their first campus tour. Once on campus, they will be invited back to network with alumni. After graduation this will be the first place they come when returning to campus to connect with alumni-relations staff, get updates on the college and attend events.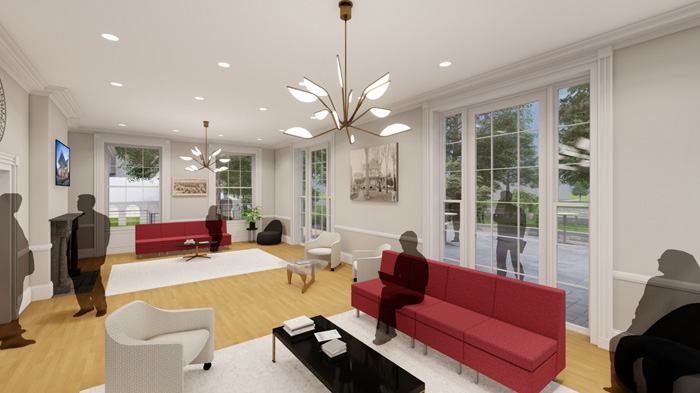 By strengthening existing bonds between alumni, parents, students, faculty and staff, donors supporting the Alumni & Family Center will provide a vital link between the college's past and future while helping Dickinson more broadly reimagine what a liberal-arts education can be.
The Need
Transforming the Historic President's House into the Alumni & Family Center requires significant renovations both to complete long-term maintenance issues (present since the facility stopped serving as the president's residence in 2016) and to transition the building from a residence to a multifunctional event space. These plans include:
renovating the first floor to serve as a reception area and providing interactive, multipurpose programmatic space
creating a new front entrance using universal design to ensure that all guests can access the house at the same entrance.
the lower level, first and second floors will now be accessible by elevator.
adding new accessible restrooms and a new accessible suite on the second floor.
upgrading or replacing the electrical and HVAC systems
providing flexible working space on the first and ground floors for those staffing the facility 
making the grounds more open and inviting    
renovating the second and third floors to include three guest rooms with en suite bathrooms as well as a conference suite with advanced interactive virtual-meeting technology to enable Dickinsonians anywhere in the world to engage with students
upgrading the kitchen to support programs.
For Dickinsonians, by Dickinsonians
The Alumni & Family Center will be entirely donor funded, because we know that the wider Dickinson community of alumni and parents are highly invested in this project.
The idea for the center grew out of a Revolutionary Challenge proposal for a new "Dickinson+" program submitted by Professor of Political Science Jim Hoefler and numerous Dickinson alumni and students. Though Dickinson+ included more than an alumni and family center, it first put forward the idea of converting the Historic President's House into a facility that would "provide quality opportunities for alumni to deepen their engagement with the college and with students."
The proposal generated significant interest from alumni who provided feedback during the Revolutionary Challenge review process. Additionally, when Hoefler engaged students in his 2019 Senior Policy Studies Seminar in assessing the best use of the Historic President's House, part of the reason they recommended converting it to an alumni center was based on survey responses that indicated numerous alumni supported the initiative.
Now, by stepping up to make this project a reality, alumni and parent donors will not only be providing a vital resource for their continued engagement with the college, but they will also be establishing a new state-of-the-art facility that enhances every current student's experience. Additionally, by creating a fund to cover ongoing maintenance and programming costs for the facility, donors will ensure that this facility always remains an enhancement to the Dickinson experience rather than drawing on the college's annual budget.
By strengthening existing bonds between alumni, parents, students, faculty and staff, donors supporting the Alumni & Family Center will provide a vital link between the college's past and future while helping Dickinson more broadly reimagine what a liberal-arts education can be. Furthermore, they help make a bold statement that this college belongs to its alumni and their families—that every Dickinsonian is a Dickinsonian for life.
(Note: the furniture depicted in the images above and below is not the final selected furniture for the center and is for demonstration purposes only.)
Thank you to the architects and general contractors who will bring this facility to life: Murray and Associates, Wagman Construction, H.B. McClure and BBEC.