Dear Dickinsonians,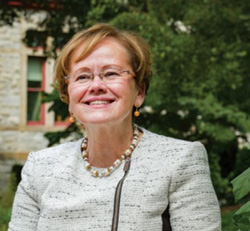 As we have worked to respond to the pandemic responsibly and ethically, we have faced challenges. Protecting the health of our students, faculty, staff, and local community members has meant making difficult decisions, with emotional and financial costs. Rest assured that those decisions were made from a position of strength and position Dickinson for continued strength in the future.
Thanks to careful financial planning, we have been able to weather losses in room and board, invest in remote-learning enhancements, deepen our commitment to financial aid and protect the more than 160 students who remained on campus by using budgeted reserves rather than drawing down on the endowment. Though the downturn in the stock market this spring means that the endowment ended the fiscal year (which closed June 30) slightly lower last year, we have already bounced back this quarter and can expect healthy financial returns in the future.
In addition, we remain future focused. The Revolutionary Challenge continues to move forward, and we've identified four finalist proposals for programs that will position Dickinson to take the lead in addressing today's challenges as well as tomorrow's. We recently launched a new program in Arctic studies, enhancing our commitment to global and sustainability studies. A new master's program Disaster management and response is also currently in the planning stages.
Our ability to innovate as we respond to these challenges of the pandemic underscores the crucial role donors like you play in Dickinson today and tomorrow. Your generous investment in the college through endowed gifts and other forms of philanthropy enabled Dickinson to make the right decision this fall. Whereas financial realities forced other schools to open, jeopardizing the safety of their communities, we were positioned to weather the storm with a remote semester that put the health of Dickinsonians above financial concerns. And for that, I and every Dickinsonian thanks you.
As you read through this report and see that the college remains in robust financial health, you will find stories of donors like yourself investing in scholarships, global education, faculty development and much more at Dickinson. You can also read the words directly from the students benefitting from those investments, describing what they love best about their Dickinson experiences—which all results from your generosity.
I hope that as you move through the report, you take pride in the impact of your philanthropy. We all know the old saying about challenges also being potential opportunities, and as we move forward together, we will prove that adage true. Your philanthropy allows us to turn our challenges into opportunities—to make our college even stronger, to help our students become future-ready leaders. I am so fortunate to witness the impact of your giving every day.
Sincerely,
Margee M. Ensign
President, Dickinson College

A Message from Carlo Robustelli, Vice President for College Advancement
Dear Dickinsonians,
On Oct. 1, 2020, I joined the Dickinson community as your new vice president for college advancement. I am looking forward to working with all of you to expand relationships and philanthropy, both of which continue to strengthen the foundation of this resilient and vibrant liberal-arts college. I am eager for the opportunities this position offers me to get to know many of you and to thank all of you for your commitment to Dickinson, its students and the common good we pledge to serve. In this moment, Dickinson's pillars of excellence are more important than ever.
Through the tumultuous uncertainty that 2020 has brought to all of us, Dickinson is encouraging everyone in the community to remain Dickinson Strong. Our strength lies in sound and steady leadership, expert faculty, deeply invested students, and supportive alumni and parents, all of whom are working in ways we couldn't have guessed necessary nine months ago to keep our mission clear, our successes many and our resources secure.
You are among a global Dickinson community that includes more than 11,000 annual donors who fuel that work. Because you support Dickinson, students who need increased financial aid and scholarship support receive it, faculty eager to engage students in research and discovery do it and students seeking to be of service at home and in Carlisle get to work. We are driven by our values because we understand that great communities don't happen by accident. They are built by people who are invested in their success. It is clear to me even as a newcomer to the college that while we face the challenging times that have disrupted our lives and impacted our community, we will come out of this strong and steady. Our strength comes from your support, and the future has never been brighter for Dickinson College.
Thank you for staying close to Dickinson. Through your generous investment in the college, the good work that defines the Dickinson experience continues now and, through Dickinson's endowment, always.
Please stay safe and healthy. Let us know if there is any way we can be of service to you in your philanthropic planning
Sincerely,
Carlo Robustelli
Vice President for College Advancement

Dickinson celebrates these recently established funds:
Marc Abbott '74 Memorial Scholarship Fund
Chris and Emily Cocores Family Internship Fund
Robert M. and Thomas S. Davis Endowed Scholarship
Friedman Family Fund
Sergeant Harry Goldberg ROTC Recreation Endowment
Dr. Louise Hauer Greenberg '54 Scholarship
Francesco Guccini Study Abroad Scholarship
Ernest E. Jones and Rae Scott Jones Scholarship
Lefever Sustainability Endowment
Gary Dennis Martz '78 Scholarship Fund
Dr. Randall R. Miller '71 Fund
Elvin E. Rawlins Endowed Scholarship
Manley and Helen Rockman Annual Scholarship
Edward F. Rockman '63 Scholarship Fund
Vincent Sheehy Annual Scholarship
Souerwine Fund for Quantitative Reasoning and Data Analytics