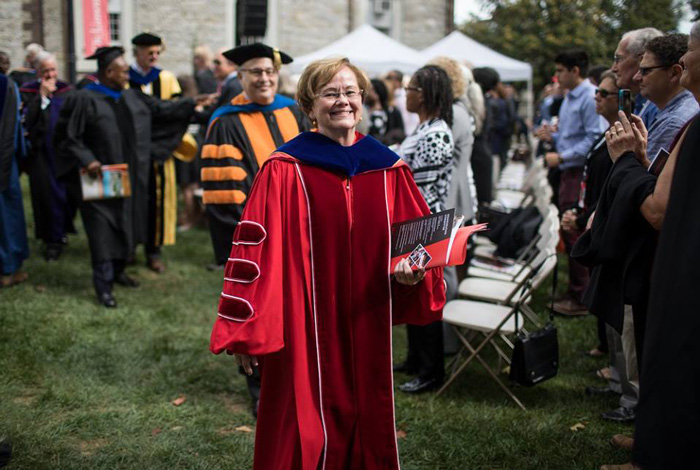 Dickinsonians, local community members and delegates from more than 60 colleges and universities celebrate the inauguration of Margee Ensign as the 29th president of Dickinson College.
The inauguration of
Margee Ensign
as the 29th president of Dickinson College
Saturday, October 7, 2017
at ten o'clock in the morning
on the John Dickinson Campus
of Dickinson College, Carlisle, Pennsylvania.
---
Inauguration Events
---
Thursday, October 5:
CIvic Engagement Celebration
5:30-7 p.m. HUB Social Hall
Join President Ensign in celebrating Dickinson's community partnerships, which foster learning and service for the common good. Learn about how Dickinson prepares students to become change-agents and how our Carlisle neighbors support students' development as engaged citizens. Hors d'oeuvres and refreshments will be provided.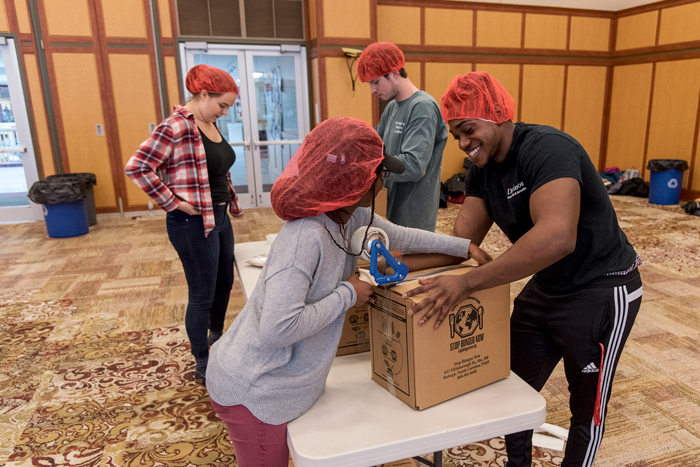 Friday, October 6:
Day of Caring
8 a.m.-1 p.m. Allison Hall and Service Sites
Join President Ensign and the United Way of Carlisle & Cumberland County in working toward the common good by volunteering for one of many service projects in the greater Carlisle community. To participate, please register at carlisleunitedway.org/day-of-caring.
First Friday
5-8 p.m. Downtown Carlisle
Get out into the local community for a fun evening of art, music, dance and other live performances. Support local businesses and learn more about the community partners who have opened their doors to host Dickinson student and faculty performances.
Performance Schedule
5-5:45 p.m. – Acapella Concert at Carlisle Theatre, 40 W. High St.
5:30-6 p.m. – eXiled Poetry at Square Bean, 25 W. High St.
5:30-6:30 pm. – Quidditch Club, Weiss Center Lawn
6-6:30 p.m. – Dickinson dance groups (Anwar, DTG, Synergy, Hypnotic) at Bosler Memorial Library, 158 W. High St.
8-9 p.m. - Dickinson Faculty Jazz Ensemble, Carlisle Theatre, 40 W. High St.
Arts for the Common Good Symposium
6:30-7:30 p.m. Rubendall Recital Hall & Trout Gallery
Dickinson's arts programs invite you to enjoy an evening of selected performances and presentations from faculty and students that respond to Dickinson's mission "to prepare young people, by means of a useful education in the liberal arts and sciences, for engaged lives of citizenship and leadership in the service of society."
Students and faculty who engage in the wider world, confronting both immediate and emerging problems, seeking and finding new solutions, acquiring the necessary skills to shape a viable future for us all.
---
Saturday, October 7:
Inauguration Ceremony
10-11:30 a.m. John Dickinson Campus
(Rain location Anita Tuvin Schlechter Auditorium)
The Board of Trustees invites you to the inauguration of Margee Ensign as the 29th president of Dickinson College.
Campus Expo
1:30-3 p.m. Sites Across Campus
Campus Expo
Visit academic departments and centers across campus to experience how our expert faculty and staff illuminate the academic program and embolden our students to be change agents in the local, national and global communities.
How ALLARMing! Come learn about Dickinson's nationally renowned citizen science program (Alliance for Aquatic Resource Monitoring) and the techniques communities use to assess stream health throughout the region!
Meet staff from the Career Center and learn how they teach Dickinson students and alumni how to make and execute career decisions and connects them to appropriate career opportunities.
Center for Global Study and Engagement: Come engage with Dickinson's global campus. Expand your knowledge about the countries, cultures and languages that make up our community here and abroad while tasting delicious food from around the world.
Center for Sustainability Education: The Hive, Dickinson's Bee Cooperative, works to improve native bee and pollinator habitat at Dickinson and beyond. Come to this hands-on demonstration table to learn about the efforts of the Dickinson's newest cooperative living laboratory. Visitors can learn about campus pollinator gardens, work on Dickinson's new habitat structures or build their own take-home native bee habitat to help their backyard bees.
Beginning at 2 p.m., students and faculty from the Creative Writing Department will read from their work. There will be time after for informal conversation.
Dickinson Admissions Volunteer Society (DAVS): Learn how you can share your enthusiasm for the college and its distinctive programs with prospective students and their families.
"Are you smarter than a Dickinsonian?" come find out and meet faculty and students from the Educational Studies Department.
A guided tour by the English Department of Dickinson's new collection of Harlem Renaissance materials.
Enjoy some popcorn, view student projects, and meet with faculty and students of Film Studies.
French Department showcases artifacts from Morocco, Cameroon, Senegal, Haiti, and France while enjoying French crêpes along with Nutella and confiture.
Meet with German department faculty and students while enjoying German pastries.
History in the Archives: Talk with history faculty, to view the historical holdings in the archives, and have online access to the Carlisle Indian School.
Playing with Balloons: A Hands-On Approach to Understanding Marginal Analysis presented by Professor Steve Erfle and co-hosted by the Economics and International Business and Management Departments
Join the Italian faculty for an Espresso Making demonstration & Italian Lessons.
Landis House is home to five diversity & inclusion offices, including the Center for Service, Spirituality, and Social Justice (CSSS), the Office of LGBTQ Services, Popel Shaw Center for Race & Ethnicity (PSC), Prevention Education and Advocacy Center (PEAC), and the Women's and Gender Resource Center. Drop in to meet the staff, tour the house, and learn more about the dynamic work of these offices!
Latin American, Latino & Caribbean Studies, Portuguese and Brazilian Studies: Enjoy Latin American sodas and snacks while learning about student-faculty research.
Join faculty from the Physics and Astronomy Department on the roof of Tome to learn about research conducted by a Solar Air Heater and in the Optics Lab.
Enjoy a tasting of traditional Russian zakuski (appetizers) and demonstrations of the Cyrillic alphabet by students.
Science: Meet faculty and students from Biology, Chemistry, Psychology, & Neuroscience and learn about current research projects.
Hispanic & Latino Heritage Month Celebration: Stop by and meet department faculty, Spanish language majors and exchange students from our Dickinson overseas programs. Enjoy ethnic treats, like tortilla, palmeritas, plantain and cultural music.
Art Chats at The Trout! Stop by The Trout Gallery to learn about current exhibitions on campus and in the community. Student Docents will be on hand to chat about art on view and answer questions about what it's like to work in a campus art museum.
Enjoy the sounds meet the voices of WDCV.
Campus Inauguration Celebration
8-10 p.m. HUB Social Hall
Dickinson's commitment to serve the common good unites us as a community. Join us as we celebrate this exciting chapter in our history with live music, dancing and refreshments!
Exploring new ideas and listening to others who challenge our beliefs, our values and our world views is at the heart of academic life.
---