April 4, 2018
Join this campus walking event that will highlight historical and book-focused places on campus and the Carlisle community. The walk is an estimated 3000 steps - approximately 1.3 miles total.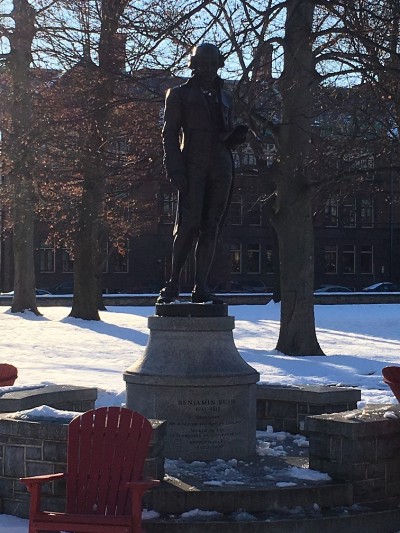 National Walking Day: Wednesday, April 4 Historical Book Walking Tour
Hosted by Brenda Bretz, VP for institutional effectiveness & inclusivity
Meet at the Benjamin Rush Statue: 11:45 a.m.
Walking: noon-1 p.m.
There are countless physical activities out there, but walking has the lowest dropout rate of them all! The American Heart Association is hosting National Walking Day* on April 4, 2018. On this day and all days, everyone is encouraged to lace up their sneakers and take at least 30 minutes out of their day to get up and walk. Take a break from your regular routine and get out to enjoy the fresh air and sunshine, take a walk with family, friends and colleagues – or stretch your legs over your lunch break by taking a walk! This walking event will highlight historical and book-focused places on campus but will also include some community spaces on West High Street and East Pomfret Street. The walking tour will be approximately 3000 steps and should take 45-60 minutes overall. Employees may register now for the Historical Book Walking Tour in Totara via the Gateway: Enroll in the Spring Into Fitness Challenge course, then "sign-up" for this event. Students should send an email to pre-register for this event – or simply join us at the Benjamin Rush Statue!
Further information
Location: Meet at the Benjamin Rush Statue between 11:45 AM and 12:00 PM
Time: 12:00 pm - 1:00 pm
Cost: Free