December
Continuing Exhibitions
Through Feb. 17 - William Kentridge: Universal Archive and Journey to the Moon
The Trout Gallery, Weiss Center for the Arts
Gallery hours: Monday-Saturday, 10 a.m.-4 p.m.
In Universal Archive, internationally acclaimed South African artist William Kentridge (b. 1955) revisits images that appear frequently in his work—coffee pots, typewriters, cats, trees—through a sequence of prints that progress gradually from identifiable forms to seemingly abstract marks. The images are printed on dictionary pages, which juxtapose creativity with authoritative text to examine the nature of rational thought and knowledge construction. This exhibition was organized by the Gund Gallery at Kenyon College and is made possible, in part, by contributions from Alva Greenberg, the Gund Gallery Board of Directors and the Ohio Arts Council. Complementing Universal Archive, Kentridge's live-action/animated short film Journey to the Moon will be projected continuously in the gallery. William Kentridge's films are provided courtesy of Marian Goodman Gallery, New York/London.
Through Feb. 3: Rachel Eng: Irreversible Results
The Trout Gallery, Weiss Center for the Arts
Gallery hours: Monday-Saturday, 10 a.m.-4 p.m.
This exhibition investigates the phenomenal aspects of the natural world and also responds to our current climate situation. Using different materials—some with inherent meaning and others transformed—the pieces in this exhibition question our human curiosity, empathy and potential for change. Rachel Eng is Dickinson's newly appointed assistant professor of ceramics.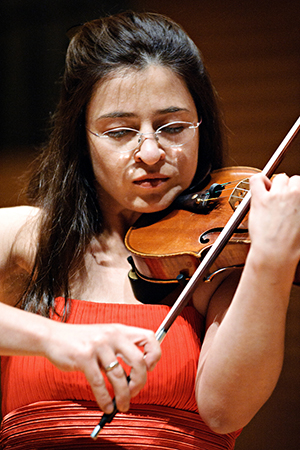 Blanka Bednarz
Friday, Dec. 1, 7 p.m.
The Dickinson College Orchestra
First Evangelical Lutheran Church, corner of Bedford and High streets
The Dickinson College Orchestra (Robert Pound, director) will perform the first Szymanowski Violin Concerto, with faculty soloist Blanka Bednarz, and Beethoven's Seventh Symphony.
Learn more
Saturday, Dec. 2, 8 p.m.
Sunday, Dec. 3, 8 p.m.
Freshman Plays
The Cubiculo, 40 W. High St.
The Department of Theatre & Dance and the Mermaid Players present an evening of one-act plays directed by students in the theatre & dance program.
Learn more
Tuesday, Dec. 5, 7 p.m.
Dickinson College Concerto Competition
Rubendall Recital Hall, Weiss Center for the Arts
Students in Dickinson's performance studies program compete for the opportunity to perform as a soloist in the Dickinson College Orchestra's spring concert.
Learn more
All events are open to the public and are free, unless otherwise noted. Events listed in the Calendar of Arts are subject to change. Please contact the appropriate department prior to an event to confirm that it will take place as listed.