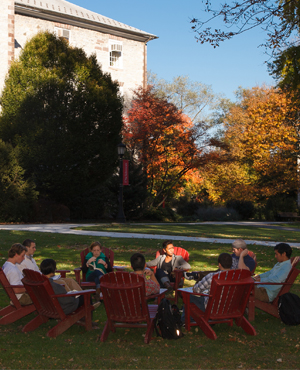 The advising process at Dickinson is designed to support and assist you on the unique path that you will take in earning your degree. You have the responsibility to carefully prepare yourself for your Summer Advising call, and to complete all necessary placement exams before you speak with the summer advisor.
Course Planning for First-Year Students
In addition to your First-Year Seminar, you will be requesting three more courses (for a total of four), which is considered a normal full-time load for the semester. An additional half-credit course (certain music, dance or military science classes) may be added to your four courses each semester.
The following guides will help you prepare for your call with the academic advisor as it relates to guidelines to consider when initially selecting courses:
Course Request and Selection
You will receive a phone call from a Summer Advisor a date based on your last name. Calls will be made Monday-Thursday, July 14-17, and can be expected between noon and 8 p.m., EDT; calls on Friday, July 18, will be made between noon and 6 p.m., EDT. Ideally, you will be at a computer with Internet access during the call.

Summer assignments based on last name:
Monday, July 14: A-E
Tuesday, July 15: F-K
Wednesday, July 16: L-Q
Thursday, July 17: R-S
Friday, July 18: T-Z

After speaking with your summer academic advisor, first-year students will have the opportunity to request courses July 21-28. Course requests take place within the Dickinson Gateway. It is important that you have your alternate PIN and Course Request Instructions to show you how to request classes for the fall.

If you missed your summer advising call, please call the Summer Advising Office at (717) 245-1997 Monday 7/21-Friday 7/25, noon- 6 pm or Monday 7/28, noon- 4 pm EST.
International students and U.S. citizens living abroad will not receive phone calls during the times indicated. Instead, they will be contacted via their Dickinson e-mail account during first two weeks in July to begin the advising process. This is ideally accomplished through a Skype call scheduled in advance. If that is not possible, an exchange of emails with a summer advisor will help you focus on the best courses for you. Students should monitor their Dickinson e-mail and begin thinking about the courses for which they would like to register. Once these courses are reviewed and discussed, the alternate PIN will be e-mailed to the student, and the student will enter courses during the course-selection time period.
Questions about Summer Advising (or to provide us with a cell phone number or let us know that the day you are scheduled for your call will not work) should be directed to summeradvising@dickinson.edu.
Additional course selection information concerning AP, transfer credits and placement can be found on the Tools and Tips page.
Additional Information

Generally the advising and registrar's Web pages will become useful resources throughout your years at Dickinson and beyond. The following specific pages may also be of interest to you:
Choose a single (or more than one) Subject from the Subject menu
From the Attribute Type menu, click on the type of course you wish to find-example, Writing Intensive, Film Studies Elective, FLIC, etc.
Click on the Class Search Button. This will return a list of all courses (or all within the specified subject) that havethe chosen attribute.
If you are a student with a disability seeking any type of academic accommodation and you have not yet disclosed your disability, it is critical that you do so right away through Disability Services.
If you have questions about any of this information, someone is available to help by contacting:
Advising Office
Phone: 717-245-1080
advising@dickinson.edu
Registrar's Office
Phone: 717-245-1315
reg@dickinson.edu

Summer Advising Office
Phone: 717-245-1997
summeradvising@dickinson.edu