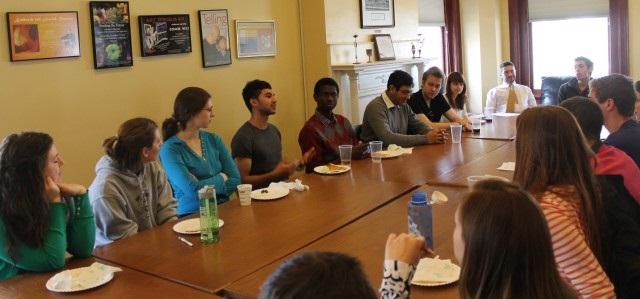 "Leaders of Dickinson's Religious Life student groups gather for a discussion on various interfaith topics and issues."
There are many student groups on campus that are religiously organized. Please contact individual groups for more information, event schedules and meeting times.
This information is also available in brochure form through Religious Life Groups (pdf form).
Buddhist Meditation
Join us for Buddhist meditation (Zazen) followed by a time for group discussion every Monday 7 p.m. in Allison Hall Interfaith Sanctuary. Every third Monday of the month we offer a full community Liturgy. This includes incense offerings, chanting and Dharma talk. For more information email csss@dickinson.edu or call 717-245-1577.
Dickinson Christian Fellowship
A part of InterVarsity Christian Fellowship, this group meets for worship weekly on Monday evenings at 6:45 p.m. and has several small group Bible studies each week.
Contact: dcf@dickinson.edu
Hillel is a Jewish Organization for the Dickinson College community dedicated to providing opportunities for religious observance, cultural awareness and Tikkun Olam (Community Service).
Contact: hillel@dickinson.edu
DiscipleMakers Christian Fellowship
DiscipleMakers Christian Fellowship is a group of Dickinson students committed to open dialogue about Jesus Christ. We aim to form genuine friendships together around the person and message of Jesus Christ. For the seeker, the atheist, the skeptic, the curious, those hurt by religion, and Christians. For more information visit: http://dickinson.dm.org/.
Contact: disciplemakers.dickinson@gmail.com
Meditation and Chanting with Bhante Soma
Join us for meditation and discussion sessions with Bhante Soma. 1st, 2nd, and 4th Thursdays of the Month. 7pm in Allison Hall. Dress comfortably, no previous experience required. For more information or to be added to the Blue Lotus Temple mailing list, email bluelotustemplepa@gmail.com
Muslim Student Association
This group of students of the Muslim faith build community and understanding of the Muslim culture and religious traditions through holiday celebrations, small group gatherings and club meetings. This is a reorganizational year to bring MSA back into the fold of active student Religious Life groups on campus. Transportation is available to the Islamic Peace Center for Friday services at 1:15 p.m. Interested in learning more about what is happening? Check out their calendar of events to learn more. Contact: msa@dickinson.edu
Check out a new video from MSA.
A very active group of Catholic students who meet periodically for fellowship outside of weekly Mass. Father Don Bender, in conjunction with our local parish, St. Patrick chruch, is available to meet outside of confession. Please contact him directly at (717) 243-4411 ext. 110 to schedule a mutually convenient time.
2016-17 Catholic Mass Schedule
Contact: newmanc@dickinson.edu