Addressing Mail to Campus Staff & Offices
Please address letters or packages to campus offices in the following way: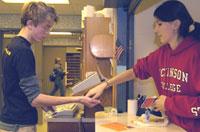 For First Class Mail
Name
Dickinson College/Department Name
PO Box 1773
Carlisle Pa 17013
For All Overnights UPS, DHL, and FED-EX
Name
Dickinson College/Department Name
28 North College Street
Carlisle Pa 17013
All Ground Deliveries are made to
Dickinson College
5 North Orange Street
Carlisle PA 17013

All mail should be sent to one of the addresses stated above. Dickinson has a centralized delivery system and no mail or packages can be delivered to a physical office or department location.

Addressing for student mail is different and can be found under the Student Mail Room.
FAS Mail Center Hours:
Monday - Friday
9 am - 4:30 pm
Phone: 717 245-1210

Student Mailroom Hours:
Monday - Friday
9 am – 6 pm
Saturday
10 am – 2 pm
Phone: 717 245-1298

Package Pickup:
Monday - Friday
10 am- 6 pm
Saturday
12 pm - 2 pm
Phone: 717 245-1973

All offices are CLOSED on Sunday
Hours may vary during exams, breaks and holidays