Types of Mail
Incoming Mail
Mail is picked up at the Carlisle Post Office once a day at 8:30 a.m.
Other carriers (UPS, Fedex, etc.) deliver mail at various times during the day. You will be notified of their arrival or the package will be delivered to your department/office in the afternoon.
Campus Mail Deliveries
Campus mail is delivered once a day to each office/department. Exceptions to this rule could occur during the summer, over a postal holiday, inclement weather or campus occurrences that would hinder the mail delivery.
Packages that are processed are delivered in the afternoons.
Outgoing Mail
USPS outgoing mail leaves the mail center once a day at 3:30 p.m. Monday-Friday.
UPS leaves around 4:00 p.m.
Fedex's must be in the FAS Mail center by 3:15 p.m.
All departmental outgoing mail must have their postage number displayed on each piece of mail, unless rubber banded. Then the postage number can be put on the top piece of mail.
The postage number should be displayed around the return address.
Mail without postage numbers will be returned to the office/department.
Sealing
All flaps must be down for the postage meter to seal.
Envelopes over ¼ inch must be sealed before coming to the mail center.
Envelopes classified as a flat must have the flap on the long side at the top of the envelope for the postage meter to seal.
Flaps at the side must be sealed before coming to the mail center.
Invitation envelopes must be sealed before coming to the mail center.
Intra-Office Mail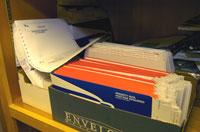 All intra-office mail must have:
The recipient's name PRINTED clearly.
Name of the office where the recipient is located.
Please cross off all previous names and departments/offices so we clearly know the person and destination of the inter-office piece of mail.
International Mail
Outgoing international mail must be kept separate from the domestic mail by rubber banding the air mail pieces or using a paper clip.
When addressing International mail, the address must be in English and the country must appear on the bottom line of the address.
All packages, unless a document less than one pound, must be accompanied with the proper custom form:
Green form (PS Form 2976, January 2004) – less than four pounds
White form (PS Form 2976-A, October 2007) – more than four pounds

Each customs form must be completed:
Sender's name and address
Addressee's name and address
Specific detail under contents
Specific costs under value
Check how mail is being sent
Check type of mail
Sign and date
Mail Forwarding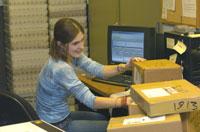 If a faculty, administrator or staff member leaves the college, their former department/office is responsible for forwarding their mail. You may forward all first class mail and magazines free of charge. You cannot forward standard mail or non-profit mail, but if an auxiliary service is requested, you may do this at no charge.

When forwarding, block out all barcodes with a permanent black magic marker. Black barcodes are on the address side and the orange fluorescent bar codes is on the opposite or backside of the mail piece. Both of these bar codes need to be blacked out.

The new address label should cover the old address. Do not cover the name, just the address.
Mail Returns
Mail cannot be opened if you want to return the mail piece or package at no additional cost. Endorse with "Return to Sender." If you want to cancel a subscription with the return, write Cancel under the "Return to Sender."
FAS Mail Center Hours:
Monday - Friday
9 a.m. - 4:30 p.m.
Phone: 717-245-1210

Student Mailroom Hours:
Monday - Friday
9 a.m. – 6 p.m.
Saturday
10 a.m. – 2 p.m.
Phone: 717-245-1298

Package Pickup
Monday - Friday
10 a.m.- 6 p.m.
Saturday
12 p.m. - 2 p.m.
Phone: 717-245-1973

All offices are CLOSED on Sunda.
Hours may vary during exams, breaks and holidays.