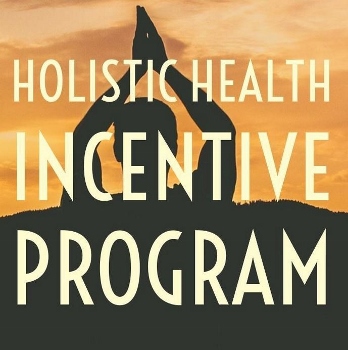 Wellness@Dickinson Incentive Program
The Wellness@Dickinson Incentive Program (WIP) is being offered to all full-time and part-time employees of Dickinson College. The details of the incentive reward program for 2017-2018 will been announced soon, and will include lots of exciting healthy reward options! The first two steps to qualify for the incentive this year will continue to be completion of the biometric screening and the health risk assessment. Completing these two programs is part of the requirement to qualify participants at the Engaged level of the program.
Employees are able to earn incentive* rewards through their participation in each component of our wellness programming. Your Wellness@Dickinson participation can be tracked throughout the year on the Healthy Rewards Tracking Form, and should be entered into the Wellness@Dickinson 2017-2018 Healthy Rewards Incentive reporting form at the end of the spring semester in May 2018. Details and descriptions of the WIP program requirements will be shared soon. For questions or information about registering in the new online Totara portal, please send an email or call Human Resource Services at (717) 254-8084.
*Please note: The IRS considers incentive rewards, awards and gifts to employees as taxable income.
The 2017-2018 Professional Development & Wellness programs are viewable in our monthly issues of Vitality, or in Totara via the Gateway! To support the sustainability initiative, we do not produce printed copies of our program catalog. For questions about the employee wellness or professional development programs, please send an email to devwell@dickinson.edu.
Fitness Reimbursement Programs
Aetna Fitness Reimbursement Policy
As of July 1, 2017, all full-time employees, spouses and dependents (ages 18-26 years) are eligible for up to $360 in fitness expenses reimbursed during each fiscal year (July 1 through June 30), including monthly fitness center membership fees, weight management programs, group exercise class fees, personal training fees, nutrition counseling fees and exercise equipment purchases. To request and submit for reimbursement, employees must register online via the Aetna Navigator portal for the Fitness Reimbursement program under GlobalFit fitbucks rewards. Eligible participants may submit expenses up to a maximum of $360 (Aetna plan limit) during the year. Payments are processed and reimbursed quarterly until your plan limit is met. Participants must submit a reimbursement request within 90 days of the end of your plan term, which runs July 1 through June 30 coinciding with the academic/fiscal year. To receive a timely reimbursement of fitness expenses, please submit your requests online by the following suggested processing deadlines for each quarter:
January-March: March 15
April-June: June 15
July-September: September 15
October-December: December 15
Reimbursement of submitted expenses may take 4-6 weeks from the suggested submission deadlines shown above. Full-time employees who are not participants in the Aetna medical insurance benefit may submit fitness reimbursement requests to Human Resource Services.
*Part-time employees hired prior to July 1, 2017 may continue to submit gym membership reimbursement requests directly to Human Resource Services up to the maximum of $360 per fiscal year. All part-time employees are eligible to participate in on-campus wellness programs.