A Resource for Financial Sustainability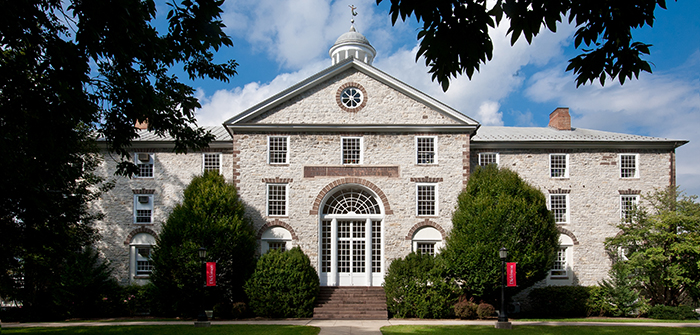 Dickinson College has an endowment valued at $415 million as of February 28, 2014. The majority of the endowment funds, $342 million, are invested by the college with Investure, LLC, while the balance is mostly held in trust by others. Investure manages pooled assets of approximately $10 billion on behalf of Dickinson and other clients. The pooled assets are invested in both public and private equity by a group of core managers with which Investure has long-standing relationships.
Responding to requests made by Dickinson College and other clients, Investure created in 2010 the Sustainability Series of the Investure Global Equity Fund. The new fund provides an investment vehicle that coincides with the triple-bottom-line philosophy of balancing social, environmental and economic objectives. Sectors targeted for investment include renewable energy, energy storage, LEED-certified real estate, water conservation and greenhouse-gas emission reduction. Dickinson has allocated approximately 1% of our pooled endowment, or $3 million, to the Sustainability Series Fund.


Equity positions held by Investure for Dickinson include firms engaged in the fossil energy sector (4.4% of the total fund) and renewable energy (4.5% of the total fund). Adding the latter to our investments in the Sustainability Series brings our total position in renewable energy and other investments that support sustainability to 5.5%. Members of the Dickinson community have raised questions about our investments in fossil energy. They are topics of active discussion on campus.

HOW ARE EQUITIES ARE IDENTIFIED AS FOSSIL OR RENEWABLE ENERGY?

A portion of our endowment is reserved to support sustainability-related activities. Specifically, $7.8 million is dedicated to support the Walter E. Beach Chairs in Sustainability, currently held by Professor Candie Wilderman and Professor Ash Nichols. In addition, a reserve of $2.4 million endows a faculty position on environmental health in the environmental studies department and the Sustainability Education Fund. The latter fund is used to make grants to Dickinson faculty in support of curriculum development, professional development and student-faculty research projects that advance sustainability learning.