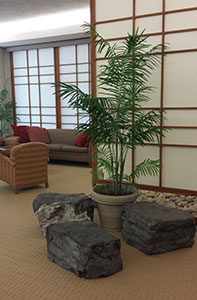 The East Asian Studies Reading Room is located on the upper level of Waidner-Spahr library. With its beautiful design, and rice paper accents, this room is one of the best places on campus to read. The comfortable furnishings, conference table, and updated technology also make it a popular location for classes to meet (capacity 16).
Collections
The East Asian Studies Reading Room is a classroom evocative of East Asian culture and a special library that features works of literature written in Chinese and Japanese.
Programming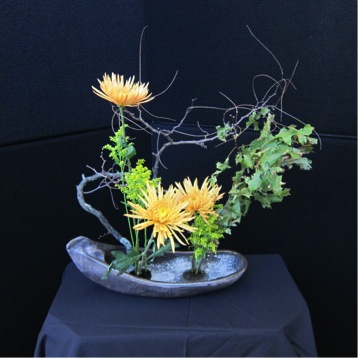 Programming in the room includes meetings, small group lectures, and meditation sessions. It's often used as a filming and interviewing location for the campus marketing and communications department.
A rotating book display area has been created to highlight library resources relevant to East Asian culture and the environment.
To reserve the East Asian Studies Reading Room for a meeting or event, complete the Event/Exhibit Proposal form https://dickinson.libwizard.com/f/Lib_Event-Exhibit_Proposal.
Hesung Chun Koh '51
Dr. Hesung Chun Koh is Co-Founder, Chair and President Emerita of East Rock Institute (ERI), the nation's first institution dedicated to Korean and Korean Diaspora culture. She is also Director Emerita of Research at the Human Relations Area Files (HRAF) at Yale University. As a researcher, teacher, writer, social activist and artist, Hesung dedicated the past sixty years to ERI and mentored countless students and parents from both Korean and non-Korean universities even after her retirement from Yale.
Dr. Koh received a B.A. in Economics and Sociology from Dickinson College. In 2000, with friends and family in attendance, Koh officially dedicated the East Asian Studies Reading Room on the second floor of the Waidner-Spahr Library. The room, which symbolizes her and her late husband's lifetime commitment to Dickinson, was made possible by a grant from Koh, her late husband and family.
Hesung Chun Koh Bio. (n.d.). Retrieved October 7, 2014, from http://www.icasinc.org/bios/koh_hc.html