Hesung Chun Koh '51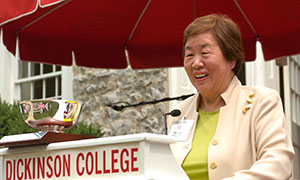 Dr. Hesung Chun Koh '51 was the recipient of Dickinson's Professional Achievement Award during Alumni Weekend in 2005.
Biographical information from the Institute of Corean-American Studies.
Hesung Chun Koh Bio. (n.d.). Retrieved October 7, 2014, from http://www.icasinc.org/bios/koh_hc.html
Dr. Hesung Chun Koh is Co-Founder, Chair and President Emerita of East Rock Institute (ERI), the nation's first institution dedicated to Korean and Korean Diaspora culture. She is also Director Emerita of Research at the Human Relations Area Files (HRAF) at Yale University. As a researcher, teacher, writer, social activist and artist, Hesung dedicated the past sixty years to ERI and mentored countless students and parents from both Korean and non-Korean universities even after her retirement from Yale.
Dr. Koh received a B.A. in Economics and Sociology from Dickinson College. She continued her education at Boston University, where she studied Sociology and Anthropology, earning both an M.A. and a Ph.D. Koh also received interdisciplinary training in planning of change and worked as a fellow and faculty member at the University's Sociology Department and Human Relations Center. She conducted her post-doctoral work in Chinese Studies as a National Defense Education Act (NDEA) Fellow at Harvard University and Georgetown University.
Koh also taught and conducted research at Albertus Magnus College, Yale University, Yale Law School, the National Museum of Ethnology in Osaka (NME) and the International Research Center for Japanese Studies in Kyoto, Japan. Co-teaching East Asian Law and Society at the Yale Law School from 1963 to 1966, Hesung became the first Asian woman to teach there. She served concurrently on the faculty of the Yale Department of Sociology from 1961 to 1985, teaching various courses on Korean culture.
Koh has dedicated much of her life to inspiring cross-cultural dialogue. She has authored ten books and nearly a hundred articles, including her bestseller books on "Authentic Leadership" and "Authentic Women's Leadership" which were translated and published in Tokyo, Taipei and Peking. In addition, Hesung developed the cultural information system at HRAF, Yale and ERI with grants from the National Science Foundation (NSF) and Overseas Koreans Foundation (OKF). Through ERI, she pioneered in studies of Korean diaspora in 1970s and compiled and edited the first comprehensive book on the Korean Diaspora and launched the first and only scholarly journal on Korean and Korean American Studies (1984-2009). Hesung organized and sponsored many international conferences over the years on the Korean Diaspora, Korean culture through arts (films, music, dance), and authentic traditional clothing, and on the theme of "Diaspora, Design and Globalization: Toward a Virtual Diaspora Museum."
Dr. Koh's passion for knowledge, public service and activism has been recognized through numerous awards in Korea and the United States, including the Order of Civil Merit (the Republic of Korea's highest award to a civilian) and the Connecticut Governor's Award.
In 2000, Koh fulfilled a promise she and her late husband Dr. Kwang Lim Koh made soon after her graduation from Dickinson in 1951. With friends and family in attendance, Koh officially dedicated the East Asian Studies Reading Room on the upper level of the college's Waidner-Spahr Library. The room, which symbolizes her and her late husband's lifetime commitment to Dickinson, was made possible by a grant from Koh, her late husband and family.
Dr. Koh's Honors and Publications