JOIN US!
#dson2019
As the newest members of our community, we invite you to join fellow students and families for a Summer Send-Off. We have planned a series of these events across the country and abroad and hope you will gather with us to meet others in the Dickinson community as you prepare for your journey to Carlisle!
This is a wonderful opportunity to connect with classmates, current students, families and alumni and gives you and your family a chance to ask any questions you may have before the start of the academic year.
Whether at home or during your summer vacation, please register for one of our Summer Send-Offs listed below!

Photo Gallery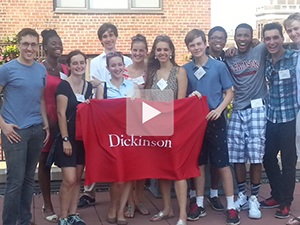 Upcoming Summer Sendoffs
Pittsburgh
Sunday, August 2
Atlanta
Sunday, August 2

Washington D.C.
Sunday, August 2

Northern New Jersey
Sunday, August 2

San Francisco
Sunday, August 2
Beijing
Saturday, August 8
Portland
Saturday, August 8

Chicago
Saturday, August 8

Westchester NY
Sunday, August 9

Baltimore
Sunday, August 9

The Hamptons
Sunday, August 9, 2015

Los Angeles
Saturday, August 15

Central New Jersey
Sunday, July 26, 2015