Recipient Biographies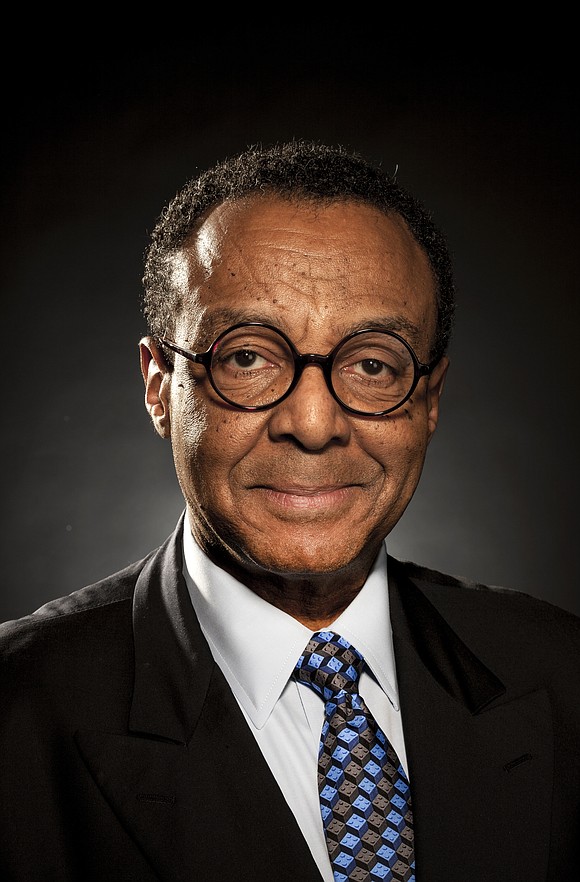 Clarence Page
Doctor of Public Affairs
Clarence Page, winner of the 1989 Pulitzer Prize for commentary, is a nationally syndicated columnist and editorial board member in the Chicago Tribune's Washington Bureau.
Page also has been a regular contributor of essays to The News Hour with Jim Lehrer and a regular panelist on The McLaughlin Group, BET's Lead Story, Hardball on MSNBC and Howard Kurtz's MediaBuzz on Fox News.
Among his more recent honors, he was named a 2021 Fellow of the Society by the Society of Professional Journalists, along with Yamiche Alcindor, Maria Hinojosa and Barbara Walters.
He also has received lifetime achievement awards from the National Society of Newspaper Columnists, the Chicago Headline Club, the National Association of Black Journalists and the National Press Foundation.
Page's awards also include a 1980 Illinois UPI award for community service for an investigative series titled "The Black Tax" and the Edward Scott Beck Award for overseas reporting in 1976.
Before that he was a reporter and assistant city editor for the Chicago Tribune, where he participated in a 1972 investigative series on voter fraud which also won a Pulitzer Prize for Public Service.
His book Showing My Color: Impolite Essays on Race and Identity was published in 1996 by Harper Collins and in 2014 a collection of his columns, Culture Worrier: Reflections on Race, Politics and Social Change, was published by Agate Press.
Born in Dayton, Ohio, he began his journalism career as a freelance writer and photographer for the Middletown (Ohio) Journal and The Cincinnati Enquirer at the age of 17.
He graduated from Ohio University with a bachelor of science in journalism in 1969.
Among other honors, he also has received honorary degrees from Columbia College in Chicago, Lake Forest College in Illinois, the Chicago Theological Seminary and the John Marshall School of Law in Chicago.
Page is married, has one son, and lives in the suburbs of Washington, D.C.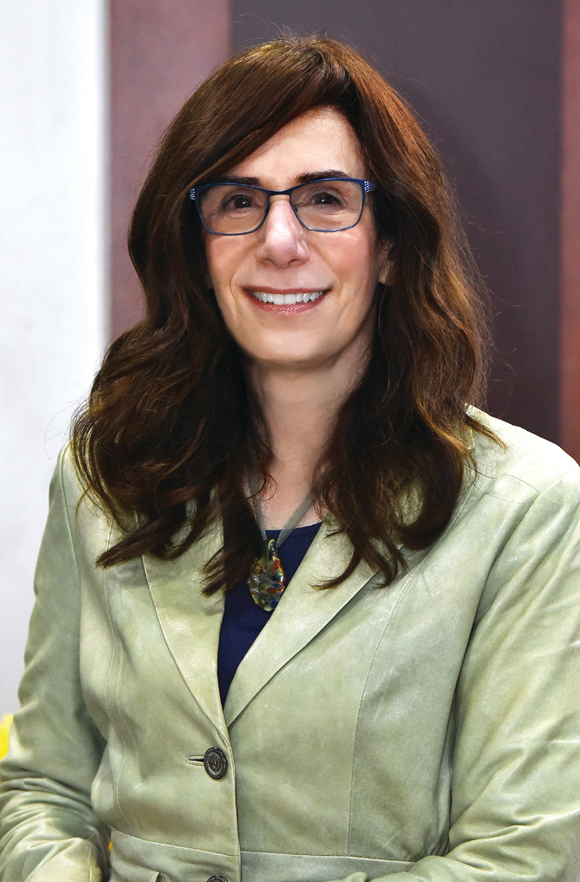 Judy Faulkner '65
Doctor of Civic Engagement
Judy Faulkner is CEO and founder of Epic, a privately owned healthcare software company and the leading medical-record software company in the U.S.
Forbes called Faulkner "the most powerful woman in healthcare." Her work—in business and philanthropy—has been focused on helping sick people recover and creating a world where children can reach their full potential.
Faulkner founded Epic in 1979 in the basement of an apartment house with $70,000 in start-up money and two half-time assistants. Epic has grown by its bootstraps, without venture capital or going public. It develops all its software in house. Based in Verona, Wis., Epic has over 10,000 employees, holds the medical records of more than 250 million Americans—more than half of all American medical patients—and is used by 2,400 hospitals worldwide. During the pandemic, Epic declined to charge its customers for COVID-19-related software or services, forgoing approximately $1 billion in revenue.
Faulkner and her family have also established the Roots & Wings Foundation to provide vital support to low-income children and families at pivotal times, when better healthcare, education, shelter and nutrition could mean the most for children's future. By providing assistance that impacts children's development, the foundation is taking steps to address societal problems before they emerge. In 2020, the foundation donated $15 million in grants to 120 different organizations, spanning the fields of basic needs, early childhood, healthcare, and human rights.
She has also signed The Giving Pledge, committing that 99% of her assets will go to philanthropy. Faulkner has said that she signed the pledge because she wanted "to help others with roots—food, warmth, shelter, healthcare, education—so they, too can have wings."
Faulkner is a member of the National Academy of Medicine's Leadership Roundtable and of the Aspen Health Strategy Group. She graduated from Dickinson in 1965 with a degree in mathematics. She earned a master's degree from the University of Wisconsin-Madison in 1967. She is married to Gordon Faulkner, a retired pediatrician, who also graduated from Dickinson in 1965.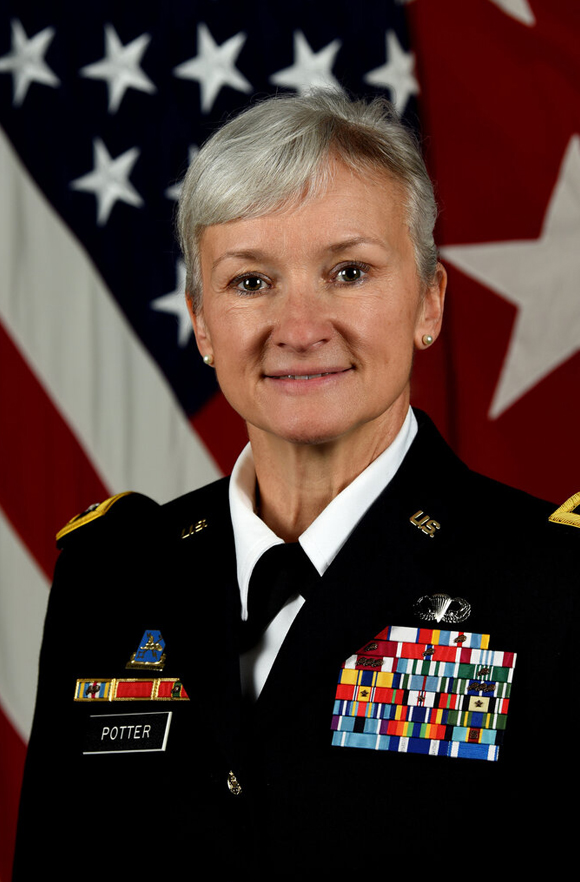 Laura A. Potter '89
Doctor of Military Science
Lt. Gen. Laura Potter earned her commission in the Military Intelligence Corps in 1989. She is a 1989 Distinguished Military Graduate of Dickinson College, where she received a bachelor's degree in Russian and Spanish. She holds a master's degree from Georgetown University's School of Foreign Service, Center for Eurasian, Russian, and East European Studies and a master's degree in national security and strategic studies from the Naval War College.
Potter's assignments include: Assistant S-2, 19th Support Command, Taegu, Republic of Korea; Division G-2 staff officer in 10th Mountain Division (Light Infantry); Low Level Voice Intercept Platoon Leader in direct support of 2d Brigade, 10th Mountain Division (Light Infantry); Signals Intelligence Officer, Company Commander, and Battalion S-3, 704th Military Intelligence Brigade, Fort Meade, Md.; V Corps Collection Manager; Battalion S-3, 302d Military Intelligence Battalion and Brigade Deputy Commander, 205th Military Intelligence Brigade, Heidelberg and Wiesbaden, Germany; Joint Staff J-2 Intelligence Planner and Executive Assistant to the Joint Staff J-2; Commander 743d Military Intelligence Battalion, Buckley Air Force Base, Colo.; Military Assistant, then Executive Officer to the 20th Secretary of the Army, the Honorable Pete Geren. In 2010, she returned to Europe to command Allied Command Counterintelligence, Supreme Headquarters Allied Powers Europe, North Atlantic Treaty Organization, then served as the Deputy Chief of Staff, Intelligence G-2, U.S. Army Europe and the J-2, U.S. European Command, Stuttgart, Germany. Her most recent assignment was the Commanding General of the United States Army Intelligence Center of Excellence and Fort Huachuca. She assumed duties as the 47th Deputy Chief of Staff, G-2 for the United States Army on September 14, 2020.
Her deployments include United Nations Military Observer in Abkhazia, Republic of Georgia; 302d Military Intelligence Battalion S-3, then Deputy Commander, 205th Military Intelligence Brigade, Operation Iraqi Freedom (OIF); and Commander, Theater Intelligence Group, Combined Joint Task Force 435, Operation Enduring Freedom (OEF), Afghanistan.
Potter's awards and decorations include the Distinguished Service Medal, Defense Superior Service Medal (1 Oak Leaf Cluster), Legion of Merit (1 Oak Leaf Cluster), Bronze Star Medal (1 Oak Leaf Cluster), Defense Meritorious Service Medal, Air Force Commendation Medal, Army and Joint Staff Identification Badges, the Parachutist Badge, and the Estonian Ministry of Defense, Cross of Merit, 3rd Class.
Potter is married to Lieutenant Colonel (Retired) Randy Potter. They have two sons.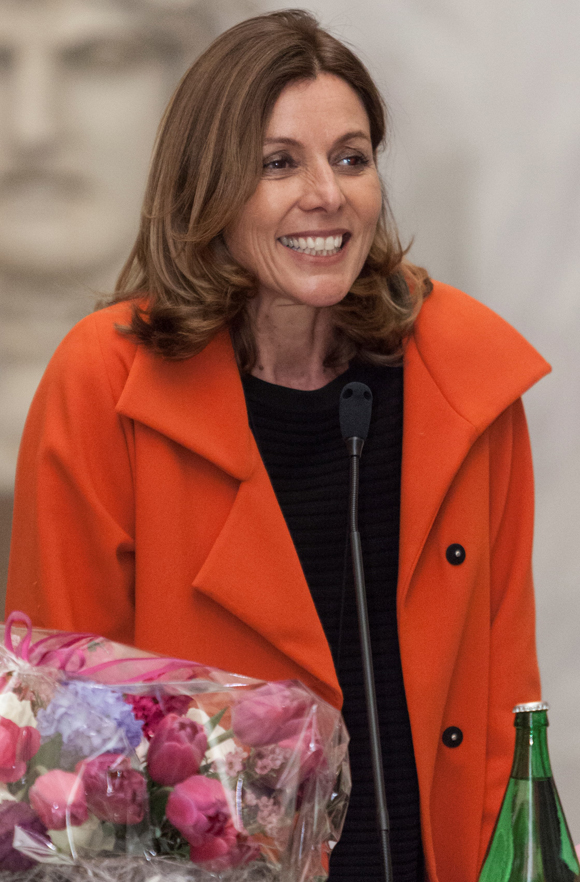 Barbara Jatta
Doctor of Arts
On June 15, 2016, Barbara Jatta was appointed as deputy director of the Vatican Museums and on Jan. 1, 2017, was appointed by Pope Francis as director of the Vatican Museums, becoming the first woman ever to guide the extensive papal collections. Her historic appointment brought Jatta instant notoriety, with profiles in The New York Times, Vogue, Vanity Fair and on CBS This Morning. Jatta oversees more than 200,000 pieces of art, including such masterpieces as The Sistine Chapel, Raphael's Transfiguration, Augusto di Prima Porta—the icon of Roman time—and the Gallery of Geographical Maps. Of the great artwork in her care, Jatta has said, "I feel the weight of that," adding, as a devout Roman Catholic, "I do believe art takes you to faith."  
Jatta has optimized the visitor experience for the more than 6 million people who visit the Vatican Museums each year (before the pandemic) extending public viewing hours, expanding entrances and alternative tours to lesser known art and keeping art accessible by minimizing restoration and instead requiring daily preservation and constant maintenance. Under Jatta's leadership of the Vatican Museums, Marco Balich debuted a live, multimedia show about the Sistine Chapel, with music by Grammy Award-winning singer/songwriter Sting. In 2019, the Vatican Museums expanded its global footprint with an exhibition in China, "Beauty Unites Us," which included a considerable group of works by Chinese artists that testify to the encounter between Christianity and the artistic tradition of China.  
Jatta arrived at the Vatican more than 25 years ago. From 1996 to 2016, she was director of the Cabinet of Prints, and in 2010, Pope Emeritus Benedict XVI appointed her as curator of prints at the Vatican Apostolic Library, where she also was a member of the exhibitions, accessions, acquisitions, publishing and cataloguing commissions. Also owing to her commitment, the Vatican Library is now considered to be one of the most technologically advanced libraries in the world with an image-based, online catalog of objects.  
She has collaborated in and personally organized several exhibitions and has participated in numerous publishing initiatives in the field of the history of graphics and art. For more than 15 years, she collaborated with the National Institute for Graphic Design, working first as a restorer of graphic materials and then on cataloguing the institute's portfolios of drawings, engravings, woodcuts and lithographs.  
From 1994 to 2016 she has taught at the "Suor Orsola Benincasa" University of Naples, where she ran the course on the History of techniques and graphic arts at the Faculty of Letters and where, since 2014, she served as a member of the managing board of the Pagliara Foundation. 
She is a member of the scientific council of the Louvre Museum, member of the international advisory board of the Hermitage Museum and member of the "Bizot Group", the committee of the directors of the main museums in the world. 
She was appointed the order of "Stella d'Italia" by the president of Italian Republic, the Royal Order of "the Polar Star" by the King of Sweden and the order of "the Arts and the Letters" by the Minister of the Culture of France.