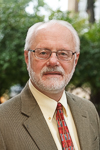 Greetings from the beautiful rolling hills of Central Pennsylvania. I'm the director of international admissions here at Dickinson College. I'm thrilled to be responsible for the admission of international students from around the world and also have the privilege of working with students from two of my favorite states, Oregon and Washington.
Having lived all over the world for 20 years, I was excited to return to the United States and find Dickinson, with its deep commitment to all things international—something that permeates the life of this campus. The diversity of students from around the United States and the world provides all of us with the opportunity to learn and work together, taking the best that each of our cultures has to offer.
Additionally, a major focus of Dickinson is the issue of sustainability and the many ways it impacts our lives. We are a sustainability leader nationally and internationally and take a hands-on approach in practical ways that we all can use to make a difference for all of our futures.
I am an avid backpacker and kayaker and regularly take advantage of the many outdoor opportunities all around us here in the Cumberland Valley. You should come and join me at one of my favorite spots atop the Hawk Watch as we look over not just Dickinson but the entire Cumberland Valley. I know that it's a favorite spot for many of our students as well.
During my travels I look forward to meeting as many of you as I personally can and helping you through the application process. Even better, I look forward to welcoming you to our campus.
Make the best of your high school years, as they go by all too quickly.
Regards,
Brian Atkins
Director of International Admissions