Campus Parking Policy
To ensure the orderly flow of traffic and obtain the maximum utilization of parking spaces, it is necessary to have and enforce regulations related to the operation and parking of vehicles while on campus. Parking lots are designated by a sign with a color decal displayed, according to the following classifications: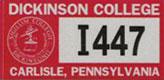 Faculty/Staff Red Decal: Vehicles with red decals may park in areas designated with red and blue signs.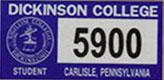 Student Blue Decal: Vehicles with blue decals may only park in lots posted with a blue and white sign indicating "Student Parking".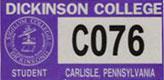 Commuter/Continuing Ed Purple Decal: Vehicles with purple decals may park only in the West Kline or Kaufman Student lots.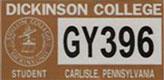 Goodyear Lot Student Gold Decal: Vehicles with gold decals may park in the Goodyear lot, marked with the corresponding gold and white sign, or in lots designated with blue & white signs for "Student Parking".
Student Green Decal: Students approved for green parking decals may only park in the West Kline parking lot. All vehicles parked on campus must conform with provisions of the laws and ordinances of the Commonwealth of Pennsylvania and the Borough of Carlisle. Motor vehicles which are abandoned or illegally parked on College parking lots will be removed in accordance with Section 3353 of the PA Vehicle Code.
The following are not permitted:
Parking in a "no parking" or reserved space.
Parking in a handicapped space without a proper tag.
Parking in fire lanes marked with yellow curbs.
Parking in areas designated as "tow away" zones.
Parking so as to block access to refuse containers.
Parking in or blocking a driveway.
Parking on a sidewalk.
Exceeding the posted time limit in regulated areas.
Careless or imprudent operation of a motor vehicle on College Property.
Invalid use of visitor space.
Parking an unregistered vehicle on College Property.
Important!
First-year students are not permitted to possess or operate motor vehicles on the Dickinson campus or in the Carlisle area. This restriction applies to any vehicle regardless of its type, ownership, or registration but does not apply to college motor pool vehicles used in accordance with college sponsored activities, or car sharing services such as ZipCar. This policy is in effect seven days a week. Exceptions to the policy are granted according to strict guidelines and may only be made by the Department of Public Safety. Requests for exceptions must be made in writing by the student and forwarded to the Chief of Public Safety at security@dickinson.edu. Requests for exceptions for medical reasons may require the submissions of documents from your health care provider. Public Safety may consult with the Wellness Center for requests of this type.

Winter Break: Persons needing to leave vehicles parked on campus during Winter Break must contact Public Safety to be directed where to park the vehicle. Vehicles parked on campus may be parked in the Kaufman Lot or the West Kline Lot, but only at the direction of Public Safety. In the event of a storm, cars not parked in the areas designated by Public Safety may be towed at the owner's expense.