Dickinson College's Clothesline Project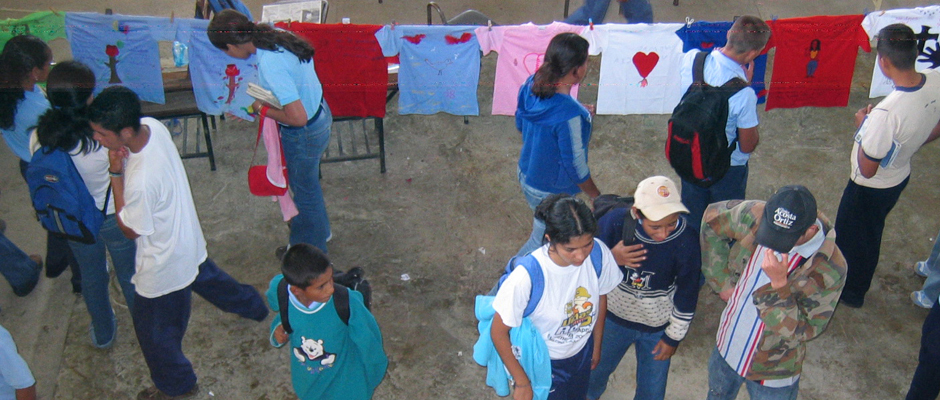 The Clothesline Project is a visual display that bears witness to violence against women and provides opportunity for healing and community-building. The Central Pennsylvania Clothesline project, organized in 1993 by the Women's Center at Dickinson College, extends grassroots work that started in Cape Cod in the early 1990s.

The Clothesline documentary film that features interviews with women about the making and the meaning of their shirts was screened at the Fourth World Conference on Women in Beijing in 1995. Clothesline shirts also were displayed at the UN conference in Vienna where women's rights were declared as human rights and rape as a crime even in the context of war. The Community Studies Center at Dickinson College, under the direction of Susan Rose, is now working on a Global Clothesline Project. Recent projects have been done in Venezuela, Bosnia, the Netherlands, and Cameroon, and among diverse groups of women in the United States.
Clothesline shirts are color-coded although it is fine to use any shirt you want.
White represents women who died because of violence;
Yellow or beige represents battered or assaulted women;
Red, pink, and orange are for survivors of rape and sexual assault;
Blue and green t-shirts represent survivors of incest and sexual abuse;
Purple or lavender represents women attacked because of their sexual orientation;
Black is for women attacked for political reasons.
Inspired by the AIDS quilt, visual artist Rachel Carey-Harper launched the Clothesline Project in 1990, using the concept of shirts hanging on a clothesline as a way to raise consciousness. For more history on the project, visit on the Clothesline Project Web site.
For more information, contact:
Susan Rose
Director, Community Studies Center
Department of Sociology
Dickinson College
Carlisle, PA 17013
(717) 245-1244