Community Studies and Mosaics Documentaries
Community Studies and Mosaics at Dickinson College has produced a number of documentary films. Many of these have resulted from work done in the context of the Mosaic programs and Oral History Projects. Some are feature-length films and others are shorts we have posted on the Community Studies and Mosaic's YouTube channel. More information may be obtained by viewing the websites listed below or contacting Community Studies and Mosaics directly at csc@dickinson.edu or Professor Susan Rose, Director of Community Studies and Mosaics at rose@dickinson.edu. A number of the films are also in circulation at the Dickinson College library.
Full-length Documentaries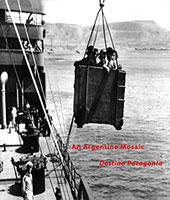 An Argentine Mosaic: Destino Patagonia (71 minutes; bilingual Sp/Eng)
An Argentine Mosaic focuses on the multiple (im)migration stories that led to the development of Comodoro Rivadavia, in the Patagonia region of Argentina, and surrounding oil company towns. The peopling of Patagonia is a story of im(migration), ethnic-labor and gender relations, and the documentation of collective memory. With the discovery of oil in 1907, immigrants and migrant workers from Europe, South Africa, the neighboring countries of Chile and Paraguay, and the provinces of Northwest Argentina came to work in the oil fields of Patagonia. The Patagonia Mosaic, as a college-community collaboration that involved research teams of faculty, students, and community members from Dickinson College and Comodoro Rivadavia, conducted video-taped oral history interviews, and scanned and preserved documents and photographs from various collections over a five-year period (Co-Directors and Editors: Susan Rose and Marcelo Borges, sub-titling by Manuel Saralegui). For more information view the approximately 10 minute trailer.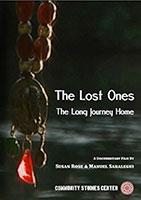 The Lost Ones: Long Journey Home (42 minutes)
The Lost Ones: Long Journey Home documents the story of two Lipan Apache children captured along the Texas-Mexican border in 1877 by the 4th U.S. Cavalry. After the massacre of their village, the children rode with the Calvary for three years before being taken to the Carlisle Indian School (CIS) in Pennsylvania. Ties with their family were completely severed. The only legacy the children left was Kasetta's three year-old son who became the youngest child to ever be enrolled at CIS. While the family remembered the Lost Ones every year, they never knew what had happened to the children or where they were buried until two centuries later. The documentary reveals the mystery of how in 2009, Lipan Apache descendants from California, Texas, and New Mexico came to Carlisle to offer blessings so the children could be sent home. Susan Rose and Manuel Saralegui in collaboration with Daniel Castro Romero, Jr., General Council Chairman Lipan Apache Band of Texas and Jacqueline Fear-Segal, Professor of American Studies, University of East Anglia. For more information view the approximately 18 minute trailer.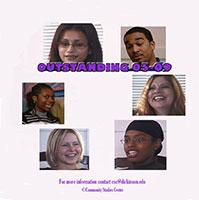 Outstanding 2005/2009 (53 minutes)
This documentary focuses on diverse students' experiences at a historically and predominantly white college. Through interviews and conversations, students explore their identities, accomplishments, and challenges negotiating college life. They reveal both the common and diverse grounds they share as students of color, gay, working-class, first-generation college students.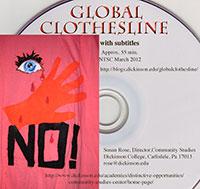 Global Clothesline (53 minutes; English, Spanish, and French)
The Global Clothesline Documentary features artwork and interviews with women who contributed to the Clothesline Project that invites women to create T-shirts that express their experiences with violence and with healing. In this compelling documentary, diverse groups of women from the U.S., Bosnia, Cameroon, and Venezuela talk about the making and the meaning of the shirts they created as they bear witness to violence against women and children. Although they come from different cultures and socio-economic and racial groups, the feelings expressed and the images used are strikingly similar. For more information visit http://blogs.dickinson.edu/globalclothesline or view the trailer.
Clothesline: Bosnia-Herzogovina (Part I and Part II: A Conversation with Mersida) Tri-lingual Bosnia/English/Spanish
Clothesline: Bosnia-Herzogovina features interviews that Shannon Sullivan '09 conducted with women who were part of a witness protection program in Bosnia. It also includes a conversation with Mersida Camdzic, a Bosnian woman now living in Central Pennsylvania, who in the process of helping with the translation, decided to tell her own story. The two-part documentary (total running time 20 minutes) was co-produced by Manuel Saralegui '09, Shannon Sullivan '09, Gabriela Uassouf '10, and Professor Susan Rose (Tri-lingual in English, Bosnia, and Spanish).
Clothesline: Venezuela
In the summer of 2007, Professor Susan Rose and Gabriela Uassouf '10 organized three Clothesline projects in the barrios and rural areas in the state of Lara, Venezuela. The 12 minute documentary produced by Gabriela Uassouf and Rose features women and girls of all ages making shirts and telling their stories of violence, awareness, and healing. Bi-lingual in Spanish and English.
Henry W. Spradley, Citizen
An informative and interesting documentary by a former Sociology major. Written and directed by Colin Macfarlane and filmed by Stuart Flury, follows one student's search to remember the history of Lincoln Cemetery. After being used as a burial site for African American Civil War Veterans, in 1970 the cemetery was destroyed and the headstones were removed. Now all that remains in this cemetery in Carlisle, Pennsylvania is one token headstone to honor those who still lay resting. This documentary tells the story of just one of the African American veterans buried at Lincoln Cemetery and the amazing impact he had on the entire Carlisle community.
Abridged Documentaries (on YouTube)
An Argentine Mosaic: Destino Patagonia (Im)migration to Patagonia [bi-lingual Spanish/English]
The Spanish Civil War: Memories from Patagonia (Part 1 and Par II) [bi-lingual Sp/Eng]
Shorts (on YouTube)
Sharecropping in Mississippi [Black Liberation Movement Mosaic (BLMM)]
Memorials and Commemoration (BLMM)
Lived Experience in South Africa: Health (BLMM)
The Natural History Mosaic Shorts 1
The Natural History Mosaic Shorts 2
Urban Agriculture in Cuba
Field Work in Rural China (Dickinson College Article)
Audio Files
"Because as long as you live, you're going to have some blues."
Created by Atandi Anyona '10 and Ryan Koons '10 during the Black Liberation Movement Mosaic
239 W Louther St, Carlisle, PA 17013
717-245-1185
csc@dickinson.edu