Circolo italiano (Italian Club)
The Circolo italiano is the club that organizes socio-cultural activities revolving around Italian culture. The events organized by the Circolo italiano are open to the whole campus and are very well attended because students know that our events are always fun and include authentic Italian food.
Whoever is interested in participating in the events of the Circolo italiano should join the Italian Studies @ Dickinson Facebook Community, since all the events are posted there.
For more information on the Circolo italiano (2017-2018), feel free to contact any of the following people:
Some of the Circolo's past events include:
THE ART OF MAKING ESPRESSO. The Italian Club and the Professors host an espresso-making demonstration in the Biblio Café where you see and learn how to make your own espresso and cappuccino!
FLAVORS AND AROMAS OF ITALY. A celebration of Italy's regional food specialties and Italian perfumes and colognes made by Italy's world famous designers, such as Gucci, Prada and Dolce & Gabbana.
AUGURI, ITALIA! Celebrating 150 years of Unity. A celebration of Italy's 150th anniversary, with a traditional Italian dinner, music and a special guest speaker from the Italian Consulate of Philadelphia who spoke to the students about Italian unity.
LUCI DI NATALE – Holiday Party. An Italian holiday dinner with authentic music and traditional Italian food (pastas, sausages, panettone, tiramisù... and much more)!
BOLOGNA RECEPTION. A mixer organized each semester for the students going to Bologna. Students who returned from Bologna are also on site to offer their experience of the city and their knowledge of places to eat and drink.
ANTI-FASCIST DAY. On April 25, 1945, Italy was liberated from Fascist rule, leading to the formation of the Italian Republic. 65 years later, il Circolo italiano came together on Morgan field to celebrate with food, music and dance. In addition to pizza from Miseno's, there was a public reading of Fascist propaganda and Resistance literature and singing of popular Partisan songs. Some of the Italian students from the University of Bologna also taught how to properly dance the Tarantella!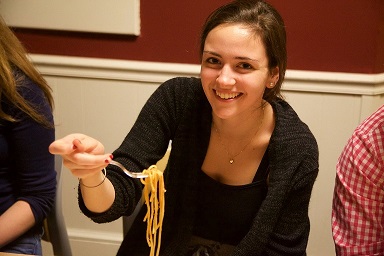 Taylor Stroilli '16 twirling her spaghetti for the paparazzi!