Injury/Illness Information
Employees (Including Student Workers)
As an employee of Dickinson College, we strive to promote a safe working environment free of hazards and unnecessary risk. However, we recognize that accidents can and do happen. As a result, it is important to know how to respond if you receive an injury or become ill while working in your various capacity.
If you find yourself requiring medical attention, the first aspect to consider is how severe the injury is - this will dictate your next steps regarding management notification, medical response, and all other following actions. To eliminate confusion and clarify the various nuances of this decision-making process, an injury/illness response flowchart has been developed to highlight the three degrees of injuries: Minor, Moderate, and Major. Examples of each type of injury are provided to aid you in determining the best course of action as well as what your next steps should be. These charts are commonly available in departmental offices for you to reference and available for print below.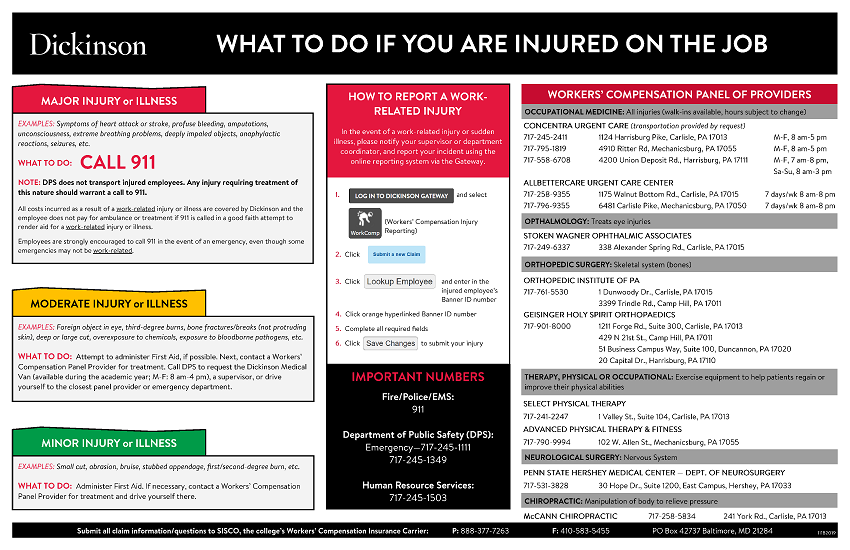 In the event of an injury or sudden illness, please notify your supervisor or department coordinator. This individual shall then follow the Injury/Illness Response Matrix to guide their response and administration of appropriate care for the affected individual (e.g., calling 911). All workplace injuries and illnesses should be reported (by the employee or their supervisor) using the online reporting system via the WorkComp Icon on Gateway. The supervisor of an injured employee must complete the Injury/Illness Accident Analysis Report within 2 business days of the injury or illness. Please complete this form.
Non-Employees (Including Students, Parents, Guests, and Alumi)
In the event you have been injured or involved in an accident while on campus, the Department of Compliance & Enterprise Risk Management would like to hear about it as soon as possible. If it is an emergency, please contact 9-1-1 or the Department of Public Safety (717-245-1349) for assistance. Once the immediate threat has passed and you are safe, we request that you please complete an Accident Report.