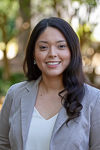 Who I am?
I was born in nearby Gettysburg, Pennsylvania. Although I have yet to take an official tour of the battlefield. Living in central Pennsylvania has increased my love for nature, different cultures, and food! The variety of different ethnicities and races in the area has provided me the chance to try new cuisines. Make sure to explore the local restaurants when you visit campus!
Why work in Admissions?
As a daughter of Mexican immigrants, I've always known that education was the path to success for me. Being a first-generation student came with its own struggles. Fortunately, I was blessed to have a college counselor and teacher who guided me through the college-application process. With their assistance, I was able to find the perfect college for me. By working in admissions, I have the opportunity to be that key person in another student's life. I'm forever thankful that I can work in this field and give back.
Fun facts
I love my English Bulldog/Pit Bull, Piglet! I rescued her about 5 years ago. She's the first pet I have ever owned!
I love to experiment in the kitchen. (Although cooking and baking at times becomes difficult when you are trying to stay healthy. Chocolate is my weakness!)
Hopefully I'm not jinxing myself here, but I've been lucky enough to have been spared the pain of a broken bone!