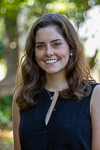 Having grown up in a small town in Upstate NY surrounded by friends, family and mentors, I knew a supportive community was one of the most important aspects of my future college. As soon as I set foot on Dickinson's campus, it was evident that I had discovered that and so much more. I was immediately welcomed by students in the Admissions Office and taken on a tour of the campus, which gave me the chance to ask the questions I wanted to ask. I was enthralled with the people I met, the conversations I had and the feeling that I already found my "fit" at Dickinson. I had only been on the campus for a few hours, but I knew that I had found my home for the next four years.
Dickinson offered me an interdisciplinary education, committed faculty, life-altering study abroad opportunities, and a community of supportive and engaged students. Over the course of my four years at Dickinson, I dedicated the majority of my time to the Liberty Cap Society (our group of tour guides), American Studies Department, studying abroad in Spain and Denmark, Delta Nu sorority and volunteering in the Carlisle community. Through these opportunities and connections, I learned to think differently, step outside of my box and strive for success.
After graduating from Dickinson in May 2018, I spent the summer biking across the northern United States with Bike & Build, a nonprofit raising money and awareness for affordable housing. It is difficult to sum up this experience, as it was one of the most rewarding and beautiful things I have ever done. With each new day came a new route, a new destination and a new adventure. My eyes were opened not only to the affordable housing problem in the US, but to the generosity of people and the beauty of our country.
I am confident that I will take the skills and experiences that I have accrued over the years and incorporate them into my work in Admissions and beyond. I look forward to serving the Dickinson community in a new way and to engaging with you!
Fun Facts:
A few more things about me...
My favorite spot on campus: the Quarry trellis
The perfect spot to enjoy a cup of coffee in the morning or study after class
My favorite class: Cultural Analysis with Professor Cotten Seiler (preferably in one of the Denny Hall classrooms)