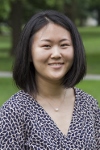 Hello! As assistant director of international admissions at Dickinson, I work with international students from all over the world, including American and dual citizens attending school outside of the United States. I also work with students attending schools in Washington, D.C.
Aside from the beautiful campus and the rigorous education, I was drawn to work at Dickinson because of the college's international community. On campus, it is not uncommon to see students with different cultural backgrounds learn together and from each other. Dickinsonians' strong intellectual curiosity might explain why so many of our students study abroad every year. It is exciting to see Dickinson students learning, growing and contributing with the world in mind.
When you are in Carlisle, I encourage you to walk around and explore the downtown area. Carlisle is a historic place, so keep an eye on the historic markers on the street—you might learn something new about American history. And I have to mention that there are many excellent restaurants and interesting local stores in Carlisle within walking distance from Dickinson campus.
In my free time, I enjoy yoga, hiking, reading and trying new food. I am curious about the world, and my job gives me the privilege of traveling to all sorts of far-flung places. Visiting all seven continents is definitely on my bucket list!
Xue Yan ( 闫雪 )