The Cubiculo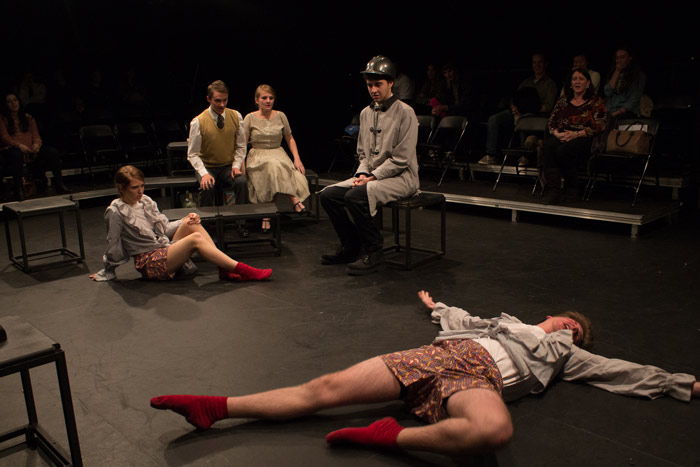 Location: Our black-box theatre, known to students as "The Cube," is located in downtown Carlisle on High Street between Hanover and Pitt streets, above the Carlisle Theatre. The entrance is immediately to the right of the Carlisle Theatre's main entrance.
Cubiculo "Black-Box" Stage
Parking: There is street parking in all directions of the theatre, as well as a municipal lot immediately behind the theatre (enter on Pomfret Street). In addition, there is parking in the Pomfret Street parking ramp, located on Pomfret near High Street, only a block and a half from the Cubiculo.
Fun fact! The word Cubiculo, from the Latin "cubiculum" (meaning small room), is purported to have been a tavern in the neighborhood of Shakespeare's Globe Theatre and is referenced in his comedy Twelfth Night, act III scene ii.
Facility Information:
This facility is a flexible studio theatre space used for acting classes and smaller-scaled theatrical productions.
Features: The theatre is fully equipped with lighting and sound equipment, dressing rooms and other support space.
Seating: Its moveable seating has been arranged to accommodate arena, thrust, modified thrust, alley and traditional proscenium-type stage arrangements.
Dance studio: Adjacent to the theatre space is a second dance studio, which is used for a variety of theatrical and choreographic rehearsals.
Conference room: The Cubiculo also features a spacious conference room, which is used as a classroom and a reserve rehearsal room when multiple productions are in rehearsal.
Accessibility: The Cubiculo is on the second floor for the Carlisle Theatre and is accessible by the wheelchair lift. Patrons wishing to employ this service are advised to call the Department of Theatre & Dance at Dickinson in advance at (717) 245-1239, so that we may provide the most effective assistance possible.