Larger Russian families rarely have room to host foreign students. For this reason most Dickinson students will be hosted by host mothers whose children are grown and no longer live at home. Here are some memories about host families from recent program participants:

"During my semester there, my host mother was a fascinating woman of 77 with innumerable stories about her life she had spent in the city, including during the war, when she and her family would take refuge in the Moscow metro during air raids. I will never forget my first week living in Moscow, when we bonded over the difficulty of showering a cat (she brought her kitty back to Moscow from her countryside dacha and it took the two of us to successfully wrangle the muddy feline into the bathtub)!" - Caitlin Rice '09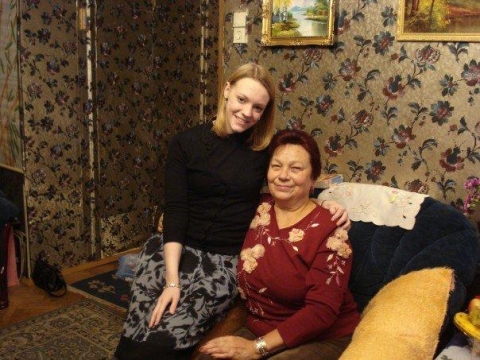 Caitlin Rice with her host mother

"My host family: three generations of women and a black lab. Elena Alexandrovna, the oldest, spent hours regaling me with stories of the past; everything from the Second World War through her career as a chemist and her continuing involvement in the local senior citizens' organization. Irina, in the middle, divided her time between working two jobs, running the household, making delicious apple pierog, and sharing with me her political views and Portuguese wine. Liza, the youngest, introduced me to Russian music and tried to explain why dreadlocks are fashionable for petite Russian women. Roma, the lab, wasn't very talkative, but loved to dance," - Evan Sparling '08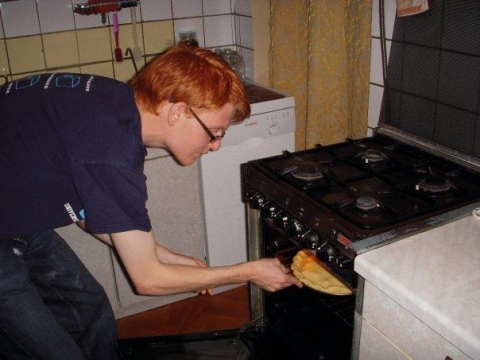 Even in Russia we bake apple pies!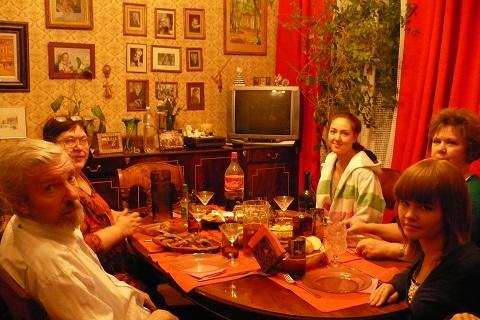 Russian dinner time. Take your sea, please.
"I consider the most interesting and meaningful part of my time in Moscow that which occurred every day - my conversations and experience living with my sixty-nine year-old host mother. Irina Nikolaevna welcomed me into her home with a table full of food; she made sure that I never felt hungry for a single minute during my time abroad. She spoke candidly about Russian politics and culture, and her biting political wit taught me more than any university course or field trip ever could," - Amy Wilson '06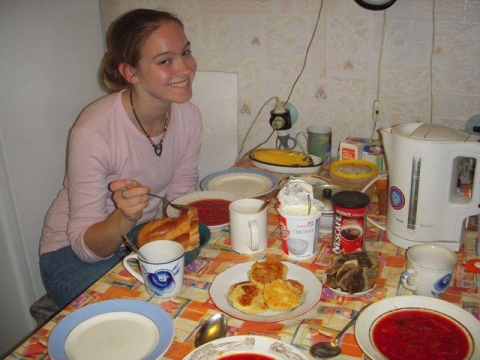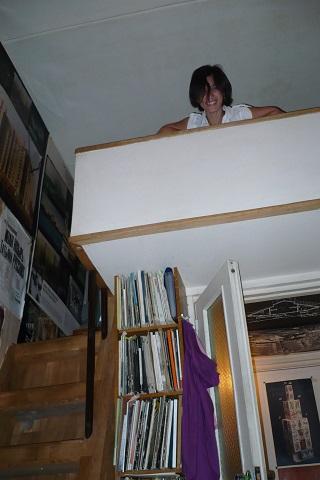 "Hi" from my bunkbed.
"My year abroad wouldn't have been the same if I hadn't lived with my host mom. She was a grandmother who lived alone, but her two daughters and their children were at the apartment almost every day. My host mom and I spent most evenings at the kitchen table while I listened to her talk about her past and what it was like in Russia at that time. During these conversations she would also force me to eat so much I would be ready to burst! The apartment's TV was in my bedroom so after I would do my homework we'd watch TV together. Our favorites were a soap opera and "Star Factory", the Russian equivalent to "American Idol". When I think of my time in Moscow, my host mom is one of the most prevalent memories,"
- Jenny Webb '04.