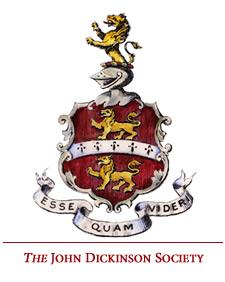 Members of the John Dickinson Society are forward-thinking Dickinsonians whose outstanding leadership giving reflects their confidence in the college.
For the last 30 years, nearly 800 members of the John Dickinson Society have provided over half of the Dickinson Fund's annual income. As leaders in our community, John Dickinson Society members provide vital support that enables Dickinson to establish and advance new academic programs, fun vital research, retain and attract top faculty, enhance campus facilities and empower students to pursue their dreams.
John Dickinson Society gifts are helping Dickinson by supporting opportunities like:
innovative approaches to global and domestic studies in programs that explore areas like the African Diaspora in Cuba, the history of theatre in London and the study of natural history across North America.
an externship program, which provided students a firsthand look at career at the ESPN, JPMorgan, Children's Hospital of Philadelphia and many other sites.
student-faculty research bridging neuroscience, psychology, biology and sociology to better understand metal illness, lake ecosystems, the economic impact of the arts, Roman history and more.
Make a gift securely online or learn more about other ways to give.
In appreciation of your gift, the college offers each member of the John Dickinson Society invitations to several John Dickinson Society events on campus, as well as regional events special communications from the college's president and chair of the John Dickinson Society
Annual Membership Levels
John Dickinson Society
Benjamin Rush Assoc.
$100,000+
Revolutionary
$50,000
Visionary
$25,000
Scholar
$10,000
Philanthropist
$5,000
Member
$2,500
For Young Alumni
6-10 years after graduation
$1,000
0-5 years after graduation
$500