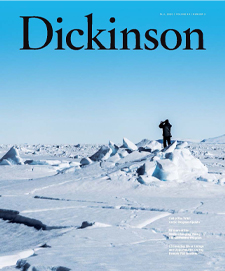 The fall 2020 issue includes features on 10 years of the Young Alumni Trustee program, an update on the fall remote semester, and a look at the Artic program, which has received permanent funding made possible by alumni, supporting an endowed faculty position and coursework and fieldwork.
View the Fall 2020 Magazine on Issuu.
Your Turn
Contribute to a future issue!
What new skill/behavior/practice have you learned due to the COVID-19 pandemic?
What book, published in the last decade, would you recommend as a must-read and why?
Email your response to Editor Lauren Davidson (davidsol@dickinson.edu).