Welcome to Dickinson! Members of our admissions team understand that retrieving the information you need to help your students from college websites often can be difficult and time consuming. We hope that you find the information here useful, convenient and timely. We invite your feedback because it is our goal to provide you with the tools you need to best serve your students. Contact your regional counselor with your questions and to provide feedback at any time!
Class of 2025 Profile Highlights
92% receiving institutional aid
($38,562 average award, 12% Pell eligible)
High schools:
64% public / 36% private
Test Free
Dickinson has been test optional since 1994 and made the move to test free for the 2020-21 application cycle. After that year-long trial period with a test-free process, and following an application cycle that yielded a phenomenal incoming class, we have decided to extend our commitment to test free through 2023. This extension allows us to thoroughly evaluate and assess the role of standardized testing in our policies and practices.
Slate.org
Slate.org is a great, free tool for connecting our offices and sharing information and status updates for your students applying to Dickinson. It's easy and quick to sign up to create a Slate.org account!
Campaign for Student Scholarships
Dickinson has announced the first program in our Dickinson Forward initiative: a campaign for scholarships which will raise $75 million to guarantee a scholarship for every student who needs one. We've met the full demonstrated need of 100% of the students we admit for years. This campaign will ensure that we can do so going forward. And we'll award the first of the scholarships made possible by this initiative, the Reynolds Leadership Scholarship, a four-year $160,000 award for Maryland students, beginning this year.
New Data Analytics Major
Data analytics is our newest major and is already drawing great interest from our students. This interdisciplinary program will give students the depth and breadth of knowledge, as well as the technical skills, to tackle issues as varied and as critical as climate change, the future of work, globalization, healthcare, artificial intelligence and privacy and security.
Central Pennsylvania Youth Ballet
Dickinson's unique partnership with the Central Pennsylvania Youth Ballet (CPYB), located just steps from our campus, has allowed us to create a certificate program with pre-professional level ballet training. And those who have already begun their training with CPYB, including the summer programs, will be considered for a half-tuition scholarship.
Athletics
We're very excited that the Centennial Conference is back in action and our athletes are competing this fall!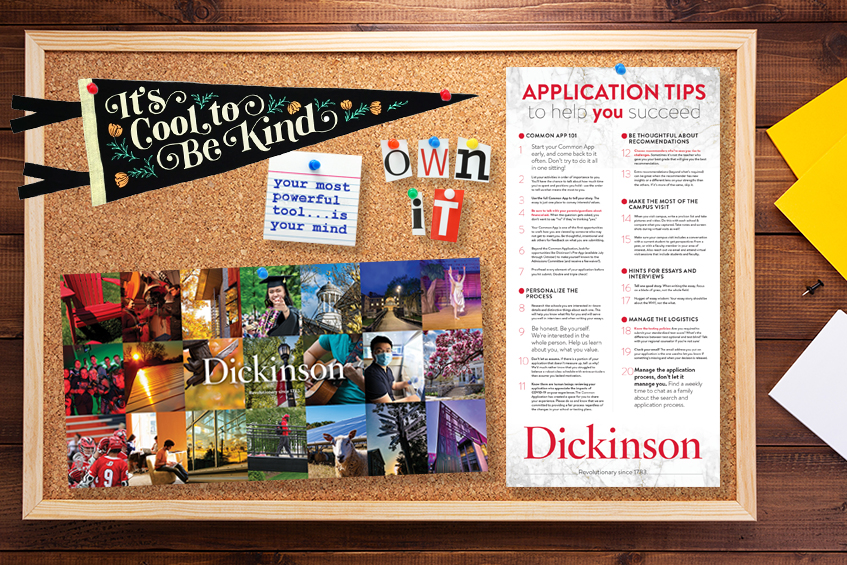 Request our new poster!
As a thank you for your continued partnership, we'd love to send you our new poster (featured in the adjacent graphic), which offers application tips on one side, and a vibrant photo grid on the other. Showcase whatever side suits your needs and your space (or request two posters to feature both!).
Request Your Poster
Visiting Dickinson
There are a number of options for both in-person and virtual visits at this time.
We are offering limited, small-group tours of campus. We also offer self-guided tours supported by QR-code content at various locations around campus. Should you be interested in planning a campus visit or joining our next counselor tour, please contact your regional counselor.
We are currently offering a variety of virtual visit options for you and your students. We update our virtual offerings regularly so be sure to stop back to see the latest!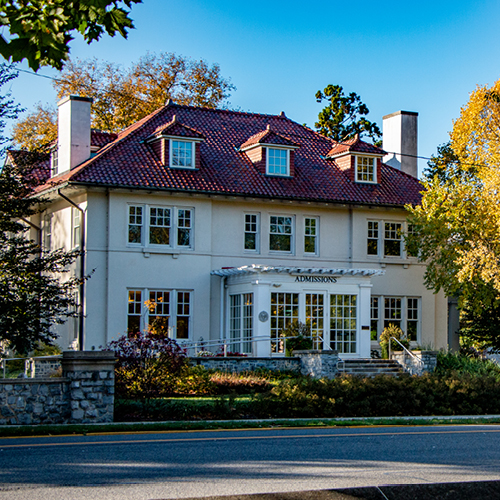 Encourage Your Students to Connect with Us
We're eager to get to know your students! Please encourage them to sign up to receive information and let them know that their regional counselor would be happy to answer any questions. We'd love to see them on campus for a visit, and they might also enjoy our virtual-visit options and we look forward to meeting them in virtual school-visits and fairs, too. Our scheduled visits are included on a zip-code searchable map.
We are making interviews available both in-person and virtually and look forward to getting to know your students in a space where they can share their challenges, accomplishments and aspirations. The interview is not a requirement—we don't want to add another box your students feel required to check—but an opportunity for us to get to know your students "off paper."
Supporting Your Work
We would be happy to hold a meeting for you and your students, virtually or in person, either to share information about Dickinson or to provide advice on aspects of the process such as essay writing or offer a case-study program.
We've created a page dedicated to helping high school juniors jump-start and navigate the college search process. It's full of quick tips and videos (with more to come), so check it out and pass it along to your students!
We provide details on your applicants—including items missing from their files and decisions after release—in Slate.org.
You may request a school visit, virtually or in person, by emailing counselorvisits@dickinson.edu or contact your regional counselor to arrange a meeting.
Access our Future College Parent Toolkit on Issuu, which is meant to help guide parents (and, by extension, their students) through the college search and application process with some timely tips, pieces of advice and words of wisdom, collected from our experienced team of admissions experts. The information is not all specific to Dickinson but will hopefully be helpful no matter what colleges and universities end up at the top of the student's list.
Our work at Dickinson and in enrollment is student-centered. If information is shared in the admissions application (an essay, additional information section, teacher letter of recommendation or counselor statement) or an interview that the student was harmed or may be in a harmful situation then it is the responsibility of the Dickinson employee to report the information to PA Childline and, if required, the Childline in the state where the student resides. We want to be transparent in conveying this information so that the student as well as high school staff are aware of our reporting obligations.
Be In the Know
If you're not familiar with Dickinson, here are a few important pieces of information for you and the students you work with to be aware of. Explore our website to dive more deeply into all things Dickinson!
Dickinson was chartered in 1783 in Carlisle, Pennsylvania. Benjamin Rush, a revolutionary in both spirit and life, established Dickinson College with the intent of providing a different kind of liberal-arts education.

9:1 student-faculty ratio, and 14 student average class size.

60% of Dickinsonians study abroad compared to 10% nationally. This includes 46% of science majors and 60% of student-athletes.

#2 in the nation for sustainability! (No. 2 Overall Top Performer among baccalaureate institutions in the Association for the Advancement of Sustainability in Higher Education's (AASHE) "Sustainable Campus Index")

In 2020, Dickinson became one of the first carbon-neutral colleges in the country.

95% of Dickinsonians are employed, in grad school, undertaking volunteer work or engaged in meaningful service within one year of graduation.

100% of students who want one will have an internship. In fact, 92% of students complete an internship, externship, research, field experience or service learning course.