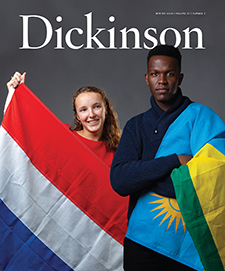 The winter issue of Dickinson Magazine includes a Q&A with six international students, the Midyear Giving Impact Report, a profile of London-based news editor Jonathan Haworth '04, a feature on the fall theatre & dance productions, a photo feature highlighting classrooms (then and now), a Q&A with Rabbi Marley Weiner and more.
Contribute to an upcoming issue: We're looking for help with a few upcoming story ideas. Email Editor Lauren Davidson (davidsol@dickinson.edu) if you:
are involved or know someone involved with the 2020 Summer Olympics
are an alum who has made a dramatic career shift or pursued a totally new "second act" occupation
would like to share a story of how your Dickinson network has made a difference in your life
would recommend a must-read book of the last decade
took or taught what you would consider the coolest or most innovative class at Dickinson in the last decade
have a bold prediction for what the next decade will bring—in education, in technology, in literature, in the world.
View the Winter 2020 Magazine on Issuu.