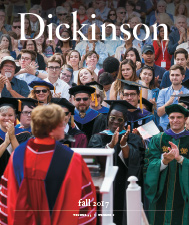 The fall 2017 issue includes features on Dickinson's 29th president, Margee Ensign; a look at how the times have changed between the classes of 1917, 1967 and 2017; an exploration of the complexities of Founding Father Benjamin Rush; and a profile on Ted and Kay Gleim Poitras '53, whose gift just keeps on giving.
Read the cover story.
Read the iPad/tablet version of this issue on Issuu.com.