February 27, 2018
Sonia Guiñansaca will perform and read from her latest chapbook, Nostalgia and Borders, which touches upon migration and growing up undocumented.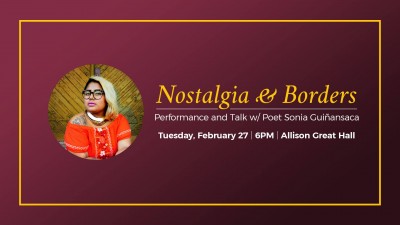 This will accompany a small talk on border discourse and queer bodies in the United States under this new presidency. Sonia Guiñansaca is a Queer Migrant Poet , Cultural Organizer, and Activist from Harlem by way of Ecuador. A VONA/Voices alumni, Guiñansaca has performed at El Museo Del Barrio, The Nuyorican Poets Cafe, the NY Poetry Festival, Galleria de La Raza, The Met and featured on NBC, PBS, Latina Magazine, Pen American, and the Poetry Foundation to name a few. She has presented keynotes, workshops, panels at universities throughout the country. She has been named as 1 of 10 Up and Coming Latinx Poets You Need to Know by Remezcla, as well as one of 13 Coolest Queers on the Internet by Teen Vogue, the 2017/2018 Artist in Residence at NYU's Hemispheric Institute of Performance and Politics, and recently announced as 1 of 4 U.S.A Future Leaders Delegates for the British Council. She has emerged as a national leader in the undocumented/migrant artistic and political communities. Co-founded and helped build some of the largest undocumented organizations in the country, coordinating and participating in groundbreaking civil disobedience actions in the immigrant rights movement. She has also founded some of the first creative artistic projects by and for undocumented writers/artists.
This event is sponsored by the Office of LGBTQ Services with support from the Popel Shaw Center and the Women's & Gender Resource Center.
Further information